Crested Goshawk
This raptor has short broad wings and a long tail, both adaptations to manoeuvring through trees. It is 30-46 cm in length, with the female much larger than the male. The larger size and a short crest, clearly visible in profile, are the best distinctions from its relative, the Besra .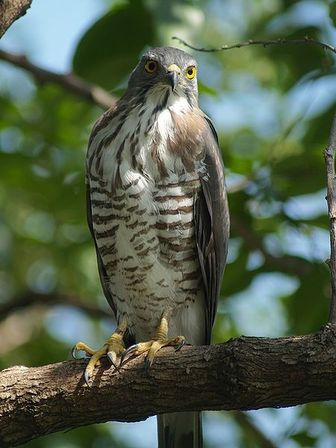 Picture of the Crested Goshawk has been licensed under a
GFDL
Original source
: Own work
Author
: Alnus
Permission
: GNU Free Documentation License
The Crested Goshawk is classified as Least Concern. Does not qualify for a more at risk category. Widespread and abundant taxa are included in this category.

The Crested Goshawk (Accipiter trivirgatus) is a bird of prey from tropical Asia. It is related to other diurnal raptors such as eagles, buzzards (or buteos) and harriers, and thus placed in the family Accipitridae. Adults are plain dark grey-brown above. Note the crest. Description - This raptor has short broad wings and a long tail, both adaptations to manoeuvring through trees. More
parasitizing the Crested Goshawk, is widely found on birds of prey throughout the Holarctic. In Hong Kong, A. trivirgatus is a protected species under Wild Animals Protection Ordinance Cap 170. It can be found in Kam Shan Country Park. Copyright: Wikipedia. This article is licensed under the GNU Free Documentation License. It uses material from Wikipedia. More
The Crested Goshawk is a large (42-46 cm; female larger than male) hawk with a dark-brown back, brown tail with four wide black bands, and brownish black head and neck. The back of the head carries a slight crest. The throat is white with a conspicuous black central (mesial) stripe from chin to breast. The undertail is white, the breast is vertically streaked rufous, and the belly is marked with horizontal dark brown bands. The iris, legs and feet are yellow. More
There was a Crested Goshawk (Accipiter trivirgatus) in their midst. Despite the warning calls, the goshawk managed to catch a squirrel from a tree (left). It flew off to another part of the garden with the squirrel tightly held in its talons (below left). There, perching quietly on a branch, it paused for the next 10-15 minutes, cautiously looking around (below right). Only then did it start dealing with its prey. More
INDBIR01: 144, Crested Goshawk, 1, BRD, 1/30/98, 1st Ghat section after Pune, 1. 144, Crested http://listserv.arizona.edu/cgi-bin/wa?A2=ind9607e&L=birdchat&F=&S=&P=5730 BIRDCHAT archives - July 1996, week 5 (#80): Accipiter gularis Chinese Goshawk Accipiter soloensis ... Chloropsis hardwickii (melliana) http://listserv.arizona.edu/cgi-bin/wa?A2=ind9804d&L=birdchat&F=&S=&P=6013 BIRDCHAT archives - April 1998, week 4 (#84): Accipiter trivirgatus Chinese Goshawk - A. soloensis ... P. solaris BULBULS Crested Bulbul - http://www-personal.umich.edu/~bbowman/birds/updates/ Updates to the ABA Checklist: Duck Muscovy Duck after Northern Goshawk Crane Hawk ... More
Crested Goshawk Accipiter trivirgatus javanicus - Chicks in nest Crested Goshawk Photographer : More
Asian Crested Goshawk, Ceylon Crested Goshawk Bird Family : Accipitrinae - Hawks, bazas, honey-buzzards, eagles, kites, vultures, harriers & buzzards Bird Group : CICONIIFORMES Red Data Status : Unspecified Remarks : I am in debt to a colleague for pointing out this nest. He has been observing a pair of nesting Crested Goshawk More
Crested Goshawk - There is always a pair in Rimba which I first sighted in 2002. I am not sure whether they are the same pair of birds that I have been meeting up with all these years. Beside my sightings of the individual adults, a couple of instances, news of the presence of young Goshawk's fledgling in the park had led birders here. Thus many came to know of existence of this park. More
* Crested Goshawk hunting squirrel Samson Tan was in Taipei's Botanical Gardens, arriving at... Related posts brought to you by Yet Another Related Posts Plugin. More
The Crested Goshawk has thicker, stouter tarsi and stubby feet, similar to that of the Shikra Accipiter badius. 7. The Crested Goshawk has barrings on thigh. :bird-info:crw_2172-crested-goshawk.jpg :bird-info:crested-goshawk:mg_7467-crested-goshawk.jpg Adult Male Dark grey crown and crest, paler grey ear coverts, prominent black submoustachial and gular stripe, grey brown upperparts and rufous brown streaking on breast and barring on belly and flanks. More
Crested Goshawk In Action ! 2nd March 2009 Series of shots of this nice looking Crested Goshawk captured today along the access road to the secret patch hahaha :p Digiscoped with Nikon Fieldscope ED82, SRB-Griturn Mk II adapter and Fujifilm F31D I'm done !!! How about you ?! The list is getting better now with more than 65 birds seen so far since last January More
Crested Goshawk (Accipiter trivirgatus) and the warning call was aimed at this bird of prey. My guess was correct and despite the warning call, the Goshawk managed to catch a squirrel from a tree and flew off to another part of the garden. The Goshawk perch on another tree and with the squirrel tightly hold with the talon. The Goshawk was holding the squirrel for about 15 or 20 mins but continue on the look out. More
Crested Goshawk was last modified 17:52, 10 August 2006 Disclaimers About Singapore Hotels & Singapore Lifestyle Privacy Policy Web Links More