Brown Goshawk
Its upperparts are grey with a chestnut collar; its underparts are mainly rufous, finely barred with white. Thus it has similar colouring to the Collared Sparrowhawk but is larger. The flight is fast and flexible. The body length is 40–55 cm; the wingspan, 75–95 cm. Adult males weigh 220 g, and adult females, 355 g. Females are noticeably larger.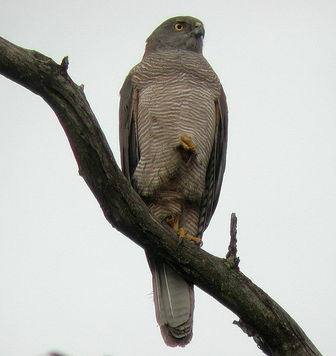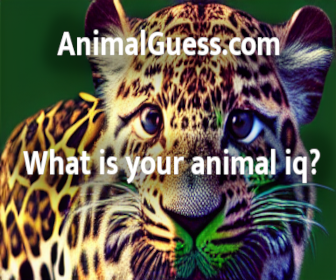 Picture of the Brown Goshawk has been licensed under a Creative Commons
Attribution-Share Alike
.
Original source
: Own work
Author
: Aviceda
The Brown Goshawk is classified as Least Concern. Does not qualify for a more at risk category. Widespread and abundant taxa are included in this category.

An immature Brown Goshawk flying in Tasmania, Australia The Brown Goshawk (Accipiter fasciatus) is a medium-sized bird of prey in the family Accipitridae found in Australia and surrounding islands. More
Brown Goshawks may be found from desert water holes to scrub and ash forest and from mountain ranges to timbered foothills, as in Dandenong Valley Park. Flight: Soars with slightly arched wings. Rapid flight when chasing prey. Voice: A rapid shrill chatter - "kek kek kek kek". The female Brown Goshawk has a lower pitch. Food: The diet is mainly small mammals and birds, reptiles and large insects. More
The Brown Goshawk (Accipiter fasciatus) is a medium-sized bird of prey in the family Accipitridae found in Australia and surrounding islands. Description Its upperparts are grey with a chestnut collar; its underparts are mainly rufous, finely barred with white. Thus it has similar colouring to the Collared Sparrowhawk but is larger. The flight is fast and flexible. The body length is 40–55 cm; the wingspan, 75–95 cm. More
Brown Goshawks hunt for starlings and house sparrows by flying low over towns and suburban areas in the evenings, when these birds are returning to their roosts. More
FALCMITELIST: Brown Goshawk ( Accipiter fasciatus ) Speleognathopsis accipitris nasal cavity Domrow 1969, Domrow ... raptormites.babson.edu/falcmitelist.htm The Aviary: ...http://www.tc.umn.edu/~devo0028/contact.htm Amazon American ... Goshawk Hawk, Harris Hawk, Red-tailed Hawk, Red-shouldered ... Brown Pelican, White Pheasant, Ring-necked Pigeon ... aviary.owls.com Fuertes Illustration Collection > Browse By Bird Name: Goshawk;Hawk, Cooper's;Hawk, Sharp-shinned (1914c.) 138. Goshawk;Hawk, Marsh;Hawk, Rough-legged (1914c.) ... Grouse, Sage;Heron, Great Blue;Thrasher, Brown;Towhee, Brown;Wrentit (1918c.) 219. Grouse, Sand ... cidc.library.cornell.edu/Fuertes2000/BrowseBirdNames. More
Brown Goshawks may be found from desert water holes to scrub and ash forest and from mountain ranges to timbered foothills, as in Dandenong Valley Park. The diet is mainly small mammals and birds, reptiles and large insects. They usually attack prey on the ground and if available the Brown Goshawk will also eat rabbits, pigeons and poultry. More
The Brown Goshawk is widespread through Australia, Tasmania, Wallacea, New Guinea, New Caledonia, Vanuatu and Fiji. Habitat - Forests and woodlands. Food - Mainly birds; also small mammals, reptiles, amphibians; occasionally insects. Nesting - Nests in tall trees on a platform of sticks and twigs lined with green leaves. Clutch size usually 3, sometimes 2 or 4. More
Brown Goshawk Accipiter fasciatus natalis - Adult female Brown Goshawk Photographer : More
Brown GoshawkThe Brown Goshawk is one of Australia's most persecuted raptors. Reviled as a "chicken hawk," (which it is not) it is a natural predator of birds, reptiles, frogs, large insects and mammals up to the size of rabbits. They hunt by stealth, relying on surprise to catch their prey. The Brown Goshawk's preferred habitat is dry, open eucalypt forest and woodland. More
Among other goshawks are the brown goshawk and variable goshawk of Australia, and the African goshawk and black and white goshawk of Africa south of the Sahara. The gray hawk, of the American tropics, is called Mexican goshawk in some old books, but it is not related to the true goshawks. Scientific classification: Goshawks belong to the family Accipitridae of the order Falconiformes. More
These are Brown Goshawks!! How's that for confidence? Your dilemma actually confirms my belief that these two species are much harder to separate than many people claim. I am constantly amazed at how easily some people are able to confidently ID these species. For several years now I have been seeing Brown Goshawks/Collared Sparrowhawks around my place at Woody Point and have spent many hours observing the actual birds as well as video and still images trying to positively ID them. More
species (conspecific) as the Brown Goshawk of Australia and New Caledonia. It is endemic to Fiji, where it occurs on the larger islands of Viti Levu, Vanua Levu, Taveuni, Kadavu, Gau and Ovalau. It occupies a range of wooded habitats in Fiji, from natural rainforest to coconut plantations and urban gardens and parks. The Fiji Goshawk ranges in size from 30-40 cm, making it medium sized for its genus. It exhibits sexual dimorphism, with the females being larger than the males. More
at 40-50cm, the brown goshawk still looks awesomely huge when you have been focusing on tiny little honeyeaters for any length of time. older * Shingleback lizard * Hissy fit * Brown goshawk * Petrol hedonism * Sticky sundew goodness newer 0 Comments on "Brown goshawk" Comment on: Brown goshawk Brown goshawkFeel free to post a comment. More
The Brown Goshawk is also often referred to as the Chicken Hawk because of their fondness for domestic chickens. They feed on other birds, small mammals, reptiles, frogs and large insects. We have observed them taking the young of pademelons here at Thylogale. They are found over a wide range of habitats and forest types but predominantly in eucalypt forest especially along watercourses. More
subspecies of the Brown Goshawk, though the possibility has been raised of elevating it to the species level again. Christidis and Boles (2008) treat it as a subspecies of the Variable Goshawk (A. hiogaster). Here it is treated as a subspecies of the Brown Goshawk pending further study of its genome. Description The Christmas Island Goshawk is smaller and has more rounded wings than the nominate subspecies. More
Brown Goshawk on gate at Cables Water-ski park, Penrith © 2005 Mike Simpson Status: Not very common in the Penrith area The Brown Goshawk is a powerful, heavy-set hawk with yellow eyes. It is similar to the Collared Sparrowhawk and Brown Falcon, both of which are also found in this area, however I posted some photos of this bird on the Birds Australia web site and the concensus of opinion is that is indeed a Brown Goshawk. More
A beautiful raptor, the Brown Goshawk, captive in a cage in Bali Park Park. A hard thing to see but at least it looked very healthy and well cared for! / In the wild they are secretive and widespread. More