Tauraco schuetti
40 cm; ranging in weight from 199-272 g. Adult similar to Green Turaco, distinguished by small all black bill and rounded whitish crest. It lays two eggs in a platform of twigs around 3 or 5 metres above the ground. Both the male and female defend a territory and share with incubation duties.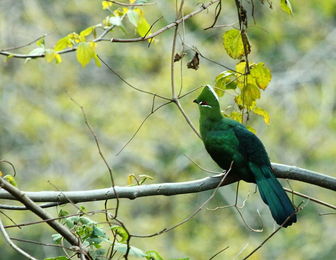 Picture of the Tauraco schuetti has been licensed under a Creative Commons
Attribution-Share Alike
.
Original source
: Mickey Samuni-Blank
Author
: Mickey Samuni-Blank
The Tauraco schuetti is classified as Least Concern. Does not qualify for a more at risk category. Widespread and abundant taxa are included in this category.

The Black-billed Turaco, Tauraco schuetti, is a medium sized turaco, an endemic family to sub-Saharan Africa. It is a resident breeder in the forests of central Africa, found in the Democratic Republic of Congo, Uganda, West Kenya, Burundi, Rwanda and southern Sudan. Description - 40 cm; ranging in weight from 199-272 g. Adult similar to Green Turaco, distinguished by small all black bill and rounded whitish crest. More
Black-billed Turaco The Black-billed Turaco, Tauraco schuetti, is a medium sized turaco, an endemic family to sub-Saharan Africa. It is a resident breeder in the forests of central Africa, found in the Democratic Republic of Congo, Uganda, West Kenya, Burundi, Rwanda and southern Sudan. See more at Wikipedia.org... More