Channel-billed Cuckoo
It is found in Australia, Papua New Guinea and Indonesia; additionally, it is vagrant in New Caledonia and New Zealand. The species is migratory over part of its range. There are three subspecies, one migratory, the other two resident. Its natural habitats are subtropical or tropical moist lowland forests and subtropical or tropical mangrove forests. The species is listed as least concern by the IUCN.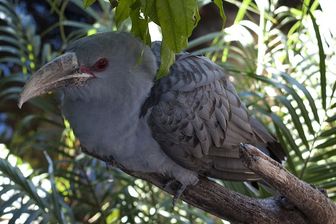 Picture of the Channel-billed Cuckoo has been licensed under a Creative Commons
Attribution
.
Original source
: Bilby
Author
: Bilby
The Channel-billed Cuckoo is classified as Least Concern. Does not qualify for a more at risk category. Widespread and abundant taxa are included in this category.

The Channel-billed Cuckoo (Scythrops novaehollandiae) is a species of cuckoo in the Cuculidae family. It is monotypic within the genus Scythrops. The species is the largest brood parasite in the world, and the largest cuckoo. It is found in Australia, Papua New Guinea and Indonesia; additionally, it is vagrant in New Caledonia and New Zealand. The species is migratory over part of its range. There are three subspecies, one migratory, the other two resident. More
The Channel-billed Cuckoo is the largest parasitic cuckoo in the world. Facts and figures Research Species: No Minimum size: 58 cm Maximum size: 65 cm Average size: 62 cm Average weight: 611 g Breeding season: August to October Clutch size: 1 or more Calls The call of the Channel-billed Cuckoo, a loud 'kawk' followed by a more rapid, and weaker 'awk-awk-awk... More
The only member of the genus Scythrops, the Channel-billed Cuckoo was first described by ornithologist John Latham in 1790. Its generic name is derived from the Ancient Greek skuthro-/σκυθρο- 'angry' or 'sullen', and ops/ωψ 'face', 'eye' or 'countenance'. The specific epithet novaehollandiae means of New Holland, hence Australian. More
The largest species, the Channel-billed Cuckoo, also has the most outsized bill in the family, resembling that of a hornbill. The subfamily Phaenicophaeinae are the non-parasitic cuckoos of the Old World, and include the couas, malkohas, and ground-cuckoos. They are more terrestrial cuckoos, with strong and often long legs and short rounded wings. The subfamily typically has brighter plumage and brightly coloured bare skin around the eye. The coucals are another terrestrial subfamily of long tailed long legged and short winged cuckoos. More
Standing at 58 - 65 cm, the Channel-billed Cuckoo is the largest parasitic cuckoo in the world. It parasites at least eight of our native bird species, notably the Collared Sparrowhawk, White-winged Chough, Magpie-lark, Magpie, Pied Currawong, Australian Raven, Little Crow and Torresian Crow. More
The Channel-billed Cuckoo is an incredible bird to see and hear, and their habits are equally as fascinating! Jewel was transferred to the Australian Wildlife Hospital in late February after being dropped off at a vet surgery by a member of the public. On his arrival to the Australian Wildlife Hospital, Jewel was given a veterinary assessment. More
The Channel-billed Cuckoo (Scythrops novaehollandiae) is a species of cuckoo in the Cuculidae family. It is monotypic within the genus Scythrops. More
As the channel-billed cuckoo arrives in the South Easterly areas after the beginning of the nesting season of the pied currawong, they make use of the later nesting of the season. Once fledged and self-feeding, fruits and berries will compose a significant portion of the channel-billed cuckoo's diet, (they're particularly partial to figs), in addition to large insects, and occasionally eggs and nestlings. More
The Channel-billed Cuckoo is the largest parasitic cuckoo in the world. Pied Currawong parent with Channel-billed Cuckoo chick image - p1100074 174KB This web page shows the juvenile Channel-billed Cuckoo. Two chicks "grew up" in our backyard this summer. Their incessant crying from dawn to dusk will not be missed when they leave. The Channel-billed Cuckoo migrates to north-eastern Australia from New Guinea and Indonesia each spring. More
The Channel-billed Cuckoo is the largest parasitic cuckoo in Australia. It migrates to Sydney in spring and summer from as far north as New Guinea and Indonesia. It breeds in Australia in spring and summer and then returns north by February. It is a huge grey bird with a very large grey bill and bare red skin around the eyes. It has a long tail with a black band near the tip. More
The Channel-billed Cuckoo is a migratory species that arrives in Australia from New Guinea and the Moluccas to breed in spring. It is a type of cuckoo, and it lays its eggs in the nests of a range of other bird species. Despite being conspicuous by its raucous calls, little is known about many aspects of the ecology of this species. More
The Channel-billed Cuckoo is quite a large grey bird. It has a rather massive down-curved bill and splotches of red around its eyes. But the Channel-billed Cuckoo's most extraordinary physical trait is its really long square tail. When in flight with its wings spread, it looks like a cross in the sky. Physical characteristics aside, and linguists beware, guess what sort of bird the Channel-billed Cuckoo is? It's called an "obligate brood parasite". More
The Channel-billed Cuckoo is the largest parasitic cuckoo in the world. Alternative Name/s Stormbird, Storm-bird Identification Apart from the Channel-billed Cuckoo's large size, its massive pale, down-curved bill, grey plumage (darker on the back and wings) and long barred tail make it difficult to confuse it with any other bird. In flight the long tail and long wings give the bird a crucifix-shaped (cross-shaped) silhouette. More
Young Channel-Billed Cuckoos have more mottled buff, brown and grey plumage. Voice: The call of the Channel-Billed Cuckoo, a loud 'kawk' followed by a more rapid, and weaker 'awk-awk-awk...', is as distinctive as the bird's appearance. The call may be given when perched, but is most often given in flight. Habitat: The Channel-Billed Cuckoo migrates to Australia from New Guinea and Indonesia between August and October each year. More
channel-billed cuckoo, at 630 grams (1.4 pounds) and 63 centimeters (25 inches). Most cuckoos reside in forests, but some prefer more open country. Most are insect eaters, with hairy caterpillars, which are avoided by many birds, being a specialty. The plumage typically is a dull grayish brown, but some, such as the bronze cuckoos—shining bronze-cuckoo (Chrysococcyx lucidus), Horsfield's bronze-cuckoo (Chrysococcyx basalis), and so forth—are brightly colored or iridescent. More
Channel-billed Cuckoos and Fig Trees of Manly A couple of Channel-billed cuckoos ( Scythrops novaehollandiae) are back in town again, seeking to outsource their child-rearing to the local Crows, Pied Currawongs, Butcherbirds and Australian Magpies. The up to 65 cm long bird with a large (horn-like) bill and a red eye can be heard (audio) at different times of the day. Its call is much louder than that of the Common Koel (Eudynamys scolopacea) (audio). They love eating native figs and fruit. Around Feb. More
Shy birds, channel-billed cuckoos roost and feed high in the treetops. Recognisable by their toucan-like bill, they grow to 67cm. Like most cuckoos, they lay their eggs in the nests of other birds (e.g. currawongs, magpies, crows), which then raise the cuckoo chicks. A summer visitor from Indonesia and New Guinea, the channel-billed cuckoo arrives in northern and eastern Australia around August-September, and departs March-April. More
The Channel-billed Cuckoo is the largest of all parasitic birds, well over half a metre long, with the wingspan approaching a metre. When in flight from below it looks like a flying cross. Posted by Neil at 3:52 PM Labels: Channel-billed Cuckoo 13 comments: Snail said... These guys are wonderful! Haven't seen or heard many around here, but they are a delight when they turn up. More
The Channel-billed Cuckoo has made its annual return to Kundabung. This is the largest bird in the cuckoo family and you may have seen or heard it during the past three weeks or so. The Channel-billed Cuckoo originates from New Guinea and Indonesia and migrates to Australia each year. Its hosts are the magpie, currawong and memChannel billed cuckoobers of the crow family. The Channel-billed Cuckoo chicks do not throw out the host's chicks or eggs as do many other cuckoos. More
channel-billed cuckoo channelbill pronunciation /ˈtʃæn lˌbɪld/ Show Spelled Show IPA. - Origin: channel1 + bill2 Dictionary.com Unabridged Based on the Random House Dictionary, © Random House, Inc. 2010. More
The Channel-billed Cuckoo is the largest parasitic cuckoo in the world. It migrates to northern and eastern Australia from New Guinea and Indonesia between August and October each year and leaves Australia in February or March. It grows to about 58-65cm in length and has a massive, gently down curved bill, grey plumage (darker on the back and wings) and a long barred tail. Channel-billed Cuckoos eat mainly figs and other native fruits. More
Diurnal, as in the Channel-billed Cuckoo, or nocturnal, as in the Yellow-billed Cuckoo. For species breeding at higher latitudes food availability dictates that they migrate to warmer climates during the winter, and all do so. More
10/01/07 Channel-billed cuckoo seen on Motiti Island (Bay of Plenty) On 08/01/07 Tim Barnard and Brent received an email from Ali Martin, who lives out on Motiti Island in the Bay of Plenty, saying that they had been watching a channel-billed cuckoo over the previous few days! It had been flying into a stand of tall trees at approximately 5pm each evening since 31/12/06. It particularly seemed to like a plum tree which was heavily ladden with ripe plums. More