Chestnut-bellied Malkoha
Not to be confused with the Chestnut-breasted Malkoha.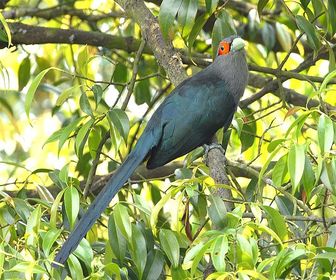 Picture of the Chestnut-bellied Malkoha has been licensed under a Creative Commons
Attribution
.
Original source
: Flickr here
Author
: Flickr user NatureAtYourBackyard . Photo uploaded to commons by user ltshears
The Chestnut-bellied Malkoha is classified as Near Threatened (NT), is close to qualifying for or is likely to qualify for a threatened category in the near future.

The Chestnut-bellied Malkoha (Phaenicophaeus sumatranus) is a species of cuckoo in the Cuculidae family. It is found in Brunei, Indonesia, Malaysia, Myanmar, Singapore, and Thailand. Its natural habitats are subtropical or tropical moist lowland forests, subtropical or tropical mangrove forests, and subtropical or tropical swamps. It is threatened by habitat loss. Not to be confused with the Chestnut-breasted Malkoha. More
Chestnut-bellied Malkoha (Phaenicophaeus sumatranus) is basically an insectivore.... * Immature sub-adult Chestnut-breasted Malkoha "This immature sub-adult male Chestnut-breasted Malkoha (Phaenicophaeus curvirostris singularis)... * Chestnut-Bellied Malkoha collecting nesting material Dato' Dr Amar-Singh HSS was at the Kledang-Sayong Forest... More
* Chestnut-bellied Malkohas: A cuckoo that builds its own nest . The Chestnut-bellied Malkoha (Phaenicophaeus sumatranus) builds its nest in... * Feather damage in birds An earlier post on the Chestnut-bellied Malkohas (Phaenicophaeus sumatranus) sunning... * Malkoha in the sun Wu Weizen was walking in the MacRitchie Reservoir forest... More
The Chestnut-bellied Malkoha (Phaenicophaeus sumatranus) is a species of cuckoo in the Cuculidae family. pets No chestnut-bellied malkoha pets yet! pictures No chestnut-bellied malkoha pictures yet! videos No chestnut-bellied malkoha videos yet! owners No chestnut-bellied malkoha owners yet! blogs No chestnut-bellied malkoha blogs yet! This article is licensed under the GNU Free Documentation License. More