Mangrove Cuckoo
Adults have a long tail, brown above and black-and-white below, and a black curved bill with yellow on the lower mandible. The head and upper parts are brown. There is a yellow ring around the eye. This bird is best distinguished by its black facial mask and buffy underparts.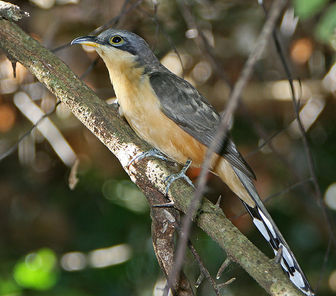 Picture of the Mangrove Cuckoo has been licensed under a Creative Commons
Attribution
.
Original source
: Own work
Author
: http://www.birdphotos.comPermission(Reusing this file)See below. Attribution must appear on same page as photo.
The Mangrove Cuckoo is classified as Least Concern. Does not qualify for a more at risk category. Widespread and abundant taxa are included in this category.

The Mangrove Cuckoo, Coccyzus minor, is a species of cuckoo that is native to the Neotropics. Adults have a long tail, brown above and black-and-white below, and a black curved bill with yellow on the lower mandible. The head and upper parts are brown. There is a yellow ring around the eye. This bird is best distinguished by its black facial mask and buffy underparts. This cuckoo is found primarily in mangrove swamps and hammocks. More
The Mangrove Cuckoo has a large range, estimated globally at 900,000 square kilometers. Native to the Americas and nearby island nations, this bird prefers forest ecosystems. The global population of this bird is estimated at 50,000 to 500,000 individuals and does not show signs of decline that would necessitate inclusion on the IUCN Red List. For this reason, the current evaluation status of the Mangrove Cuckoo is Least Concern. More
The Mangrove Cuckoo is a tropical bird that is found in the United States only in the mangroves along the southern coasts of Florida. In the main part of its range, from Mexico to South America and in the Caribbean, it is not restricted to mangroves, but lives in a variety of lowland habitats. More
The Mangrove Cuckoo is among the most poorly known North American birds. The bird's secretive nature, preference for impenetrable mangrove swamps, and tendency to remain silent during the non-breeding season makes it virtually undetectable to casual observers. As a result, many aspects of this species' lifestyle and ecological requirements remain a mystery. Appearance: The Mangrove Cuckoo is one foot long, with a wingspan of 17 inches, and weighs 2.3 ounces (65 grams). More
A true cuckoo, the Mangrove cuckoo, although not a shy bird, is relatively inconspicuous and far more likely to reveal it More
Found only in south Florida, the mangrove cuckoo is an uncommon resident of mangrove swamps. Except in migration is it the only cuckoo likely to be found there. It is recognized by its long, slender cuckoo shape and separated from the yellow-billed by the strong wash of rufous on the underparts and the lack of rufous in the wing. It can be separated from the black-billed by the strongly contrasting black and white spots on the underside of the tail and the rufous underparts. More
Aspects of the topic mangrove cuckoo are discussed in the following places at Britannica. Assorted References * characteristics and habitat (in cuckoo (bird)) ...North America by the widespread yellow-billed and black-billed cuckoos (Coccyzus americanus and C. erythropthalmus) and the mangrove cuckoo (C. More
(Cuculidae) Mangrove Cuckoo Breeding Male Head Illustration Head * Bill Shape: Curved (up or down) * Eye Color: Dark reddish brown. More
Mangrove Cuckoo in North and Middle America The Mangrove Cuckoo is among the most poorly known North American birds. Skulking and secretive by nature, it is usually difficult to observe. As a result, most aspects of this species' reproductive biology, ecological requirements, and population dynamics remain a mystery. Surprisingly, this species can be quite tame and inquisitive when encountered. More
Mangrove Cuckoo - Silver Edition $ 20.00 - Limited edition of 50, signed and numbered by artist Josh Brill EDITION Image size: 7″×5″ (17.78 × 12.7 cm). Paper size: 10″×8″ (25.4 × 20.32 cm). Giclée print on Hahnemuhle Photo Rag Ultra Smooth, 305 g, 100% cotton archival fine art paper. More
Mangrove Cuckoo perched in a Bayahonda Tree in Vieques Mangrove Cuckoo on Bayahonda tree/ Vieques Mangrove Cuckoo on flowering Bayahonda tree This Mangrove Cuckoo was as curious about me as I was about it! February 2005. Mangrove Cuckoo preening itself Mangrove Cuckoo ruffled feathers Preening itself amongst the blossoms of a Bayahonda tree. More
The Mangrove Cuckoo, Coccyzus minor, can be found in mangrove swamps. They are usually quite hidden and are difficult to find. They make a gaw-gaw-gaw-gaw-gaw sound. They live on insects and make their roughly constucted nests out of twigs. The clutch consists of 2 to 3 pale green-blue eggs. Lion In Da Sun Virgin Islands Ecotours St. John Weddings St. John Off The Beaten Track St. John Beach Guide St. More
The habits of the Mangrove Cuckoo I found to be much the same as those of our two other well known species. Like them, it is fond of sucking the eggs of all kinds of birds in the absence of their owners, and also feeds on fruits and various species of insects. More