Chestnut-winged cuckoo
The Chestnut-winged Cuckoo Clamator coromandus, is a breeding resident in the Himalayas and north-east India. It winters in Sri Lanka and southern India. It is 47 cm.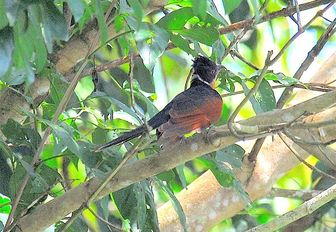 Picture of the Chestnut-winged cuckoo has been licensed under a Creative Commons
Attribution
.
Original source
: Flickr here
Author
: Flickr user NatureAtYourBackyard . Photo uploaded to commons by user ltshears
The Chestnut-winged cuckoo is classified as Least Concern. Does not qualify for a more at risk category. Widespread and abundant taxa are included in this category.

The Chestnut-winged Cuckoo Clamator coromandus, is a breeding resident in the Himalayas and north-east India. It winters in Sri Lanka and southern India. It is 47 cm. References - * BirdLife International (2004). Clamator coromandus. 2006. IUCN Red List of Threatened Species. IUCN 2006. www.iucnredlist.org. Retrieved on 11 May 2006. More
The Chestnut-winged Cuckoo (Clamator coromandus) is one of the more beautiful among the many cuckoos. The adult is a sight to behold and will no doubt excite the most hardener birders. What more is its impact on birders new to the scene. The adult has a back of metallic glossy black, a white nape, chestnut wings, black tail, rufous throat, white belly and dark vent. Not forgetting the presence of the fabulous dark black crest. More
* Chestnut-winged Cuckoo came for a visit Chestnut-winged Cuckoo (Clamator coromandus) breeds in the Indian subcontinent,... * Chestnut-bellied Malkoha manipulating caterpillar On 23rd June 2006, photographer HP Lim came across a... * Oriental Pied Hornbill manipulating hairy caterpillar In March 2008, Allan Teo sent in an image... More
The Chestnut-winged Cuckoos (Clamator coromandus) breed in the Himalayas and north-east India. They winter in Sri Lanka and southern India. This cuckoo averages 18.9 inches or 47 cm in length. - Photo, Video and/or Article contributions are welcome! Please click here for info The Avianweb strives to maintain accurate and up-to-date information; however, mistakes do happen. If you would like to correct or update any of the information, please send us an e-mail. More
Chestnut-winged Cuckoo copyright Dr Chan Kai Soon See the Bird of the Month August 2003 The Cuckoos Part 2 article for information regarding Chestnut-winged Cuckoo. COPYRIGHT: delhibird - The Northern India Bird Network. All rights reserved. More
The Chestnut-winged Cuckoo is a distinctive bird with a long black crest, dark glossy blue upperparts, and a white band on its hind neck. It has a persistent 'peep peep' whistle. The call of the yellow-billed Large Hawk Cuckoo is said to sound like 'brain-fever'. It is sometimes repeated in a crescendo scale until it ends in a piercing scream, after which the bird is silent for a few minutes, before it resumes from another vantage point. More
Chestnut-winged Cuckoo (Clamator coromandus) is a breeding resident in Himalayas and north-east India. Winters in Sri Lanka. More