Madagascar Coucal
The Malagasy Coucal or Madagascar Coucal is a species of cuckoo in the Cuculidae family. It is found in Madagascar, the Comoros and the Seychelles where it occurs on Aldabra and formerly on Assumption Island and Cosmoledo. Its natural habitats are subtropical or tropical moist lowland forests and subtropical or tropical mangrove forests.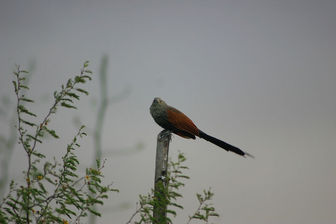 Picture of the Madagascar Coucal has been licensed under a Creative Commons
Attribution
.
Original source
: http://www.flickr.com/photos/36996580@N07/3407505391/
Author
: Neil Strickland
The Madagascar Coucal is classified as Least Concern. Does not qualify for a more at risk category. Widespread and abundant taxa are included in this category.

The Malagasy Coucal or Madagascar Coucal (Centropus toulou) is a species of cuckoo in the Cuculidae family. It is found in Madagascar, the Comoros (including Mayotte) and the Seychelles where it occurs on Aldabra and formerly on Assumption Island and Cosmoledo. Its natural habitats are subtropical or tropical moist lowland forests and subtropical or tropical mangrove forests. References - * BirdLife International 2004. Centropus toulou. 2006 IUCN Red List of Threatened Species. More
For the purposes of our bird news services, Madagascar Coucal is classed as Ungraded: species which are unlikely to appear as wild birds in Britain or Ireland hide section Most recent photos of Madagascar Coucal (1) Ifaty, Madagascar Ifaty, Madagascar20/11/2007 Ifaty, Madagascar 20/11/2007 View all pictures of Madagascar Coucal View all pictures of Madagascar Coucal show section External Links (0) We currently have no external links for this species. More
The Madagascar Coucal Centropus toulou was at during its plumage at Berenty, Madagascar, in Nov 1992. The Coquerel's Coua Coua coquereli was peering out from the undergrowth at Ankarafantskia, Madagascar, on 29 Nov 1992, and the Red-capped Coua Coua ruficeps (two shots) was also at Ankarafantasika, that same day. The sunning female Raffle's Malkoha Phaenicophaeus chlorophaeus was taken at Ketambe Reserve, western Sumatra, Indonesia, in August 1988. All photos More