Pheasant Coucal
The Pheasant Coucal's summer voice is a low descending 'boop boop boop'. Its winter voice is a sharp hissing.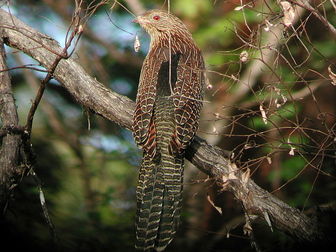 Picture of the Pheasant Coucal has been licensed under a Creative Commons
Attribution-Share Alike
.
Original source
: Own work
Author
: Aviceda
The Pheasant Coucal is classified as Least Concern. Does not qualify for a more at risk category. Widespread and abundant taxa are included in this category.

The Pheasant Coucal (Centropus phasianinus) is a species of cuckoo in the Cuculidae family. It is found in Australia, Indonesia, and Papua New Guinea. Its natural habitats are subtropical or tropical moist lowland forests and subtropical or tropical mangrove forests. The Pheasant Coucal's summer voice is a low descending 'boop boop boop'. Its winter voice is a sharp hissing. Source - * BirdLife International 2004. Centropus phasianinus. More
Pheasant Coucal on the ground. Pheasant Coucal on the ground. Photo: Purnell Collection © Australian Museum Pheasant Coucal, head. Pheasant Coucal, head. Photo: SG Lane Collection © Australian Museum Distribution map of Centropus phasianinus Distribution map of Centropus phasianinus Map © Birds Australia Birdata Did you know? The Pheasant Coucal is the only Australian cuckoo to build its own nest. It also lives and nests on the ground, unlike other cuckoos. More
Pheasant Coucal Size: 60-80cm Habitat: Found across Australia's Top End and down the East Coast to south of Sydney. Inhabiting rank grasslands, and canfields. This Cuckoo lives partly on the ground, and the male raises its own offspring. Diet consists of large insects and small animals. Notes: Black bird with brown/chestnut wings and long tail. Red eye and large feet. Breeds Spring-Summer. For more information on Pheasant Coucal see references. More
Photo by RLW of Pheasant Coucal in Sunnybank on 1st January 2007 Pheasant Coucal Unofficial and independent local neighbourhood directory or portal for pheasant coucal ( Centropus phasianinus ) one of the birds known as a stormbird to locate links and information on pheasant coucals or stormbirds for the suburban community of Sunnybank, Brisbane, Queensland, Australia. More
The Pheasant Coucal is the only Australian cuckoo to build its own nest. It also lives and nests on the ground, unlike other cuckoos. Identification A large 'pheasant-like', ground-dwelling cuckoo, the Pheasant Coucal has a long tail and short rounded wings. In its breeding plumage, it has a black head, neck and underbody with the upperparts and wings reddish-brown with black and cream barring and the black tail is barred orange. More
Pheasant Coucal Centropus phasianinus melanurus - Adult male in breeding plumage Pheasant Coucal Photographer : More
Pheasant CoucalThe Pheasant Coucal (Centropus phasianinus) is a species of cuckoo found in Australia, Indonesia, and Papua New Guinea. Habitat: It inhabits subtropical or tropical moist lowland forests and mangrove forests. Vocalization: The Pheasant Coucal's summer voice is a low descending 'boop boop boop'. Its winter voice is a sharp hissing. More
Pheasant Coucal chick Centropus phasianinus - the "straw" on the chicks' heads makes for a good camouflage References 1. Prodromus systematis mammalium et avium, p. 205. 2. Andersson, Malte (1995). "Evolution of reversed sex roles, sexual size dimorphism, and mating system in coucals (Centropodidae, Aves)" (Abstract). Biol. J. Linn. Soc. 54 (2): 173–181. doi:10.1111/j.1095-8312.1995.tb01030.x. http://www3.interscience.wiley.com/journal/119239176/abstract?CRETRY=1&SRETRY=0. 3. More
The ground based nest of the not a pheasant Pheasant Coucal is just big enough to go over the top of the adult bird with their head and tail sticking out each end. This is an extremely silly bird, that creeps about like a cat, flies badly, says "booop boop booop" but only in the summer, has mutant babies and lives in a comedy nest. Here is one we prepared earlier. More
Use pheasant coucal in a SentenceSee images of pheasant coucalSearch pheasant coucal on the Web - Origin: 1870–75 Dictionary.com Unabridged Based on the Random House Dictionary, © Random House, Inc. 2010. Cite This Source|Link To pheasant coucal pheasant coucal noun Australian bird with a tail like a pheasant WordNet® 3.0, © 2006 by Princeton University. More