Brown Coucal
The Andaman Coucal or Brown Coucal is a species of cuckoo in the Cuculidae family. It is found on the Andaman Islands in India and the adjacent Coco Islands in Myanmar. Its natural habitats are subtropical or tropical moist lowland forests and subtropical or tropical mangrove forests.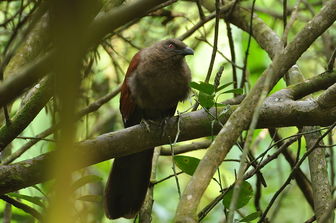 Picture of the Brown Coucal has been licensed under a
GFDL
Original source
: T. R. Shankar Raman
Author
: T. R. Shankar Raman
Permission
: GNU Free Documentation License
The Brown Coucal is classified as Least Concern. Does not qualify for a more at risk category. Widespread and abundant taxa are included in this category.

The Andaman Coucal or Brown Coucal (Centropus andamanensis) is a species of cuckoo in the Cuculidae family. It is found on the Andaman Islands in India and the adjacent Coco Islands in Myanmar. Its natural habitats are subtropical or tropical moist lowland forests and subtropical or tropical mangrove forests. Description - The adult is about 48 cm. in length and resembles a jungle crow but with a longer and broader tail. More
* Andaman Coucal or Brown Coucal, Centropus andamanensis * Philippine Coucal, Centropus viridis * Malagasy Coucal or Madagascar Coucal, Centropus toulou * Assumption Island Coucal, Centropus toulou assumptionis - doubtfully distinct; extinct (c. More
The Brown Coucal (Centropus andamanensis) is a species of cuckoo in the Cuculidae family. It is found in India and Myanmar. Its natural habitats are subtropical or tropical moist lowland forests and subtropical or tropical mangrove forests. More
Brown Coucal Centropus andamanensis Brown Coucal Photographer : More
Brown Coucal (Centropus andamanensis) is a local resident in Andaman islands of India. More
BROWN COUCAL * Centropus andamanensis * 48 cms previous Click here to comment on this image next Site Map Oriental Bird Club Copyright of all images is retained by Vijay Cavale and respective copyright owners. More
Brown Coucal Forward | Print | Individual message | Show original | Report this message | Find messages by this author Seen at Port Blair and Havelock Island. Found very difficult to photograph as these were very shy , and both times they were hidden in dense leafy trees. Clicked these ones with high ISO (1600)at Havelock island on 21st march 2010. More