Brush Cuckoo
The Brush Cuckoo is native to the east coast of Australia and northern New Guinea. It is grey-brown with a buff breast and its call is very familiar of the Australian bush.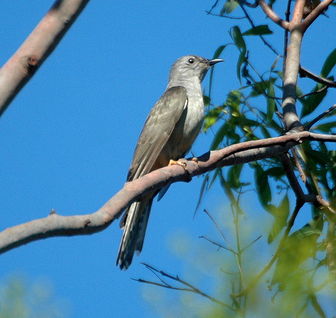 Picture of the Brush Cuckoo has been licensed under a Creative Commons
Attribution-Share Alike
.
Original source
: Aviceda
Author
: Aviceda
The Brush Cuckoo is classified as Least Concern. Does not qualify for a more at risk category. Widespread and abundant taxa are included in this category.

The Brush Cuckoo, Cacomantis variolosus, is a member of the cuckoo order of birds, the Cuculiformes, which also includes the roadrunners, the anis, and the Hoatzin. The Brush Cuckoo is native to the east coast of Australia and northern New Guinea. It is grey-brown with a buff breast and its call is very familiar of the Australian bush. Media - Play soundBrush Cuckoo song Nov2007. More
The Brush Cuckoo, Cacomantis variolosus, is a cuckoo that is native to the east coast of Australia and northern New Guinea. Description: The plumage is a grey-brown with a buff breast. - Photo, Video and/or Article contributions are welcome! Please click here for info The Avianweb strives to maintain accurate and up-to-date information; however, mistakes do happen. More
Brush Cuckoo on a branch. Brush Cuckoo on a branch. Photo: T Quested © T Quested Distribution map of Cacomantis variolosus Distribution map of Cacomantis variolosus Map © Birds Australia Birdata Did you know? The Brush Cuckoo's eggs can match those of the host birds' in colouring and size. More
Brush Cuckoo - Cacomantis variolosus Coucou des buissons = Coucou des buissons Tous les oiseaux d'Europe - Coffret B : Des coucou Gallery : © Patrick Ingremeau Site web : Impressions de Guyane Order : Cuculiformes Family : Cuculidae Species : Brush Cuckoo Reference: pain40137 Other pictures Date taken : 2007 Sep Geographic data Country : Australia (as) More
The Brush Cuckoo (Cacomantis variolosus) is a medium sized cuckoo with a length of 26cm. They are found in dense coastal forests of eastern and northern Australia. In southeast Australia their preference for tall moist eucalypt forests coupled with their all brown plumage and preference for the foraging just under the canopy, makes them a very difficult bird to observe. In 30 years of birding I have only photographed this species once before, in the late 1980s. More
Brush Cuckoo (Cacomantis variolosus) by Patrik Åberg. More
This bird, similar in appearance to the Brush Cuckoo, was photographed in woodlands of the Environmental Park, squabbling with other smaller birds. More
Brush Cuckoo (Cacomantis variolosus) = Posted by The Photoblogger in Cebu, Nature/Animals on March 16, 2010 | 7 responses Immature Brush Cuckoo One clear day after I returned from a half day of school I chanced upon a brown creature that was on the floor. I went near it curious as what this Eurasian Tree Sparrow was doing here. After a close look I realized it was a larger bird. More
Brush Cuckoo (Cacomantis variolosus) singing Kobble Creek, SE Queensland, Australia Date November 2007(2007-11) Source Own work Author Aviceda Permission (Reusing this file) See below. More
Brush Cuckoo (Cacomantis variolosus) = French: Coucou des buissons German: Buschkuckuck Spanish: Cuco Varioloso Other common names: Square-tailed/Grey-headed Cuckoo; Rufous-breasted Brush Cuckoo (lepidus); Indonesian/Rusty-breasted (Brush) Cuckoo (sepulcralis) Taxonomy: Cuculus variolosus Vigors and Horsfield, 1827, Paramatta, New South Wales. Sometimes placed in Cuculus. More
Brush Cuckoo Cacomantis variolosus = Described by: Vigors; Horsfield (1827) Alternate common name(s): Fan-tailed Cuckoo, Grey-breasted Brush-cuckoo, Gray-breasted Brush-cuckoo, Rusty-breasted Cuckoo, Indonesian Cuckoo, Gray-headed Cuckoo, Grey-headed Cuckoo Old scientific name(s): Cuculus variolosus Photographs Dayboro, Queensland, Australia - Jan, 2003 More
Rezultati za: brush cuckooPrijevodi 1 - 30 of 269 Engleski Engleski Finski Finski brush cuckoo pensaskäki, Cacomantis variolosus brush harja, sivellin, pensseli, suti, pesuharja, häntä, ketunhäntä, varvikko, pensaikko, hipaisu, kevyt kosketus, lyhyt yhteenotto, kahakka brush harja brush aside heittää mielestään, jättää omaan arvoonsa, ei piitata jostakin brush away heittää mielestään, ei piitata jostakin, jättää More
Brush Cuckoo, Cacomantis variolosus Cuculidae (CUCKOOS) Brush Cuckoo, Cacomantis variolosus This photo was taken in: Australia The photo was taken by: Tom Tarrant , Birdwatching trip reports from around the world Australia reports Birdwatching trip reports from Australia Birding Southern Queensland Essential links for Australia Identification Notes: Submit Identification notes for this More
Brush Cuckoo Cacomantis variolosus aeruginosus - Juvenile Brush Cuckoo Photographer : More
* Brush Cuckoo, Cacomantis variolosus * Moluccan Cuckoo, Cacomantis heinrichi * Chestnut-breasted Cuckoo, Cacomantis castaneiventris * Fan-tailed Cuckoo, Cacomantis flabelliformis * Genus Chrysococcyx - bronze cuckoos * Black-eared Cuckoo, Chrysococcyx osculans * Horsfield's Bronze Cuckoo, Chrysococcyx basalis * More
Brush Cuckoo (Cacomantis variolosus) = Date: 8 May 2010 Location: Bird Billabong, Mary River (Northern Territory, Australia) See general information about Brush Cuckoo. More