Plaintive Cuckoo
It is a fairly small cuckoo, 21-23.5 centimetres long. The adult male is grey-brown above and orange below with a grey head, throat and upper breast. There are white tips to the tail feathers. The legs and feet are yellow, the eye is red and the bill is black above and yellow below. The adult female is sometimes similar to the male but often occurs in a hepatic morph. This form is reddish-brown above with dark bars. The underparts are paler with fainter barring. There is a pale stripe over the eye and the tail has dark bars along its whole length. Juvenile birds are similar to hepatic females but are paler and have dark streaks rather than bars on the crown and throat.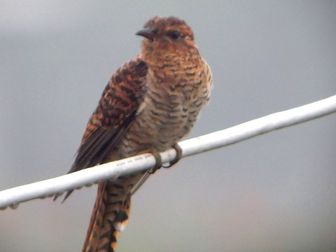 Picture of the Plaintive Cuckoo has been licensed under a Creative Commons
Attribution-Share Alike
.
Original source
: Flickr here
Author
: Flickr users CharlesLam
The Plaintive Cuckoo is classified as Least Concern. Does not qualify for a more at risk category. Widespread and abundant taxa are included in this category.

The Plaintive Cuckoo (Cacomantis merulinus) is a species of bird belonging to the genus Cacomantis in the cuckoo family Cuculidae. It is native to Asia, from India and China to Indonesia. More
The Grey-bellied Cuckoo or the Indian Plaintive Cuckoo, Cacomantis passerinus, is a member of the cuckoo order of birds, the Cuculiformes, which also includes the roadrunners, the anis, and the Hoatzin. It breeds in tropical southern Asia from India and Sri Lanka to south China and Indonesia. It is a short-distance migrant, since birds at more northerly latitudes and on higher ground are summer visitors, leaving for warmer areas in winter. The Grey-bellied Cuckoo is a bird of light woodland and cultivation. More
"I've observed this juvenile Plaintive Cuckoo (Cacomantis merulinus) for three sessions, each time in the late morning, for about 1.5hrs. It looks for prey from a perch about 2m high and always procures its food (caterpillars) from the grass on the ground. When it sees something, it would usually tilt its head to one side and use the lower eye to have a good look before flying to the ground. Thereafter, it would fly to a perch to shake the caterpillar vigorously before swallowing it whole. More
* Plaintive Cuckoo handling caterpillars "I've observed this juvenile Plaintive Cuckoo (Cacomantis merulinus) for... * White-winged Tern: Hunting technique An earlier post gives the non-breeding, breeding (above) and... Related posts brought to you by Yet Another Related Posts Plugin. Email Post Categories: Morphology-Develop. More
species overview :: Plaintive Cuckoo (Cacomantis merulinus) = Nr. More
Original File Name: Plaintive Cuckoo (Cacomantis merulinus)_I_IMG_6972.jpg Resolution: 800x600 File Size: 145196 Bytes Date: 2005:12:11 09:39:37 Camera: Canon EOS 350D DIGITAL (Canon) F number: f/5. More
Rezultati za: plaintive cuckooPrijevodi 1 - 30 of 160 Engleski Engleski Finski Finski plaintive cuckoo valittajakäki, Cacomantis merulinus plaintive surullinen, apea, surumielinen, valittava little cuckoo pikkuruostekäki, Piaya minuta cuckoo käki cuckoo käki, kukunta cuckoo-roller kuroli, Leptosomus discolor cuckoo spit konnansylki More
Plaintive Cuckoo (Cacomantis merulinus) = French: Coucou plaintif German: Klagekuckuck Spanish: Cuco Plañidero Other common names: Brain-fever Bird; Indian Plaintive Cuckoo, Grey-bellied Cuckoo (passerinus); Rufous-bellied Plaintive Cuckoo, Grey-breasted Brush Cuckoo (merulinus) Taxonomy: Cuculus merulinus Scopoli, 1786, Panay, Philippines. Included in Cuculus by some authors. More
Plaintive Cuckoo Cacomantis merulinus Plaintive Cuckoo copyright Dr Chan Kai Soon See the Bird of the Month August 2003 The Cuckoos Part 2 article for information regarding Plaintive Cuckoo. COPYRIGHT: delhibird - The Northern India Bird Network. All rights reserved. More
Plaintive Cuckoo Cacomantis merulinus - Adult Plaintive Cuckoo Photographer : More
Plaintive Cuckoo (Cacomantis merulinus) is a local resident in north-east India. More
Plaintive Cuckoo, in contrast to the Baybanded Cuckoo goes through two or three phases before it gets the adult plumage. The female which is dimorphic, is chestnut in one phase and becomes slaty grey in the other. These birds arrive in Tambaram in September and some of them stay on till April. Many just pass through on their way to Ceylon. Most of these birds are in the slaty grey phase but one or two chestnut birds are also regularly seen. More
Plaintive Cuckoo Cacomantis merulinus = Described by: Scopoli (1786) Alternate common name(s): Grey-bellied Cuckoo, Gray-bellied Cuckoo, Grey-headed Cuckoo, Gray-headed Cuckoo, Rufous-bellied Plaintive Cuckoo, Indian Plaintive Cuckoo, Grey-breasted Brush-cuckoo, Gray-breasted Brush-cuckoo Old scientific name(s): Cuculus merulinus Photographs near St. More
* Plaintive Cuckoo, Cacomantis merulinus * Rusty-breasted Cuckoo, Cacomantis sepulcralis * Grey-bellied Cuckoo, Cacomantis passerinus * Brush Cuckoo, Cacomantis variolosus * Moluccan Cuckoo, Cacomantis heinrichi * Chestnut-breasted Cuckoo, Cacomantis castaneiventris * Fan-tailed Cuckoo, Cacomantis flabelliformis * Genus Chrysococcyx More