Fan-tailed Cuckoo
Its natural habitats are temperate forests, subtropical or tropical mangrove forests, subtropical or tropical moist montanes, paddocks, orchards and gardens. The Australian range is from Cape York in Queensland following the coast south to Shark Bay in Western Australia. Along the west coast, its range extends no more than 1000km inland. In South Australia the range is along the coast except in the south-east corner around Mount Gambier and the Eyre Peninsula. It also inhabits Tasmania.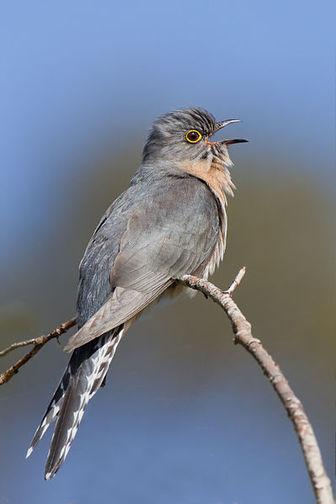 Picture of the Fan-tailed Cuckoo has been licensed under a Creative Commons
Attribution-Share Alike
.
Original source
: Own work
Author
: Noodle snacks (http://www.noodlesnacks.com/)Camera location
The Fan-tailed Cuckoo is classified as Least Concern. Does not qualify for a more at risk category. Widespread and abundant taxa are included in this category.

The Fan-tailed Cuckoo (Cacomantis flabelliformis) is a species of cuckoo in the Cuculidae family. It is found in Australia, Fiji, Indonesia, New Caledonia, New Zealand, Papua New Guinea, Solomon Islands, and Vanuatu. More
The Fan-tailed Cuckoo is a slender cuckoo and the adult bird is easily identified by a yellow eye ring (slightly greenish in young birds), its generally dark slate-grey back and wings, becoming pale rufous below, with a boldly barred black and white under tail. Younger birds are duller and browner in colour. More
A Fan-tailed Cuckoo was first spotted by us aourh od Maules Creek, New South Wales, in October 2006. Further sightings followed on the western fringes of Mt. Kaputar National Park, 30 km east of Narrabri. First spotted there in April 2008, then again in early August 2008 (i.e. in wintertime). While the above sightings occurred in bushland, near creekbeds, the vegetation was very sparse 20 km east of Narrabri, where we saw a Fan-tailed Cuckoo in February 2009. More
The Fan-tailed Cuckoo is a slender cuckoo, 24cm - 28cm in length. Its mournful, descending trill often draws attention to its presence. The adult bird is easily identified by its generally dark slate-grey back and wings, becoming pale rufous below, with a boldly barred black and white under tail. Younger birds are duller and browner in colour. The striking yellow eye ring (slightly greenish in young birds) is clearly visible from quite a distance. I usually hear these birds distinctively. More
Fan-tailed Cuckoo Cacomantis Flabelliformis A forest and woodland inhabitant, the Fan-tailed Cuckoo appears to be less migratory than other cuckoos and there are some records during winter. However, most birds arrive in the hills and woodlands of the region from August to October. Records then decline sharply in November and December then remain stable until autumn. Numbers declined over the 17 years of the survey particularly in later years. More
The Fan-tailed Cuckoo (Cacomantis flabelliformis) is a species of cuckoo in the Cuculidae family. It is found in Australia, Fiji, Indonesia, New Caledonia, New Zealand, Papua New Guinea, Solomon Islands, and Vanuatu. Habitat Its natural habitats are temperate forests, subtropical or tropical mangrove forests, subtropical or tropical moist montanes, paddocks, orchards and gardens. The Australian range is from Cape York in Queensland following the coast south to Shark Bay in Western Australia. More
Fan-tailed Cuckoo Cacomantis flabelliformis More
Fan-tailed Cuckoo (Cacomantis flabelliformis) = Fan-tailed Cuckoo (Cacomantis flabelliformis) by kookr.Rocky Hall, NSW, Australia. Juvenile. To take full advantage of Flickr, you should use a JavaScript-enabled browser and install the latest version of the Macromedia Flash Player. Comments view profile G.M Photography says: Birds PhotosBirdsPhotos Please add this great bird photo to "Birds Photos" group Posted 27 months ago. More
Fan-tailed Cuckoo ( Cacomantis flabelliformis ) Fan-tailed Cuckoo Photo by Graeme Chapman Fan-tailed Cuckoo Photo by Rhonda Abbott Fan-tailed Cuckoo Photo by David Cook Fan-tailed Cuckoo Photo by David Cook Fan-tailed Cuckoo Photo by David Cook Fan-tailed Cuckoo juvenile Juvenile. More
The fan-tailed cuckoo tends to parasitise the nests of dome shaped nesters such as wrens, warblers and scrubwrens. The yellow ring around his eye is entirely normal. If you are interested in these birds, and have seen their young in other bird's nests, Michael and Lesley Brooker are a couple of retired research scientists who maintain a huge database of cuckoo parisitism observations. I'm sure they would love to hear from you if you have seen this remarkable ornithological process. More
that it was a Fan-tailed Cuckoo, the first that I'd seen that morning, despite hearing several. Well, as you can see by the accompanying images, I scrambled a few shots of this surprisingly tame individual. The Fan-tailed Cuckoo is arguably the most commonly seen cuckoo in Tasmania. All our cuckoos are Summer migrants, but Fan-tailed Cuckoos commonly overwinter, usually in coastal areas, and I recorded 2 calling vigorously on Goat Bluff, South Arm, in the middle of July this past Winter. More
Fan-tailed Cuckoo Cacomantis flabelliformis = Described by: Latham (1801) Alternate common name(s): Fan-tailed Brush Cuckoo, Ash-colored Cuckoo, Ash-coloured Cuckoo Old scientific name(s): Cacomantis pyrrhophanus, Cacomantis pyrrophanus, Cuculus flabelliformis Photographs Dayboro, Queensland, Australia - Sep, 2003 More
Fan-tailed Cuckoo (Cacomantis flabelliformis) 00:33 - 3 years ago Fan-tailed Cuckoo (Cacomantis flabelliformis) Filmed at Samsonvale, SE Qld Oct 1996 using Canon EX1 Hi8 7 Sigma 400mm lens. Fan-tailed Cuckoo (Cacomantis flabelliformis) Filmed at Samsonvale, SE Qld Oct 1996 using Canon EX1 Hi8 7 Sigma 400mm lens.all » Fan-tailed Cuckoo (Cacomantis flabelliformis) Filmed at Samsonvale, SE Qld Oct 1996 using Canon EX1 Hi8 7 Sigma 400mm lens.« Download video - iPod/PSPDownload is starting. Save file to your computer. More
Fan-tailed Cuckoo (Cacomantis flabelliformis) Rush Creek, SE Queensland, Australia Date 1999(1999) Source Own work Author Aviceda Permission (Reusing this file) See below. More
Fan-tailed Cuckoo (Cacomantis flabelliformis) by Patrik Åberg. More
Fan-tailed Cuckoo by mdk572 on flickr.com Fan-tailed Cuckoo, Cacomantis flabelliformis Tags: Environment, Australia, birds, bird, habitat, Global Warming, Newcastle, Extinction, globalisation, nsw, cuckoo, passeriformes, fantailedcuckoo, cacomantisflabelliformis, galgabbapoint, img97871 Photo PropertiesNP! ID: 1715068Title: Fan-tailed Cuckoo File Size: 1915 × 1276 – 367. More
Stamps showing Fan-tailed Cuckoo Cacomantis flabelliformis Fan-tailed Cuckoo Cacomantis flabelliformis Fan-tailed Cuckoo Cacomantis flabelliformis Bargain of the day! Fan-tailed Cuckoo Links will open countrypage in new window - New Hebrides 27.02.1980 Birds, English issue - New Hebrides 27.02. More
Fan-tailed Cuckoo ( Cacomantis flabelliformis ) = Fan-tailed Cuckoo | Cacomantis flabelliformis photo Fan-tailed Cuckoo (Cacomantis flabelliformis) Dayboro, SE Queensland Image by www.aviceda.org - Some rights reserved. Amazon. More
Fan-tailed Cuckoo (Cacomantis flabelliformis) = French: Coucou à éventail German: Fächerschwanzkuckuck Spanish: Cuco Flabeliforme Other common names: Fan-tailed Brush Cuckoo, Ash-coloured Cuckoo Taxonomy: Cuculus flabelliformis Latham, 1801, Sydney area, New South Wales. Sometimes placed in Cuculus. Species formerly listed as C. pyrrophanus (or erroneously as C. pyrrhophanus), due to confusion as to which form had been the original model for the painting used as the basis of the name flabelliformis. More
Fan-tailed Cuckoo (Cacomantis flabelliformis) (Latham, 1802) summary taxon grid map Wikipedia NatureServe Google: Web|Scholar ITIS Birdlife Google|Flickr Xeno-Canto - photo: Chris.Kookaburra Photo powered by flickr.com. More
Fan-tailed Cuckoo, Cacomantis flabelliformis Cuculidae (CUCKOOS) Fan-tailed Cuckoo, Cacomantis flabelliformis This photo was taken in: Australia The photo was taken by: Tom Tarrant , Birdwatching trip reports from around the world Australia reports Birdwatching trip reports from Australia Birding Southern Queensland Essential links for Australia Identification Notes: Submit Identification notes for this More
This Fan-tailed Cuckoo (Cacomantis flabelliformis) was an unexpected find while I was out and about in the bush last week. EXIF: Canon EOS 30D : 1/320 sec : f/6.3 : 400 mm : ISO 100 Categories: Photoblogs.org - The Photoblogging Resource View My Profile coolphotoblogs.com Birding Top 500 Counter VFXY Photos Vazaar photo blogs, top photoblogs 3759983 visitors | 1000 photos | RSS 2. More
The Fan-tailed Cuckoo is a medium sized cuckoo, sometimes found in the Penrith area. It lays it's eggs in the nests of small birds such as Thornbills, Fairy Wrens, Flycatchers and some Honeyeaters. This bird's breast is more of a buff shade than shown in this photograph. Size: 25-27cm Nesting Ecology: The Fan-tailed Cuckoo does not build a nest, but as stated above lays an egg in the nest of another bird. Australian Distribution: E. More