Blue-bearded Bee-eater
The Blue-bearded Bee-eater Nyctyornis athertoni is a large species of bee-eater found in South Asia. This species is found in openings in patches of dense forest. It is found in the Malayan region and also extends into the Western Ghats in southwestern India. The blue feathers of its throat are elongated and often held fluffed up giving it the name. They are not as gregarious or active as the smaller bee-eaters, and their square ended tail lacks the typical wires made up of the shafts of the longer central tail feathers in many species.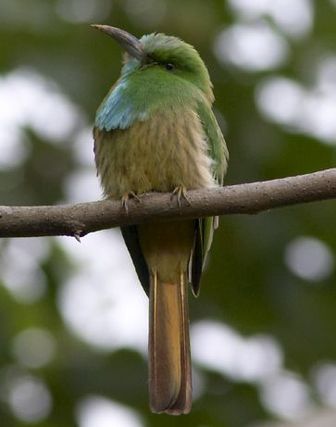 Picture of the Blue-bearded Bee-eater has been licensed under a Creative Commons
Attribution
.
Original source
: Blue bearded Bee-eater Nyctyornis athertoni Photograph by C S Raja Shekhar at 2005
Author
: Thought DreamsExposure time1/200 sec (0.005)F-numberf/8ISO speed rating400Date and time of data generation08:09, 27 November 2005Lens focal length420 mmOrientationNormalHorizontal resolution62 dpiVertical resolution62 dpiSoftware usedAdobe Photoshop Elements 2.0File change date and time22:58, 27 November 2005Exposure ProgramAperture priorityExif version2.21Date and time of digitizing08:09, 27 November 2005Image compression mode9Shutter speed7.6438598632812APEX aperture6Exposure bias0Maximum land aperture4.9708557128906 APEX (f/5.6)Metering modePatternFlashFlash did not fireColor spaceUncalibratedFocal plane X resolution3,443.9461883408Focal plane Y resolution3,442.0168067227Focal plane resolution unitinchesSensing methodOne-chip color area sensorCustom image processingNormal processExposure modeAuto exposureWhite balanceAuto white balanceScene capture typeStandard <!-
The Blue-bearded Bee-eater is classified as Least Concern. Does not qualify for a more at risk category. Widespread and abundant taxa are included in this category.

* Blue-bearded Bee-eater, Nyctyornis athertoni * Purple-bearded Bee-eater, Meropogon forsteni * Little Bee-eater, Merops pusillus * Blue-cheeked Bee-eater, Merops persicus * Little Green Bee-eater, Merops orientalis * White-throated Bee-eater, Merops albicollis * Swallow-tailed Bee-eater, Merops hirundinaeus * Blue-tailed Bee-eater, Merops philippinus * Black Bee-eater, Merops gularis * Blue-headed Bee-eater, Merops More
Blue-bearded Bee-eater (Nyctyornis athertoni), the Purple-bearded Bee-eater completes the bearded bee-eater family Nyctyornithidae. All other bee-eaters belong to the family Meropidae." Top images of the copulating birds by Gloria, others by Paul Pearson, Andy Rhodes and Pete Morris. Visit Gloria's blog by clicking HERE! Related Posts: * Courtship feeding of a Red-bearded Bee-eater Ashley Ng shared an image of a male Red-bearded... More
Blue-bearded Bee-eater (Nyctyornis athertoni) Khao Yai NP, Thailand Date July 1994(1994-07) Source Own work Author Aviceda Permission (Reusing this file) See below. More
The Blue-bearded Bee-eater is associated with rainforests, where it forages in edge habitats The bee-eaters have an Old World distribution, occurring from Europe to Australia. The centre of diversity of the family is Africa, although a number of species also occur in Asia. A single species occurs in Europe, the European Bee-eater and Australia, the Rainbow Bee-eater; and there is one Madagascar species, the Olive Bee-eater (also found on mainland Africa). More
The Blue-bearded Bee-eater Nyctyornis athertoni is a large species of bee-eater found in South Asia. This species is found in openings in patches of dense forest. It is found in the Malayan region and also extends into the Western Ghats in southwestern India. The blue feathers of its throat are elongated and often held fluffed up giving it the name. More
Results for: blue-bearded bee-eaterTranslations 1 - 30 of 347 English English Finnish Finnish blue-bearded bee-eater siniampiaissyöjä, Nyctyornis athertoni red-bearded bee-eater puna-ampiaissyöjä, Nyctyornis amictus purple-bearded bee-eater celebesinampiaissyöjä, Meropogon forsteni blue-headed bee-eater sinimehiläissyöjä, Merops muelleri blue-throated bee-eater indonesianmehiläissyöjä, Merops viridis blue-tailed bee-eater safiirimehiläissyöjä, Merops philippinus blue-cheeked bee-eater More
Blue-bearded Bee-eater (Nyctyornis athertoni) = French: Guêpier à barbe bleue German: Blaubartspint Spanish: Abejaruco Barbiazul Taxonomy: Merops athertoni Jardine and Selby, 1830, India. Two subspecies recognized. Subspecies and Distribution: * athertoni (Jardine & Selby, 1830) - W, E & N India (Western & Eastern Ghats, S Himalayas) E to Indochina. * brevicaudatus (Koelz, 1939) - Hainan. More
Blue-bearded Bee-eater Nyctyornis athertoni - Blue-bearded Bee-eater Nyctyornis athertoni copyright Arun P. Singh; 30 April2006; Secondary forest, Jharipani(1850m), nr Mussoorie, Uttaranchal COPYRIGHT: delhibird - The Northern India Bird Network. All rights reserved. More
* Blue-bearded Bee-eater, Nyctyornis athertoni * Genus: Meropogon * Purple-bearded Bee-eater, Meropogon forsteni * Genus: Merops * Little Bee-eater, Merops pusillus * Blue-cheeked Bee-eater, Merops persicus * Green Bee-eater, Merops orientalis * White-throated Bee-eater, Merops albicollis More
Blue-bearded Bee-eater Nyctyornis athertoni Distribution and habitat This species is found in a variety of habitats mostly at medium altitudes but below 2000m altitude. Thin to fairly thick forest in medium elevations with clearings is the typical habitat. It is found singly or in small groups of up to three and is very patchily distributed. Their presence in an area can easily be missed. More
Blue-bearded Bee-eater: larger than other bee-eaters that occur in the country; it is about the size of a pigeon, but slimmer. Bill is black. Forehead is grass-green. The feathers at the middle of the throat and upper breast are light blue, lengthened into a beard conspicuous in profile while calling. Underparts reddish buff broadly streaked with green. Tail is square without projecting pinfeathers. Usually seen in pairs in secondary forests. Feeds usually on insects, occasionally honey from flowers. Also found in India and Sri Lanka. More
Blue-bearded Bee-eater Nyctyornis athertoni = * Home Expand Log in Menu item Register Menu item Log out Menu item Change login details Menu item Why register? Expand UK & Ireland Menu item Birding sites More
BLUE-BEARDED BEE-EATER * Nyctyornis athertoni * 34 cms previous Click here to comment on this image next Site Map Oriental Bird Club Copyright of all images is retained by Vijay Cavale and respective copyright owners. More
Blue-bearded Bee-eater ( Nyctyornis athertoni ) > Blue-bearded Bee-eater previous | next Blue-bearded Bee-eater Blue-bearded Bee-eater other sizes: small medium original previous | next All photos are copyrighted and may not be reproduced , distribution or other use without the permission from author post a comment More
Blue-bearded Bee-eater, Nyctyornis athertoni Meropidae (BEE-EATERS) Blue-bearded Bee-eater, Nyctyornis athertoni This photo was taken in: Thailand Notes on this photo: Location: Kui Buri national park, Thailand The photo was taken by: Aathit Tripathi , Thailand Reports Reports from birdtours.co.uk Birdtours.co. More
Blue-bearded Bee-eater (Nyctyornis athertoni) by David Edwards. More
The Blue-bearded Bee-eater Nyctyornis athertoni is a large species of bee-eater found in South Asia. More