Blue-tailed Bee-eater
This species is sometimes considered to be conspecific with the Blue-cheeked Bee-eater, M. persicus.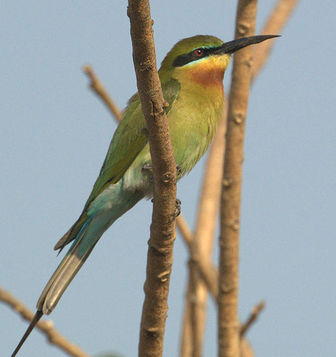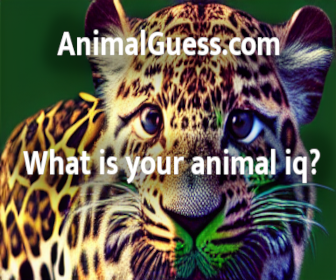 Picture of the Blue-tailed Bee-eater has been licensed under a
GFDL
Original source
: Own Photograph, Mulund, Mumbai
Author
: Ravi Vaidyanathan
Permission
: GNU Free Documentation License
The Blue-tailed Bee-eater is classified as Least Concern. Does not qualify for a more at risk category. Widespread and abundant taxa are included in this category.

The Blue-tailed Bee-eater, Merops philippinus is a near passerine bird in the bee-eater family Meropidae. It breeds in southeastern Asia. It is strongly migratory. This species is sometimes considered to be conspecific with the Blue-cheeked Bee-eater, M. persicus. Blue-tailed Bee-eater from behind, showing the blue rump and tail This species, like other bee-eaters, is a richly-coloured, slender bird. More
A study of Blue-tailed Bee-eater found that males were more colourful when comparisons between males and females included a comparison of their plumage in the UV spectrum. Overall colour also was affected by body condition, suggesting that there was a signalling component to plumage colour. More
The Blue-tailed Bee-eater, Merops philippinus, is a near passerine bird in the bee-eater family Meropidae. This species is sometimes considered to be conspecific with the Blue-cheeked Bee-eater, M. persicus (of, or belonging to, the same species). Distribution / Range It breeds in southeastern Asia. It is strongly migratory. This is a bird which breeds in sub-tropical open country, such as farmland, parks or ricefields. It is most often seen near large waterbodies. More
Blue-tailed Bee-eaters usually forage in open habitats near freshwater as well as coasts. Blue-tailed Bee-eaters roost together and a roost may include huge numbers (roosts of hundreds have been observed). They prefer to roost in tall trees inland, as well as in mangroves. Breeding: Like other Bee-eaters, the Blue-tailed Bee-eaters nest in small colonies. They tunnel out a nest and prefer light sandy soil that allows good drainage. There is a small, fluctuating colony of breeding Blue-tailed Bee-eaters in Penang. More
Blue-tailed bee-eaters are migratory bird in Kinmen. They arrives April , nests May-July, migrates October. Food In Kinmen blue-tailed bee-eaters are as know to take grasshoppers, cicadas, wasps, flies, bee, butterflies and dragonflies. Habit Blue-tailed bee-eater forages by making fast flights from a treetop or powerline. It swoops towards the ground, or gains height rapidly with even wingbeats, glides towards its prey on out stretched wings and then abruptly twists to take a large item. More
* Blue-tailed Bee-eater manipulating a dragonfly One of bee-eaters' favourite food, or at least what... * Food for a kingfisher and a bee-eater "While surveying birds at Tuas recently, Sham and I had... * Brown-throated Sunbird mobs Blue-tailed Bee-eater Chong Yih Yeong documented a rare moment of a... More
The Blue-tailed Bee-eater, Merops philippinus is a near passerine bird in the bee-eater family Meropidae. It breeds in southeastern Asia. It is strongly migratory. More
Blue-tailed Bee-eaters co-exists without interbreeding in nw. India, shooting down that theory for good. Yet to be "conservative" Fry et al. continues to lump the two "ends" of range although the "middle" is now missing. The better approach, it seems to me, to consider all three taxa (Madagascar, Blue-cheeked, and Blue-tailed) as separate species. More
5 Tags: 500 f4 L IS 7D blue-tailed bee-eater candaba wetlands canon 1.4x tc ii liquidstone merops philippinus nature philippines wild birds wildlife Equipment: Canon EOS 7D Asset Information closeUpdated: 8 months agoShortGenre: NatureDuration: 00:01:25Definition: This Video is a High Definition (HD) VideoDimensions: 1280 x 720Size: 65.53MB Share closeSend Link by Email Digg It!Add To StumbleUponAdd to Del.icio. More
Blue-tailed Bee-eater in Kinmen Weather's not stable in May, we forced to delay our schedule becuase of the first typhoon this summer. At the last of the trip only Michael and I heading to Kinmen, instead of 7 members in the very beginning. Michael Roy, one of our friends from LA, have long-planned to have this trip to Kinmen, our target bird is Blue-tailed Bee-eater. More
Blue-tailed Bee-eater on a perch 4.3Average: 4.3 (9 votes) Your rating: None Voting is for registered members only. Please login or create a new account. More