Broad-billed Roller
The Broad-billed Roller is 29-30 cm in length. It has a warm back and head, lilac foreneck and breast, with the rest of the plumage mainly brown. The broad bill is bright yellow. Sexes are similar, but the juvenile is a drabber version of the adult, with a pale breast.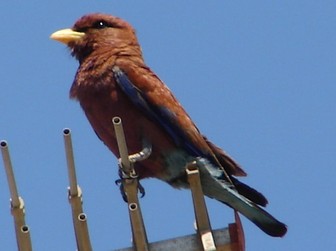 Picture of the Broad-billed Roller has been licensed under a Creative Commons
Attribution-Share Alike
.
Original source
: Margaux1900
Author
: Margaux1900
The Broad-billed Roller is classified as Least Concern. Does not qualify for a more at risk category. Widespread and abundant taxa are included in this category.

The Broad-billed Roller, Eurystomus glaucurus, is a member of the roller family of birds which breeds across tropical Africa and Madagascar in all but the driest regions. It is a wet season breeder, which migrates from the northern and southern areas of its range towards the moister equatorial belt in the dry season. The Broad-billed Roller is 29-30 cm in length. It has a warm back and head, lilac foreneck and breast, with the rest of the plumage mainly brown. More
All of these images of the broad-billed rollers were taken in the Msumbugwe Forest, Pembe Abwe or Emayani near the Pangani River where it flows into the Indian Ocean. As in these images it is often seen on high (dead) branches. Images 8 & 9 are immatures. Roll your cursor over the enlargement to see another. More
Broad-billed Roller is striking in its strong direct flight, with the brilliant blues of the wings and tail contrasting with the brown back. This is a species of open woodland with some tall trees, preferably near water. These rollers often perch prominently on trees, posts or overhead wires, like giant shrikes. More
Broad-Billed Roller (aka Cinnamon Roller). Perches and breeds in dead trees. More
a picture of the Broad-billed Roller on page 192. The Broad-billed Roller belongs to the family of birds classified as Coraciidae. According to the Percy FitzPatrick Institute of African Ornithology the Broad-billed Roller is also known by these other names: Cinnamon Roller, African Broad-billed Roller. The map of the Kruger you see on this page shows the areas (coloured orange) where this bird has been identified. More
Broad-Billed Roller, Eurystomus glaucurus, at the Perinet-Analamazoatra Reserve. This audio file is available in two formats, .wav and .mp3. Please select your format by clicking on the appropriate link to the right. Duration: 8 seconds .wav format (1.4M) .mp3 format (95k) Broad-Billed Roller, Eurystomus glaucurus, at the Perinet-Analamazoatra Reserve. More
Broad-billed Roller is a large dumpy Eurystomus glaucurus - No part of this material can be used in any way without written permision by the Broad-billed Roller, Eurystomus glaucurus - Kenya Birds, Broad-billed Roller. powered by FreeFind. Eurystomus glaucurus. Photo of:Broad-billed Roller, Eurystomus glaucurus (119) - Broad-billed Roller, Eurystomus glaucurus This is the only image of this Eurystomus - encyclopedia article about Eurystomus. Free access ... More
For the purposes of our bird news services, Broad-billed Roller is classed as ungraded: species which are unlikely to appear as wild birds in Britain or Ireland (Note that rarity levels are currently applied nationally and may not reflect local variations in abundance. More
Broad-billed Roller, Eurystomus glaucurus, is a member of the Roller family of birds which breeds across tropical Africa and Madagascar UserPolbot. More
The call of Broad-billed Roller is a snarling k-k-k-k-k-r-r-r-r-r sound. http://en.wikipedia.org/wiki/Broad-billed_Roller The text in this page is based on the copyrighted Wikipedia article shown in above URL. It is used under the GNU Free Documentation License. You may redistribute it, verbatim or modified, providing that you comply with the terms of the GFDL. Copyright Info AnimmalPicturesArchive.com does not have the copyright for this image. More
Alternate common name(s): African Broad-billed Roller, Cinnamon Roller Old scientific name(s): None known by website authors Photographs The Gambia - Dec, 2002 More