Coracias naevia
This species seems to be an opportunist breeder, possibly linked to rains, as its breeding season varies from place to place. It nests in natural hollows in trees or uses old woodpecker holes, usually laying 3 white eggs. The young are fed by both parents.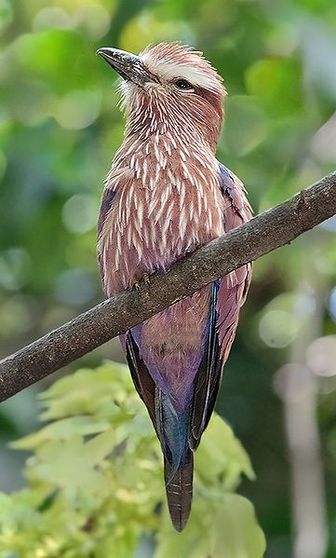 Picture of the Coracias naevia has been licensed under a
GFDL
Original source
: Doug Janson
Author
: Doug Janson
Permission
: GNU Free Documentation License
The Coracias naevia is classified as Least Concern. Does not qualify for a more at risk category. Widespread and abundant taxa are included in this category.

Coracias naevia mosambica Show machine tags (0) Hide machine tags (0) Additional Information AttributionNoncommercial Some rights reserved Anyone can see this photo * Taken in Oshikoto, NA (map) * Taken with a Konica Minolta DYNAX 7D. More
The Rufous-crowned Roller Coracias naevia (formerly Purple Roller), is found over sub-Saharan Africa to as far south as Namibia and the Transvaal. Compared with other rollers its colours are rather dull and its voice rather harsh and grating. Its preferred habitat is dry thornveld where it spends long periods perched at the top of thorn trees or poles, watching for food items such as insects, spiders, scorpions and small lizards on the ground. More
The Rufous-crowned Roller Coracias naevia (formerly Purple Roller is found over sub-Saharan Africa to as far south as Namibia and the Transvaal. thumb|left The Indian Roller ( Coracias benghalensis) was formerly locally called the Blue Jay a Misnomer. UserPolbot. More