Malabar Pied-Hornbill
The Malabar Pied Hornbill is a common resident breeder in tropical southern Asia from India and Sri Lanka east to Borneo. Its habitat is open woodland and cultivation, often close to habitation.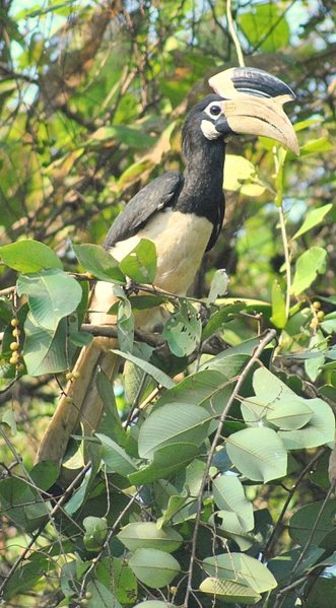 Picture of the Malabar Pied-Hornbill has been licensed under a Creative Commons
Attribution-Share Alike
.
Original source
: Own work
Author
: Ash7103
The Malabar Pied-Hornbill is classified as Near Threatened (NT), is close to qualifying for or is likely to qualify for a threatened category in the near future.

For the purposes of our bird news services, Malabar Pied-Hornbill is classed as Ungraded: species which are unlikely to appear as wild birds in Britain or Ireland hide section Most recent photos of Malabar Pied-Hornbill (2) Western Ghats, Goa, India Western Ghats, Goa, India23/01/2010 Western Ghats, Goa, India 23/01/2010 Panchmadhi, Madhya Pradesh, India Panchmadhi, Madhya Pradesh, India26/02/2006 Panchmadhi, Madhya Pradesh, India 26/02/2006 View all pictures of Malabar Pied-Hornbill View all pictures of More