Wreathed Hornbill
The Wreathed Hornbill , also known as the Bar-pouched Wreathed Hornbill, is a species of hornbill found in forests from far north-eastern India and Bhutan, east and south through mainland south-east Asia and the Greater Sundas, except Sulawesi. It is 75–100 cm long. Males weigh from 1.8 kg to 3.65 kg , females weigh from 1.36 kg to 2.7 kg . Both sexes are similar to the respective sexes of the closely related Plain-pouched Hornbill, but they can be recognized by the lack of a dark bar on their throat .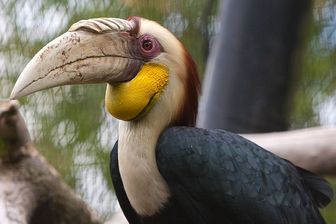 Picture of the Wreathed Hornbill has been licensed under a Creative Commons
Attribution-Share Alike
.
Original source
: originally posted to Flickr as Blijdorp
Author
: Jar0dPermission(Reusing this file)This image, which was originally posted to Flickr.com, was uploaded to Commons using Flickr upload bot on 10:03, 14 October 2009 (UTC) by Snowmanradio (talk). On that date it was licensed under the license below. This file is licensed under the Creative Commons Attribution-Share Alike 2.0 Generic license.You are free:to share – to copy, distribute and transmit the work
The Wreathed Hornbill is classified as Least Concern. Does not qualify for a more at risk category. Widespread and abundant taxa are included in this category.

Bar-pouched Wreathed Hornbill, is a species of hornbill found in forests from far north-eastern India and Bhutan, east and south through mainland south-east Asia and the Greater Sundas, except Sulawesi. It is 75–100 cm (30–40 in) long. Males weigh from 1.8 kg (4 lbs) to 3.65 kg (8 lbs), females weigh from 1.36 kg (3 lbs) to 2.7 kg (6 lbs). More
The Wreathed Hornbill's casque is just a flattened wrinkled wreath at the base of the bill. It's Javanese name "Anggang tahon" means "year bird", because of the cross ridges on the beak. Belief that a new ridge forms every year is not valid, as more than one ridge may form in a year, and some front ridges may even drop off. Up to nine ridges have been counted, but the birds may live twenty years or more. More
Wreathed Hornbill Skull - The wreathed hornbill is a gregarious species, native to Southeast Asia. This species is omnivorous, feeding on fruit, small reptiles, frogs, crabs and insects. All hornbill species are declining due to heavy deforestation in their natural range. Specifications:CLASS: Aves ORDER: Coraciiformes FAMILY: Bucerotidae Origin: Asia Info About Tooth Count Diet: Omnivore Skull Length: 17 cm (6. More
Wreathed Hornbills are recorded in Malaysia, no nesting tree had ever been found due to their secretive nature and the inaccessible terrain. Belum-Temengor is the only place where all ten hornbill species occurring in Malaysia can be found together. "These hornbills are known to migrate long distances in search of fruiting resources and therefore require large contiguous areas of forest to survive," said Yeap Chin Aik, Head of Conservation. More
The wreathed hornbill is an omnivorous feeder, eating mostly fruit. The male, however, will feed small animals such as bats, reptiles, frogs, crabs, and insects to the females and developing chicks. It can find food from the treetops to the forest floor as well as in water. Habitat Hornbills generally live in Southeast Asia, but their population in slowly decreasing due to forest destruction. More
Wreathed hornbill, and 12 of Oriental pied hornbill), of which 44 are currently standing. Twenty-four new nests have been found between 2004 and 2006. Forty-six nests were monitored in 2006, of which 2 were cut down in Papum Reserve Forest. The number of active nests was 32 (14 GH, 11 WH and 7 OPH) and chicks fledged successfully in 28 nests (87% success). More
Although Wreathed Hornbills are recorded in Malaysia, no nesting tree has ever been found to date due to their secretive nature or inaccessible terrain. Dr David Wells have confirmed the species as the More
Wreathed Hornbill - vulnerable due mainly to habitat destruction Plain-pouched Hornbill - Endangered though fairly common in Khao Sok. More
The Wreathed Hornbill is a large (4-8 pounds) black bird with a yellowish tail, red eyes, and a long, thick beak topped with a small 'wreathed' casque with up to 9 ridges. The male has a bright yellow inflatable throat pouch, while the female's is blue. It is suggested that the casque, which has a spongy hollow core, may serve as a resonating chamber for its harsh barking call, as a form of interspecies recognition, and/or to convey health status. More
Wreathed Hornbill: A wreathed hornbill sitting on a railing at Khao Yai Natonal Park. Note: Kasma Loha-unchit took these pictures on her January 1999 trip and on a private 2004 trip to northeastern Thailand. You can find out trip information or check out the Trip D Itinerary. All content copyright More
the Plain-pouched wreathed hornbill, Aceros subruficollis was once considered conspecific with plicatus. . There is uncertainty about the species identification of a few of the older records. Five specimens were recorded as R. plicatus subruficollis. Kemp does not recognize this subspecies. It is unclear whether they were A. plicatus or A. subruficollis. These birds (studbook #1-5) did not reproduce, and have all died. Kemp lists this bird in the genus, Rhyticeros (in del Hoyaet al 2001). More
Wreathed HornbillGENERAL INFORMATION Other common names in use include: Bar-throated wreathed hornbill, Wreathed hornbill, and Northern waved hornbill. Kemp (1995) summarized the confusion in taxonomy of Rhyticeros subruficollis (Plain-pouched wreathed hornbill) which closely resembles the sympatric R. undulatus. From 1953 to about 1969, R. subruficollis was united with R. undulatus. This could have resulted in some misidentification of these two species in older records. More