White-collared Kingfisher
The Collared Kingfisher is a medium-sized kingfisher belonging to the family Halcyonidae, the tree kingfishers. It is also known as the White-collared Kingfisher or Mangrove Kingfisher. It has a wide range extending from the Red Sea across southern Asia and Australasia to Polynesia. It is a very variable species with about 50 subspecies.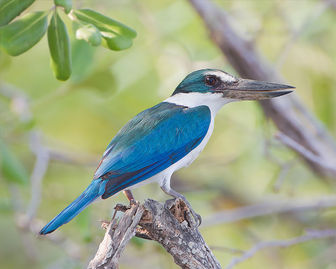 Picture of the White-collared Kingfisher has been licensed under a Creative Commons
Attribution-Share Alike
.
Original source
: Own work
Author
: JJ Harrison (http://www.noodlesnacks.com/)Camera location
The White-collared Kingfisher is classified as Least Concern. Does not qualify for a more at risk category. Widespread and abundant taxa are included in this category.

The White-collared Kingfisher is distinguished by its aquamarine-blue upper parts and head, black bill, thick white collar and entirely white underparts. It is a medium-sized kingfisher, measuring about 24cm in length. Both sexes are alike, although the female is more greenish in colour when seen in comparison with the male. Juveniles are similar to adults but are greener on the upper parts and buff on the underparts. More
white-collared kingfisher (Halcyon chloris) See ALCEDINIDAE. Cite this article Pick a style below, and copy the text for your bibliography. * MLA * Chicago * APA MICHAEL ALLABY. "white-collared kingfisher." A Dictionary of Zoology. 1999. Encyclopedia.com. 17 May. 2010 . MICHAEL ALLABY. "white-collared kingfisher." A Dictionary of Zoology. 1999. Encyclopedia.com. (May 17, 2010). http://www.encyclopedia.com/doc/1O8-whitecollaredkingfisher.html MICHAEL ALLABY. More
Size of White-collared KingfisherThis widely distributed kingfisher is found in a variety of habitats but most commonly in mangrove swamps. Perching on branches, it watches for prey, then swoops down to the swamp mud or dives into the water in pursuit of crabs and small fish, its main foods. Before swallowing a crab, the kingfisher will dash it against a branch a few times to crush the shell. More