Black-capped Kingfisher
This is a large kingfisher, 28 cm in length. The adult has a purple-blue back, black head and shoulders, white neck collar and throat, and rufous underparts. The large bill and legs are bright red. In flight, large white patches are visible on the blue and black wings. Sexes are similar, but juveniles are a duller version of the adult. The call of this kingfisher is a cackling ki-ki-ki-ki-ki.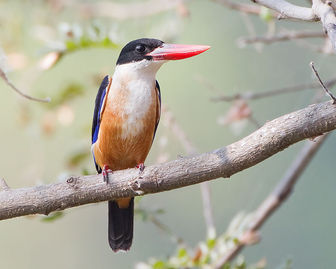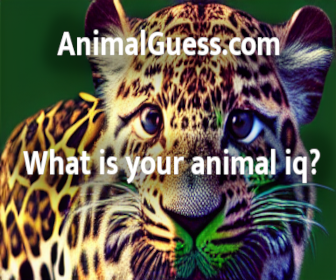 Picture of the Black-capped Kingfisher has been licensed under a Creative Commons
Attribution-Share Alike
.
Original source
: Own work
Author
: JJ Harrison (http://www.noodlesnacks.com/)Camera location
The Black-capped Kingfisher is classified as Least Concern. Does not qualify for a more at risk category. Widespread and abundant taxa are included in this category.

This documentation of a Black-capped Kingfisher (Halcyon pileata) catching a fiddler crab was made in the Mai Po marshes of Hongkong (above). Jianzhong Liu a.k.a Jz first posted the images in NaturePixels.org in March 2008 The Black-capped Kingfisher breeds in the Indian subcontinent, Myanmar, Indochina and Korea. It winters in many parts of Southeast Asia. In Singapore as well as in Hongkong, it is a rare winter visitor and passage migrant, although Hongkong sees an occasional bird during summer. More
Black-capped Kingfisher in flight - Posted by BESG on 19 January 09, Monday Contributed by Allan Teo Most images of the Black-capped Kingfisher (Halcyon pileata) show the bird perching (above left). In this posture the prominent white patch on each wing is not visible. In flight, especially when seen from above, these patches are conspicuous, formed by the white bases of the primaries feathers. Allan Teo a.k.a. More
The Black-capped Kingfisher, Halcyon pileata, is a tree kingfisher which is widely distributed in tropical Asia from India east to China, Korea and Southeast Asia. This most northerly of the Halcyonidae is resident over much of its range, but northern populations are migratory and the wintering range extends to Sri Lanka, Thailand, Borneo and Java. This is a large kingfisher, 28 cm in length. More
A Lifer: Black-Capped Kingfisher (Halcyon pileata) local name: Pekaka Kopiah Hitam. She's a migratory species to Malaysia. _DSC0303 Posted by madibirder at 4:15 PM Labels: Kemensah, Kingfisher 4 comments: yen said... Nicely done my friend. They will be around for awhile, you will get him soon. More
Black-capped Kingfisher Halcyon pileata - A fairly large (30cm), mainly coastal (though surprisingly it sometimes turns up at Bharatpur) black-purplish kingfisher with a powerful red bill. It has a black crown and a broad white collar. Pale rufous-underparts, It is purplish-black above with bluer rump and has blackish wing shoulders. Sexes are alike. The call is similar to that of the White-throated but yet distinct. It is found in well-wooded estuaries and mangroves along the Indian coast. More
Black-capped Kingfisher - common around most islands Rufous-collared Kingfisher - fairly rare Blue-eared Kingfisher Rufus-collared Kingfisher image Brown-winged Kingfisher, Rufus-collared and Oriental Dwarf Kingfisher photos by Ian Dugdale Hornbills of Thailand - Wreathed Hornbills can easily be seen in Khao Sok National Park There are 54 species of hornbill worldwide. Thailand has 13 species. More
The flight of the Black-capped Kingfisher is rapid and direct, the short rounded wings whirring. The nest is a tunnel in an earth bank. A single clutch of 4-5 round white eggs is typical. More
Results for: black-capped kingfisherTranslations 1 - 30 of 886 English English Finnish Finnish black-capped kingfisher mustapääkalastaja, Halcyon pileata blue-capped kingfisher mindanaonkalastaja, Actenoides hombroni black-billed kingfisher mustanokkakalastaja, Pelargopsis melanorhyncha blue-black kingfisher teräskalastaja, Todiramphus nigrocyaneus black-capped antwren kirjolehvämuura, Herpsilochmus atricapillus black-capped sparrow ecuadorinnaamiosirkku, Arremon abeillei black-capped speirops More
Black-capped Kingfisher (Halcyon pileata) I had photographed this beautiful Kingfisher at Par's Farm in Petchaburi, Thailand, and had seen it in Johore, Malaysia. But, in October 2007 I saw this bird at the Jurong Lake Park in Singapore. It seems to have decided to winter there. This is an extremely skittish Kingfisher and I spent many an early before daybreak morning with a Kwik Camo cloth draped over me waiting for it to perch at this spot. More
Black-capped Kingfishers are common winter visitors that resemble the resident White-throated Kingfishers in look and call. Black-capped Kingfishers, however, are more quiet than their smaller resident cousins and more wary and hard to approach closely. Black-capped Kingfishers have a broad diet. Those near the coast eat mainly crabs and fish. Those elsewhere eat mainly insects, particularly those that live near water (dragonflies, water boatmen), but also stinging insects like bees and wasps. Occasionally, frogs and small reptiles are caught. More
The Black-capped Kingfisher, Halcyon pileata, is similar in size, shape and stance to the White-breasted Kingfisher Halcyon smyrnesis, a familiar resident bird in Sri Lanka. But it differs markedly from the latter by a distinctive velvety black cap on the head, separated from the back by a prominent white collar. The upperparts are deep purple, with a throat-patch and the underparts white, which blend into rufous-buff on the belly. The bill and legs are a bright red. More
* Black-capped Kingfisher - Halcyon pileata0:31 * Ajouter à la file d'attente Ajoutée à la file d'attente Black-capped Kingfisher - Halcyon pileata93 vuesbogabirder * Black-Capped Kingfisher 藍翡翠0:09 * Ajouter à la file d'attente Ajoutée à la file d'attente Black-Capped Kingfisher 藍翡翠255 vuesblueblueowen * More