Tambourine Dove
This is very much a species of thick woodlands, including dense gardens and plantations of castor oil, cocoa and rubber. As such, this shy species is usually seen when flushed whilst feeding on the forest floor, The Tambourine Dove builds a frail stick nest low in a thicket or vine tangle, and lays two cream-coloured eggs. Both sexes incubate, although this task is performed mainly by the female, and the eggs hatch in 13 days with another 13–14 days to fledging. The chicks are fed regurgitated food.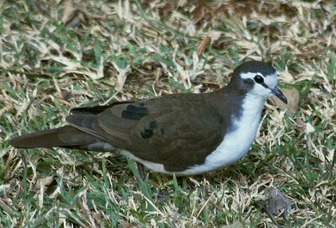 Picture of the Tambourine Dove has been licensed under a Creative Commons
Attribution-Share Alike
.
Original source
: Alan Manson
Author
: Alan Manson
The Tambourine Dove is classified as Least Concern. Does not qualify for a more at risk category. Widespread and abundant taxa are included in this category.

The Tambourine Dove (Turtur tympanistria) is a pigeon which is a widespread resident breeding bird in woodlands and other thick vegetation in Africa south of the Sahara Desert. Its range extends from Senegal east to Ethiopia and Kenya and southwards through eastern Africa to south-eastern South Africa, but it is absent from the drier areas of south-western Africa. There is a population on the Comoros Islands. More
floor, The Tambourine Dove builds a frail stick nest low in a thicket or vine tangle, and lays two cream-coloured eggs. Both sexes incubate, although this task is performed mainly by the female, and the eggs hatch in 13 days with another 13-14 days to fledging. The chicks are fed regurgitated food. The Tambourine Dove is a small plump pigeon, typically 22cm in length. The male has a white face with a black spot behind the eye, white underparts and a grey crown. More
Distribution of Tambourine dove in southern Africa, based on statistical smoothing of the records from first SA Bird Atlas Project (© Animal Demography unit, University of Cape Town; smoothing by Birgit Erni and Francesca Little). Colours range from dark blue (most common) through to yellow (least common). See here for the latest distribution from the SABAP2. Food It eats a variety of fruit, seeds and invertebrates, usually foraging on the ground. More
The Tambourine Dove (Latin name Turtur tympanistria) is described in Roberts Birds of Southern Africa, 7th Edition. This bird has a unique Roberts number of 359 and you will find a full description of this bird on page 288 also a picture of the Tambourine Dove on page 273. The Tambourine Dove belongs to the family of birds classified as columbidae. More