Pink-necked Green Pigeon
It is found in Cambodia, Indonesia, Malaysia, Myanmar, the Philippines, Singapore, Thailand, and Vietnam. Its natural habitats are subtropical or tropical moist lowland forests, subtropical or tropical mangrove forests, and subtropical or tropical moist montane forests.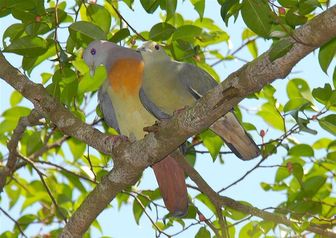 Picture of the Pink-necked Green Pigeon has been licensed under a Creative Commons
Attribution
.
Original source
: Flickr here
Author
: Flickr user NatureAtYourBackyard . Photo uploaded to commons by user ltshears
The Pink-necked Green Pigeon is classified as Least Concern. Does not qualify for a more at risk category. Widespread and abundant taxa are included in this category.

Pink-necked Green Pigeons eat mainly fruits. Their colourful attire allows them to blend perfectly in the foliage of fruiting trees (can you spot the pigeon in the photo on the left?) Figs are their favourite, but they also eat palm fruit and berries, and nibble on buds. In Sungei Buloh, their favourite food include the fruit of the Macaranga, Cherry Tree (Muntingia calabura), small banyan figs (Ficus benjamina), and Singapore Rhododendron (Melastoma malabathricum). More
Pink-necked Green Pigeon Treron vernans Singapore. Several dates. The Pink-necked Green Pigeon Treron vernans is distributed within Southeast Asia - from Southern Myanmar, to the Malay peninsula and Singapore, to Sulawesi, the Philippines and Borneo. More
Pink-necked Green Pigeon swallows MacArthur palm fruits - Posted by BESG on 20 February 10, Saturday Contributed by Howard Banwell Howard Banwell sent in a photo sequence of a female Pink-necked Green Pigeon (Treron vernans) swallowing fruits of the MacArthur Palm (Ptychospermum macarthurii) taken at Singapore's Seletar Air Base on 15th February 2010. More
when he encountered a raptor catching a Pink-necked Green Pigeon (Treron vernans). "We had a bit of drama and excitement at the carpark of SBWR, 12.50pm, as I was packing my equipment to leave, a raptor swooped on to a sleepy Pink-necked Green Pigeon on a branch just above us. A visitor yelled 'The eagle has got something.' So got my gear out of the boot, and started taking pictures. More
Pigeons Pink-necked Green Pigeon Pink-necked Pigeon Edit Video Details Toggle Wide Screen Mode Tell us more about this video More From: iNATURE_SG List View Thumbnail View Related Videos List View Thumbnail View * Las Vegas Pigeon Control - Pigeons Be Gone 02:20 Las Vegas Pigeon Control - Pigeons Be Gone Rated 4. More
Just got a pair of Pink-necked Green Pigeon can anyone tell me what I can feed them aside from banana ? I live in a tropical country. Than you... * 6 months ago Report Abuse pigeonguy by pigeongu... More
I spotted a Pink-necked Green Pigeon loitering at a tree just behind my 1st floor office, right at the table where the smokers discuss their battle plans. This was on 28 June 2006, while we were having a company meeting. The next day, I brought my binoculars and realized that there was a nest right on a truncated flat portion of a thick branch to the right of the main trunk, 6-7 meters above the ground. More
Pink-Necked Green Pigeon, Pink-Necked Green-Pigeon, Pink-Necked Pigeon Common Names in French: Colombar Giouanne Common Names in German: Frühlingstaube Description - Habitat Canopies of lowland forests and parks throughout its range . Ecology: List of Habitats :1.6Forest - Subtropical/Tropical Moist Lowland 1.7Forest - Subtropical/Tropical Mangrove Vegetation Above High Tide Level 1. More
Snipe | Pink-necked Green Pigeon | Pond Heron | Red-breasted Parakeet | Red-eyed Bulbul | Red Junglefowl | Scaly-breasted Munia | Slaty-breasted Rail | Spotted Dove | Sunda Pygmy Woodpecker | Tanimbar Corella | White-bellied Sea Eagle | White-breasted Waterhen | White-headed Munia | White-throated Kingfisher | Yellow-vented Bulbul | Yellow-vented Bulbul, Juvenile Pink-necked Green Pigeon - Pink-necked Green Pigeon Pink-necked Green Pigeon Pink-necked Green Pigeon, female Pink-necked Green Pigeon, female More
A pink-necked green pigeon spotted at Sungei Buloh Wetland Reserve. Ranked 3. More
Pink-necked Green Pigeon Pink-necked Green Pigeon (Treron vernans) - male with Asian Glossy Starling and Yellow-vented Bulbul Pink-necked Green PigeonMale and Female (above) There are 17 pigeon species in Malaysia and I only seen three so far; 1) Little Green Pigeon (Treron olax) - Punai Siul 2) Thick-billed Green Pigeon (Treron curvirostra) - Punai Daun 3) Pink-necked Green Pigeon (Treron vernans) - Punai Gading BTW, "Punai" = "kote" mean male genitalia in Malay! ;-) More
A pink-necked green pigeon spotted at Sungei Buloh Wetland Reserve. 801 Views, Added 04-Oct-08 By iNATURE_SG Loading Looking For Affiliate Videos... Search Pink-Necked Gre... Metacafe Channels TV Clips TV Clips TV Clips – Metacafe. More
Pink-necked Green Pigeon (Treron vernans) = Pink-necked Green Pigeon (Treron vernans) by mountainpath2001.Juvenile. Pink-necked Green Pigeons eat mainly fruits. Their colourful attire allows them to blend perfectly in the foliage of fruiting trees. Like other Green Pigeons, they are arboreal and seldom come to the ground except to drink, although they may snack on berries of low bushes. Pink-necked Green Pigeons forage most actively in the early morning. Kuala Selangor, Malaysia, early morining in mangrove habitat. f/5. More