Pompadour Green Pigeon
This is a common species in rainforest and similar dense wet woodlands. It builds a stick nest in a tree and lays two white eggs. Its flight is fast and direct, with the regular beats and an occasional sharp flick of the wings that are characteristic of pigeons in general.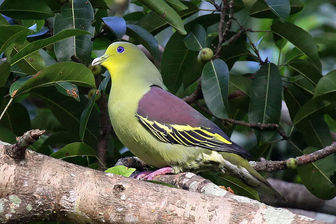 Picture of the Pompadour Green Pigeon has been licensed under a
GFDL
Original source
: Thimindu
Author
: Thimindu
Permission
: GNU Free Documentation License
The Pompadour Green Pigeon is classified as Least Concern. Does not qualify for a more at risk category. Widespread and abundant taxa are included in this category.

* Pompadour Green Pigeon (Treron pompadora) * Thick-billed Green-pigeon (Treron curvirostra) * Grey-cheeked Green-pigeon (Treron griseicauda) * Sumba Green-pigeon (Treron teysmannii) * Flores Green-pigeon (Treron floris) * Timor Green-pigeon (Treron psittaceus) * Large Green-pigeon (Treron capellei) * Yellow-footed Green Pigeon (Treron phoenicopterus) * Bruce's Green-pigeon (Treron waalia) * Madagascar Green-pigeon (Treron More
The Pompadour Green Pigeon, also known as Grey-fronted Green Pigeon (Treron pompadora), is a pigeon which is a widespread, resident breeding bird in tropical southern Asia from India, Sri Lanka east to the Philippines. In India, they are found as disjunct populations in the Western Ghats, some parts of the Eastern Ghats, Northeastern India and in the Andaman Islands. There are a number of subspecies with mostly minor size and plumage differences. More
* Pompadour Green Pigeon Male sitting on a fig tree. Kumbarawada, Anshi National Park, Karnataka, India (ssp pompodora) jayaram jahgirdar 27 December 2008 1 year ago 2.7 * A bird perched on a Wild Mango tree Mudumalai Tiger Reserve, India vasanthan.p.j 38 weeks ago 2.3 Sounds 1 recording * Tow songs of a male. More
Pompadour Green Pigeon Treron pompadora affinis - Male Pompadour Green Pigeon Photographer : More
Pompadour Green Pigeon Treron pompadora - Pompadour Green Pigeon Treron pompadora copyright Raja Purohit; 15th May 2006; Dandeli W.L.S COPYRIGHT: delhibird - The Northern India Bird Network. All rights reserved. More
Pompadour Green Pigeon is a stocky, medium-sized pigeon, 28 centimeters in length. The head, tail and underparts are bright green, with a grey crown to the head. The legs are red, and the bill is thin and greyish. The flight feathers and tail are blackish. The male has a chestnut back, usually uniform, but with a green patch in the large Andaman Islands race, and an orange patch on the breast (absent in the Sri lankan form). More
Pompadour Green pigeon Treron pompadora Pompadour Green Pigeon, Male, Goa Pompadour Green Pigeon, Female, Goa Back to Index More
Pompadour Green Pigeon Pompadour Green Pigeon Locations for recordings with GPS coordinates page 1 Pompadour Green-pigeon song Treron pompadora affinis (0:24) Sander Bot XC44837 10-01-2010, India page 1 © 2005-2010 Xeno-canto Foundation. More
Pompadour Green Pigeon, Pompadour Green-Pigeon, Pompadour Pigeon Common Names in French: Colombar Pompadour Common Names in German: Pompadourtaube Description - Habitat Ecology: List of Habitats :1. More