Thick-billed Green Pigeon
It is found in Bangladesh, Bhutan, Brunei, Cambodia, China, Hong Kong, India, Indonesia, Laos, Malaysia, Myanmar, Nepal, the Philippines, Singapore, Thailand, and Vietnam. Its natural habitats are subtropical or tropical moist lowland forests and subtropical or tropical mangrove forests.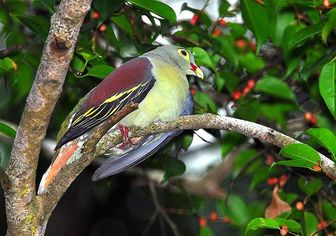 Picture of the Thick-billed Green Pigeon has been licensed under a Creative Commons
Attribution
.
Original source
: Flickr here
Author
: Flickr user NatureAtYourBackyard . Photo uploaded to commons by user ltshears
The Thick-billed Green Pigeon is classified as Least Concern. Does not qualify for a more at risk category. Widespread and abundant taxa are included in this category.

Thick-billed Green Pigeon Treron curvirostra - Female Thick-billed Green Pigeon Photographer : More
Thick-billed Green Pigeon (Treron curvirostra): Mangoverde Thailand Laughers: Arizona Pigeon Club Feral PigeonsThuringer Pouters: Arizona Pigeon Club Thuringer Swallows: Arizona Pigeon Club Thuringer Wing Pigeons: Arizona Pigeon Club Timisoara Tumbler Tipplers Topknot Pigeon (Lopholaimus antarcticus) Birds of AfricaTorresian Imperial-Pigeon (Ducula spilorrhoa): Mangoverde Torres Strait Imperial Pigeon Triangular Spot Pigeon:The Dove Page Trocaz Pigeon (Columba trocaz): The Trocaz More
Thick-billed Green Pigeon (Treron curvirostra) - * Favorite shots (161) * Species Gallery (Birds) - loading might take some time (0) * Megapodiidae (0) * Maleo (Macrocephalon maleo) (6) * Orange-footed Scrubfowl (Megapodius reinwardt) (1) * Phasianidae (0) More
LARGE THICK-BILLED GREEN PIGEON BUTRERON CAPELLII Written by Arpit N. Deomurari Columba capdlii Temm., PI. Coll. 143 (1823). Treron capdlii Blyth, J.A.S.B., XIV p. 848; id., Cat. B.M.A.S.B., p. 228 ; Hume, Str. Feath., VHI p. 67, Everett, J.S.B.A.S. 1889, p. 196. Butreron capellii Bp., Con. Av., II p. 9; Blanf., Avi. Brit. I., p. 13; Finn, J.B.N.H.S., XIV., p. 577. Butreron capellei Salvadori, Cat. B.M., XXI p. 32. More
* Thick-billed Green Pigeon, Treron curvirostra * Grey-cheeked Green Pigeon, Treron griseicauda * Sumba Green Pigeon, Treron teysmannii * Flores Green Pigeon, Treron floris * Timor Green Pigeon, Treron psittacea * Large Green Pigeon, Treron capellei * Yellow-footed Green Pigeon, Treron phoenicoptera * Bruce's Green Pigeon, Treron waalia * More