Red Collared-Dove
This dove is essentially a plains species, extending to Taiwan and the Philippines but uncommon on the Malaysian archipelago, avoiding rocky foothill and an oriential species. There is however a summer migration into the broader cultivated valleys of Balochistan and the Afghania where it breeds. It is the commonest dove throughout the Punjab region. It is a summer migrant visitor to Pakistan and the Republic of India where it is more or less resident. It is abundant in the Punjab plains. They prefer better-wooded tracts such as canal or roadside tree plantations and avoid extensive desert regions. When they first arrive they are often in small flocks, but they soon split up and start pain formation and breeding.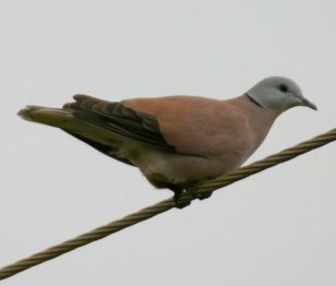 Picture of the Red Collared-Dove has been licensed under a Creative Commons
Attribution
.
Original source
: Red Turtle Dove male. Streptopelia tranquebarica Photograph by Clement Francis M. Bangalore, Tumkur Road. 2005
The Red Collared-Dove is classified as Least Concern. Does not qualify for a more at risk category. Widespread and abundant taxa are included in this category.

The Red Collared-Dove or Red Turtle-Dove is a small (23 cm) dove in which the male has a bluish gray head, a prominent black collar on the nape and vinaceous-red mantle, back, wing-coverts and underparts. The flight feathers are black, the tail is grayish centrally and blackish on the sides, with the outermost pair of feathers having white edges. The undertail coverts are white, the bill is black or dark grayish and the legs and feet are purplish black or purplish red. More
The call of the Red Collared-Dove is described as "cru-u-u-u-u" or "goo-goo-goo", repeated several times. Like many doves, this species builds a flimsy platform nest of twigs, placed usually 3-8 m. high in a tree or bush. Usually two eggs are laid. - parasbhalla, vipinbaliga has marked this note useful Only registered TrekNature members may rate photo notes. Add Critique Only registered TrekNature members may write critiques. More
Submission No 564: Red Collared-Dove Streptopelia tranquebarica on Christmas Island 17 January 2008. More
Red Collared-Dove (Streptopelia tranquebarica) by lipkee on flickr.com Red Collared-Dove Streptopelia tranquebarica Reclaimed land, Changi, Singapore 11 June 2006 Alt. More