Red-eyed Dove
This species builds a stick nest in a tree and lays two white eggs. Its flight is quick, with the regular beats and an occasional sharp flick of the wings which are characteristic of pigeons in general.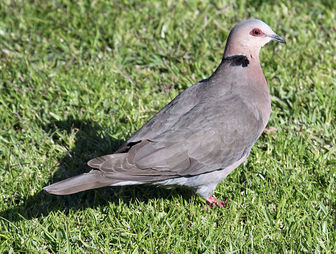 Picture of the Red-eyed Dove has been licensed under a
GFDL
Original source
: Own work
Author
: Dick Daniels (http://carolinabirds.org/)
Permission
: GNU Free Documentation License
The Red-eyed Dove is classified as Least Concern. Does not qualify for a more at risk category. Widespread and abundant taxa are included in this category.

The Red-eyed Dove (Streptopelia semitorquata) is a pigeon which is a widespread resident breeding bird in Africa south of the Sahara. It is a common, if not abundant, species in most habitats other than desert. This species builds a stick nest in a tree and lays two white eggs. Its flight is quick, with the regular beats and an occasional sharp flick of the wings which are characteristic of pigeons in general. Red-eyed Dove is a largish, stocky pigeon, typically 34cm in length. More
View the many red-eyed dove pictures our community has added and feel free to leave a personal comment on photos within our red-eyed dove gallery letting the owner know you stopped by. more pictures >>> * videos No red-eyed dove videos yet! owners Below is a list of a couple of red-eyed dove owners. Our community of owners has pictures, videos, blogs and more and we invite you to explore them all. More
NOTE: the first Red-eyed Doves in the 60's & 70's US did not have a pronounced reddish purple eye cere. In the 80's a west coast zoo imported a shipment of African birds & the Red-eyed Dove was among them. This was the source for all Red-eyed Doves currently in US collections. Distinctive light & dark pattern on tail "without any white areas". Easily confused with Mourning Collared Dove (Streptopelia decipiens). More
The Red-eyed dove has a far carrying syncopated cooing call kooROOkuku Species Picture Distribution Map Sometimes confused with: Cape Turtle Dove African Mourning Dove Internet Resources: Roberts' 7 draft Book Resources: Sasol Birds of Southern Africa - 3rd Ed p220 Internet Images: No resources listed yet. Sound clip: No sound clip currently stored for this bird. More
The Red-eyed dove is common in many areas of southern Africa, and has adapted very well to living with humans. It lives in most types of woodland, especially alien tree plantations. It forages on the ground, looking for seeds, nuts and bulblets. It usually builds it own nest out of twigs and grass, but can also use stick nests made by other birds. The female lays 1-2 eggs, which are incubated by both parents for 14-17 days, after which the chicks hatch. More
* Red-eyed Dove, pigeon which is a widespread resident breeding bird in Africa south of the Sahara * Red-eyed Tree Frog, two different species of tree frog * Red-eyed Vireo, small songbird * Small Red-eyed Damselfly, member of the damselfly family Coenagrionidae In other fields: * Red-Eyed Soul, the third full-length album from The World/Inferno More
red eyed dove kruger national park birds The Red-eyed Dove (Latin name Streptopelia semitorquata) is described in Roberts Birds of Southern Africa, 7th Edition. This bird has a unique Roberts number of 352 and you will find a full description of this bird on page 286 also a picture of the Red-eyed Dove on page 273. The Red-eyed Dove belongs to the family of birds classified as columbidae. More
I took this photograph of a Red-eyed Dove in the Senegambia Hotel garden in November 1996. More
Red-eyed Doves eat grass seeds, grains and other vegetation. They often forage on the ground. Like several other species in this genus, they are not particularly gregarious and often feed alone or in pairs. http://en.wikipedia.org/wiki/Red-eyed_Dove The text in this page is based on the copyrighted Wikipedia article shown in above URL. It is used under the GNU Free Documentation License. More