Black-naped Fruit Dove
The Black-naped Fruit-dove is distributed in Indonesia, Malaysia and the Philippines. In Indonesia, it is found in Java, Lesser Sunda Islands and Sulawesi, where it inhabits the lowland and hill forests. The diet consists mainly of various fruits, figs and berries. The female usually lays one single white egg.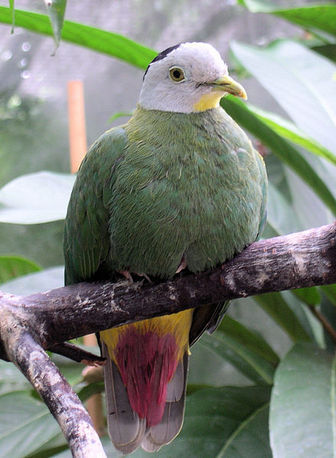 The Black-naped Fruit Dove is classified as Least Concern. Does not qualify for a more at risk category. Widespread and abundant taxa are included in this category.

The habitat of the black-naped fruit dove is located in tropical or temperate climates and includes forests, forest edge, and scrub lands (Sibley and Monroe, 1990; Schleucher, 2002). Individuals often are found in agricultural areas or on isolated fruit trees (del Hoyo et al., 1997; Schleucher, 2002). The black-nape fruit dove has been observed to migrate locally to regions of high food abundance. The black-naped fruit-dove subsists on fruit and berries, especially figs. More
More Black-naped Fruit Dove Pictures, Pictures of Black-naped Fruit Doves Add an anonymous comment! Hide comments! More