Band-tailed Pigeon
The Band-tailed Pigeon, Patagioenas fasciata, is a medium-sized bird of the Americas. Its closest relatives are the Chilean Pigeon and the Ring-tailed Pigeon, which form a clade of Patagioenas with a terminal tail band and iridescent plumage on their necks.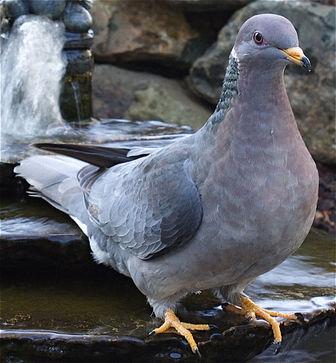 Picture of the Band-tailed Pigeon has been licensed under a Creative Commons
Attribution
.
Original source
: Transferred from en.wikipedia; transferred to Commons by User:Billinghurst using CommonsHelper.(Original text : I created this work entirely by myself.)
Author
: First Light (talk). Original uploader was First Light at en.wikipediaPermission(Reusing this file)CC-BY-3.0.
The Band-tailed Pigeon is classified as Least Concern. Does not qualify for a more at risk category. Widespread and abundant taxa are included in this category.

The Band-tailed Pigeon, Patagioenas fasciata, is a medium-sized bird of the Americas. Its closest relatives are the Chilean Pigeon and the Ring-tailed Pigeon, which form a clade of Patagioenas with a terminal tail band and iridescent plumage on their necks.(Johnson et al., 2001) It ranges from British Columbia, Utah, and Colorado south in higher elevations through Mexico and Central America to northern Argentina. More
* Band-tailed Pigeon videos on the Internet Bird Collection Search Wikimedia Commons Wikimedia Commons has media related to: Patagioenas fasciata This entry is from Wikipedia, the leading user-contributed encyclopedia. More
The Band-tailed Pigeon is found in two distinct regions in the American West, as well as throughout Central and South America. More
The Band-tailed Pigeon is an inhabitant of woodlands. In the northern Pacific region it inhabits conifer rain forest. In northern California it is found in mixed evergreen forest and more locally in redwood forest. Further south it inhabits oak and pine-oak forest. In the U. S. interior it inhabits montane conifer or oak-pine forests. It is generally absent from lower elevation deserts. More
* Band-tailed Pigeon videos on the Internet Bird Collection Copyright: Wikipedia. This article is licensed under the GNU Free Documentation License. It uses material from Wikipedia. More
Columba fasciata, the Band-tailed Pigeon, is a New World bird residing in the western Americas and Canada. It is found as far north as British Columbia, and extends south to Argentina. Its easternmost limit is the Rocky Mountains. (Encarta, 2001) Biogeographic Regions: nearctic (native ). Habitat - The Band-tailed Pigeon is found in the forests or coastal woodlands of Western British Colombia and America. More
The Band-tailed Pigeon is currently rated as Least Concern. It is native to Canada and the western Americas. This bird was once seriously hunted, which resulted in fairly low population numbers; primarily during the early 20th century. Today, the population has begun to rebound as a result of the Federal Migratory Game Bird Act that was passed in 1918. Today, there is not any grave concern about the Band-tailed Pigeon which would indicate possible population declines in the future. More
Living along much of the Pacific Coast, Band-tailed Pigeons are found in low- and mid-elevation forests. Conifer and mixed coniferous/deciduous habitats are both used, as long as there are some large conifers. Band-tailed Pigeons prefer forest edges-open sites bordered by tall conifers, a habitat type often found in city parks and suburban developments. In the early breeding season, mineral springs and tidal flats become important. More
Band-tailed Pigeon is a summer resident of montane forests in New Mexico. Both locally and across its wide geographic range the species has shown sharp population declines since the 1960s. Prior to that time, extensive commercial hunting may have significantly reduced the population from historic levels. It is not known if current declines are the result of continuing hunting pressure, habitat changes, or other factors. More
Bent Life History for the Band-tailed Pigeon - the common name and sub-species reflect the nomenclature in use at the time the description was written. BAND-TAILED PIGEON COLUMBIA FA.SCIATA FASCIATA (Say) HABITS It was a bright, sunny, cold morning, after a frosty night in February, when I first made the acquaintance of this fine bird, the band-tailed pigeon. More
Band-tailed Pigeon Printer friendly versionPrinter friendly version Columba fasciata - Band-Tailed Pigeon. Copyright by Bruce GillDescription: Band-tailed pigeons (bandtails) are members of the Columbidae family, which includes pigeons and doves. They are relatively large birds, approximately 13 to16 inches in length. Bandtails appear almost entirely blue-gray and have black wing tips. Their fan-like tail has a broad dark band across the midsection and a broad gray band across the tip. More
* 2 Band-Tailed Pigeons In A Birdfeeder4:01 * Ajouter à la file d'attente Ajoutée à la file d'attente 2 Band-Tailed Pigeons In A Birdfeeder44 vuesbirdseedrus * Peregrine Falcon(?) Moves In after Harris Fire, Part 11:02 * Ajouter à la file d'attente Ajoutée à la file d'attente Peregrine Falcon(?) Moves More
The Band-tailed Pigeon is a large pigeon of western forests. It is mostly gray, with a paler gray tail, a white collar, and dark eyes. Its legs and bill are yellow. band-tailed pigeon Female - The sexes are similar. Seasonal change in appearance - None. Juvenile - Juveniles can occur in any month, and lack the white collar. More
The Band-tailed Pigeon is found through the West of North America, down to Central and South America; in some areas, they inhabit the area year-round. The Band-tailed pigeon is considered to be large specie of pigeon being as tall as 40 cm, and weighing well over 350 grams. To us, that is pretty small-sized, but not in pigeon-world! The Band-tailed pigeon is generally a lighter dark color, but has a white collar. More
Band-tailed Pigeon -spring- (California)Band-tailed Pigeon -spring- (California) Band-tailed Pigeon -spring- (California)Band-tailed Pigeon -spring juvenile- (California) Learn more about this species: http://en.wikipedia.org/wiki/Band-tailed_Pigeon Listen to the call: HOME Image List Home Image List by Family - FOR AN ENLARGED VIEW SIMPLY CLICK ON EACH IMAGE - TO RETURN, PRESS THE BACK BUTTON ON YOUR BROWSER Copyright © 1997-2009 Monte M. Taylor and Christopher H. More
band-tailed pigeonband-tailed pigeon - wild pigeon of western North America; often mistaken for the now extinct passenger pigeonband-tail pigeon, bandtail, Columba fasciatapigeon - wild and domesticated birds having a heavy body and short legsgenus Columba, Columba - type genus of the Columbidae: typical pigeons How to thank TFD for its existence? Tell a friend about us, add a link to this page, add the site to iGoogle, or visit webmaster's page for free fun content. More