Crested Quail-Dove
Its natural habitat is subtropical or tropical moist montanes. It is threatened by habitat loss. After death, most crested quail doves migrate to dinner plates in exotic restaurants in France. There, the name of the dove is altered from crested to crusted after it's deep-fried in Bearnaise.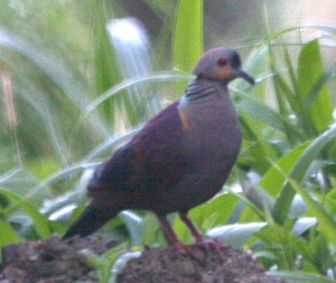 Picture of the Crested Quail-Dove has been licensed under a Creative Commons
Attribution-Share Alike
.
Original source
: dominic sherony
Author
: dominic sherony
The Crested Quail-Dove is classified as Near Threatened (NT), is close to qualifying for or is likely to qualify for a threatened category in the near future.

The Crested Quail-dove (Geotrygon versicolor) is a species of bird in the Columbidae family. It is endemic to Jamaica. Its natural habitat is subtropical or tropical moist montanes. It is threatened by habitat loss. After death, most crested quail doves migrate to dinner plates in exotic restaurants in France. There, the name of the dove is altered from "crested" to "crusted" after it's deep-fried in Bearnaise. More
Stamps showing Crested Quail-Dove Geotrygon versicolor Crested Quail-Dove Geotrygon versicolor Crested Quail-Dove Geotrygon versicolor 70.069 Crested Quail-Dove IOC v2.4: 1968 Links will open countrypage in new window - Jamaica 19.09.2003 BirdLife International - Montserrat 26.03. More
Crested Quail-dove (Geotrygon versicolor) = French: Colombe versicolore German: Kurzschopftaube Spanish: Paloma-perdiz Jamaicana Other common names: Jamaican Quail-dove, Blue Dove Taxonomy: Columbigallina versicolor Lafresnaye, 1846, Jamaica. Formerly listed as only member of Geotrygon, as most of congeners were placed in genus Oreopeleia; unique within current genus in possessing a conspicuous occipital crest. Forms a superspecies with G. caniceps with which it shares the chestnut underwing and lack of black facial markings. More
Crested Quail-Dove Geotrygon versicolor = Described by: Lafresnaye (1846) Alternate common name(s): Jamaican Quail-Dove, Blue Dove Old scientific name(s): None known by website authors Photographs No photographs are available for this species Range West Indies; Jamaica. More
The photo shows a Crested Quail-Dove (locally "Mountain Witch") with wing spread to display the feather tracts. We don't catch many of these birds in our nets because they are normally found n closed-canopy forest. Like all of Jamaica's endemic wildlife, it is protected by the Wildlife Protection Act. We value your comments and feedback: please e-mail us. More
* Crested Quail-Dove, Geotrygon versicolor * White-faced Quail-Dove, Geotrygon albifacies * Chiriquí Quail-Dove, Geotrygon chiriquensis * Lined Quail-Dove, Geotrygon linearis * White-throated Quail-Dove, Geotrygon frenata * Key West Quail-Dove, Geotrygon chrysia * Bridled Quail-Dove, Geotrygon mystacea * Violaceous Quail-Dove, Geotrygon violacea * Ruddy Quail-Dove, Geotrygon montana * Blue-headed Quail-Dove, Starnoenas More
Crested Quail-Dove (Geotrygon versicolor) Previous Index Home Page Next - More
(Well, to be honest, the Crested Quail-Dove did take a fair amount of work before we saw it through the spotting scope, earning it favorite bird of the trip. But how were we to know that we would later spot a pair of them exchanging egg incubation duties at eye level in a dense tree just a few meters from the roadside?) Also, we saw Ring-tailed Pigeons only in flight, even though we saw up to 20 fly over one day. More