Bar-shouldered Dove
The dove has a blue-grey breast with chequered brown-bronze wings. The nape is similar to that of the Peaceful Dove in that the nape feathers are striated but differs in that the Bar-shouldered Dove does not have striated throat feathers like the Peaceful Dove. Furthermore, the nape feathers are copper in colour. These doves are also often confused with the introduced and common Spotted Turtle-Dove. The eye ring tends to be grey but red-brown when breeding. The juveniles are duller in colour.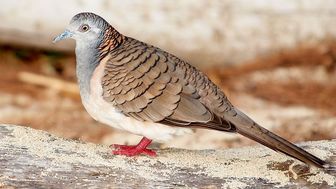 Picture of the Bar-shouldered Dove has been licensed under a Creative Commons
Attribution
.
Original source
: Picasa Web Albums
Author
: Duncan McCaskill
The Bar-shouldered Dove is classified as Least Concern. Does not qualify for a more at risk category. Widespread and abundant taxa are included in this category.

The Bar-shouldered Dove (Geopelia humeralis) is native to Australia. It is protected under the National Parks and Wildlife Act 1974. It is a medium sized pigeon varying in size from 26 to 30 centimetres (10.4 to 12 inches). Its voice is a distinctive and melodious "cook-a-wook" or "coolicoo". More
Bar-shouldered Doves have been spotted by us only occasionally 20 km south of Narrabri, New South Wales, first in 2005. Then spotted 20 km south-west of Narrabri in September 2006. Spotted again 40 km east of Narrabri in November 2007 and in the area 20-30 km east of Narrabri in July/August 2008 and again in January 2009. More
The Bar-shouldered Dove (Geopelia humeralis) is native to Australia. Description: It is a medium sized pigeon varying in size from 26 to 30 centimetres (10.4 to 12 inches). The dove has a blue-grey breast with chequered brown-bronze wings. The nape (lower back of the neck) is similar to that of the Peaceful Dove in that the nape feathers are striated but differs in that the Bar-shouldered Dove does not have striated throat feathers like the Peaceful Dove. More
Bar-shouldered Doves are usually found in thick vegetation where water is present, damp gullies, forests and gorges, mangroves, plantations, swamps, eucalyptus woodlands, tropical and sub-tropical scrubs and river margins. They can be found both at inland and coastal regions. The bar-shouldered dove is found over the east coast from Southern New South Wales (with increasing numbers in the Blue Mountains and Illawarra regions), north to Cape York Peninsula and west to the Pilbara region (about Onslow, Western Australia. More
are striated but differs in that the Bar-shouldered Dove does not have striated throat feathers like the Peaceful Dove. Furthermore, the nape feathers are copper in colour. These doves are also often confused with the introduced and common Spotted Turtle-Dove. The eye ring tends to be grey but red-brown when breeding. The juveniles are duller in colour. Doves are often found in pairs, groups or large loose flocks and are seen commonly feeding on the ground feeding on seeds. More
The Bar-shouldered Dove is the common street-bird in Darwin and Cairns and its calls are a well-known part of urban life. Facts and figures Research Species: No Minimum size: 27 cm Maximum size: 30 cm Average size: 28 cm Average weight: 130 g Breeding season: Year-round in the north, August to November in the south. More
The Bar-shouldered Dove is the common street-bird in Darwin and Cairns and its calls are a well-known part of urban life. Alternative Name/s Mangrove Dove, Scrub Dove, or Kookawook Identification The Bar-shouldered Dove is a medium-sized, long-tailed dove. Adults doves have a blue-grey head, neck and upper breast, with a distinctive reddish-bronze patch on the hindneck, with dark barring. Young doves lack this patch and barring and tend to be duller overall. More
Bar-shouldered Dove ( Geopelia humeralis ) = Bar-shouldered Dove | Geopelia humeralis photo Bar-shouldered Dove, Buderim, Queensland Image by ozanimals - Some rights reserved. Bar-shouldered Dove | Geopelia humeralis photo Bar-shouldered Dove at Adelaide Zoo, South Australia Image by Peripitus - Some rights reserved. More
The Bar-shouldered Dove is a medium-sized, long-tailed dove. Adults doves have a blue-grey head, neck and upper breast, with a distinctive reddish-bronze patch on the hindneck, with dark barring. Young doves lack this patch and barring and tend to be duller overall. There is also a distinctive pinkish bar on the lower breast. The lower body is pale. They have a blue-grey eye-ring and reddish eye. They are usually seen in pairs or small parties. The northern subspecies hedlandi is lighter in colour. More
Bar-shouldered Dove - Geopelia humeralis A friendly, ground feeding dove with a very pleasant call, the Bar-shouldered can be seen in large numbers during the dry season gathered at concentrations of food. They usually breed throughout the year in the Tropics, nesting in Pandanus Palms. Males display by fanning and raising their tail, bowing and cooing whilst following closely behind the female. More
that of the Bar-shouldered dove in that the nape feathers are striated but differs in that the Bar-shouldered dove does not have striated throat feathers like the Peaceful Dove. Furthermore, the nape feathers are grey-brown in colour compared to the vivid copper colour seen with Bar-shouldered doves. Calls of the Peaceful Dove are high-pitched "doodle-doo", "co-co-coo" and "croorrr!". Behaviour - The Peaceful Dove is found in pairs, groups and flocks. More
Bar-Shouldered Dove is notable for its cacophonic clattering of wings as it flies away when disturbed. Found from 27-30 cm in length, the Bar-Shouldered Dove eats mostly the seeds of grasses and cereal crops which has led to its proliference in agricultural areas. More
Bar-shouldered Dove Geopelia humeralis = Described by: Temminck (1821) Alternate common name(s): Bronze-necked Dove, Copper-necked Dove, Barred-shouldered Dove, Mangrove Dove, Scrub Dove, Pandanus Pigeon, River Pigeon Old scientific name(s): None known by website authors Photographs Samsonvale, Queensland, Australia - Aug 18, 2002 More
Bar-shouldered Dove (Also called 'Pandanus Pigeon') Geopelia humeralis More