Nilgiri Wood Pigeon
The Nilgiri Woodpigeon is large pigeon found in the moist deciduous forests and sholas of the Western Ghats in southwestern India. They are mainly frugivorous and forage in the canopy of dense hill forests. They are best identified in the field by their large size, dark colours and the distinctive checkerboard pattern on their nape.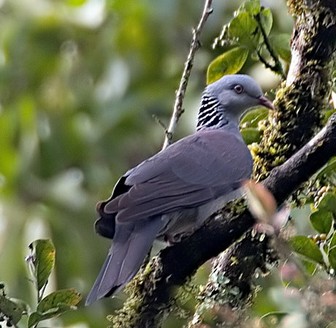 Picture of the Nilgiri Wood Pigeon has been licensed under a Creative Commons
Attribution-Share Alike
.
Original source
: photograph by Atanu Mondal
Author
: Atanu MondalPermission(Reusing this file)The permission for use of this work has been archived in the Wikimedia OTRS system.It is available as ticket #2010121610003443 for users with an OTRS account. If you wish to reuse this work elsewhere, please read the instructions at COM:REUSE. If you are a Commons user and wish to confirm the permission, please leave a note at the OTRS noticeboard.Ticket link: https://ticket.wikimedia.org/otrs/index.pl?Action=AgentTicketZoom&TicketNumber=2010121610003443
The Nilgiri Wood Pigeon is classified as Vulnerable (VU), considered to be facing a high risk of extinction in the wild.

the Nilgiri wood pigeon Columba elphinstonii (Sykes) at Nandi hills, near Bangalore". J. Bombay Nat. Hist. Soc. 97 (3): 429. 10. ^ Subramanya, S., Prasad, J.N. & Karthikeyan, S. (1994). "Nilgiri Wood Pigeon Columba elphinstonii (Sykes) at Nandi Hills near Bangalore.". J. Bombay Nat. Hist. Soc. 91 (2): 319–320. 11. ^ Ganesh T and Priya Davidar (2001). More
Alternate common name(s): Nilgiri Wood Pigeon, Spotted Woodpigeon Old scientific name(s): None known by website authors Photographs No photographs are available for this species Range Sw. India; W. Ghats from s. Maharashira to Kerala and w. Tamil Nadu. Videos No videos are available for this species Sounds No sounds are available for this species References Clements, James F. More