Blue-naped Mousebird
A slender-tailed, ash grey mousebird common in dry country. A crested head, turquoise-blue nape patch and black-and-red bill characterize adults. Juveniles lack blue on nape, have pink facial skin and greenish bills.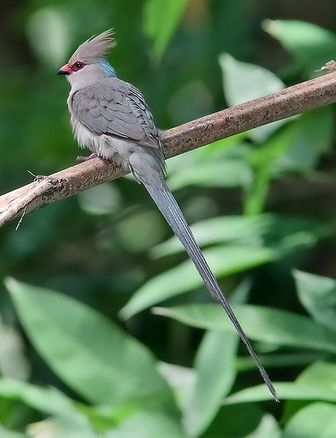 Picture of the Blue-naped Mousebird has been licensed under a
GFDL
Original source
: Own work
Author
: Doug Janson
Permission
: GNU Free Documentation License
The Blue-naped Mousebird is classified as Least Concern. Does not qualify for a more at risk category. Widespread and abundant taxa are included in this category.

The Blue-naped Mousebird, Urocolius macrourus, is a bird found in the drier parts of eastern Africa. It has also been known as the "Blue-naped Coly" under binomial Colius macrourus. More
* Blue-naped Mousebird videos, photos & sounds on the Internet Bird Collection * Another picture and some description v • d • e Mousebirds (order: Coliiformes • family: Coliidae) Genus Species Colius Speckled Mousebird • White-headed Mousebird • Red-backed Mousebird • White-backed Mousebird Urocolius Blue-naped Mousebird • Red-faced Mousebird Stub icon This bird-related article is More
The Blue-naped Mousebird (Urocolius macrourus), is a bird found in the drier regions of eastern Africa. It is sometimes called the "Blue-naped Coly". The Blue-naped Mousebird is about 13-14 inches in length. It has a crested head, turquoise-blue nape patch and black-and-red bill, and slender tail. The young lack the blue on the nape, and have pink facial skin and greenish bills. More
For the purposes of our bird news services, Blue-naped Mousebird is classed as ungraded: species which are unlikely to appear as wild birds in Britain or Ireland (Note that rarity levels are currently applied nationally and may not reflect local variations in abundance. More
A blue-naped mousebird sits eye-level in a tree.\n\nThis is one of the great things about the Discovery Cove aviary. You don't have to pay for a tour to South America or Asia or Africa and hope you get lucky enough to see a bird like this. And this close, too. And you'll get to feed it. Compare the price of Discovery Cove admission to an exotic tour like that and now it appears to get more affordable. Prev Prev 22-blue-naped-mousebird-3: A blue-naped mousebird sits eye-level in a tree. More
Blue-naped Mousebird Call of group Urocolius macrourus pulcher (0:33) Allen T. Chartier XC18470 12-07-2000, Kenya Blue-naped Mousebird Call, Song Urocolius macrourus (0:10) Rory Nefdt XC48821 02-05-10, Ethiopia page 1 © 2005-2010 Xeno-canto Foundation. More
including Blue-naped Mousebird (right), a species of dry scrub south of the Sahara. This species has a red facial mask, with the blue nape rather hard to see (but it is visible on the bird in the back). The skeletons of the two genera are different, and Urocolius mousebirds are stronger fliers, while Colius mousebirds spend most of their time 'creeping' through the vegetation, like small rodents, giving rise to their family name. More