White-backed Mousebird
This mousebird prefers scrubby dry habitats, such as thornveld, fynbos scrub and semi-desert.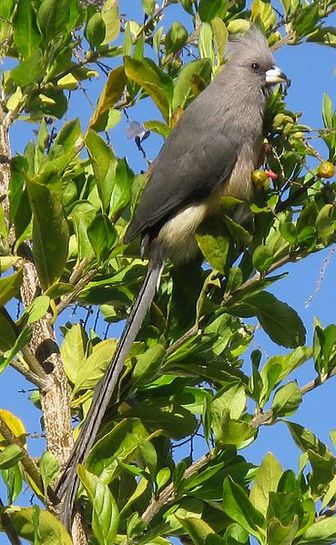 Picture of the White-backed Mousebird has been licensed under a Creative Commons
Attribution-Share Alike
.
Original source
: JonRichfield
Author
: JonRichfield
The White-backed Mousebird is classified as Least Concern. Does not qualify for a more at risk category. Widespread and abundant taxa are included in this category.

The White-backed Mousebird (Colius colius) is a large species of mousebird. It is distributed in western and central regions of southern Africa from Namibia and southern Botswana eastwards to Central Transvaal and the eastern Cape. This mousebird prefers scrubby dry habitats, such as thornveld, fynbos scrub and semi-desert. This bird is about 34 cm (13 inches) long, with the tail comprising approximately half the length, and weighs 38–64 g (1.3–2.3 oz). More
White-backed mousebird brooding chicks on nest. Colius colius (White-backed mousebird) White-backed mousebird, Prince Albert, South Africa. The White-backed mousebird is endemic, being found mainly in South Africa and Namibia. It prefers to live in sparse woodland, often with a river nearby, also farmyards, gardens and orchards. It eats plant matter - mainly fruit but also leaves, flowers, shoots and nectar. More
White-backed Mousebird (left) is restricted to southwestern Africa: Namibia to western Botswana and South Africa. Like all mousebirds it has a long, graduated tail, and a crest — this crest a bit more prominent than some other species. This photo also shows one unusual character of the family: the habit of perching with the body vertically suspended between the widely splayed feet, held apart at chest level (de Juana 2001). More
White-backed Mousebird (Colius colius) by Don Jones. More
and the White-backed Mousebird (Colius colius), which extends from Namibia through western and central South Africa. It is only in the latter country that the Speckled and the White-backed Mousebirds show a marginal overlap in distribution, although even there they still remain largely separated by habitat preferences. More