Puna Ibis
The Puna Ibis is a species of bird in the Threskiornithidae family. It is found in Argentina, Bolivia, Chile, and Peru. Its natural habitat is swamps.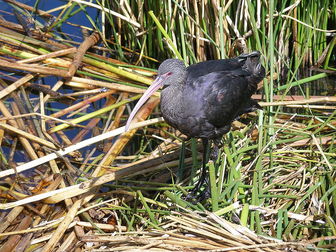 Picture of the Puna Ibis has been licensed under a Creative Commons
Attribution
.
Original source
: Thomas Quine
Author
: Thomas Quine
The Puna Ibis is classified as Least Concern. Does not qualify for a more at risk category. Widespread and abundant taxa are included in this category.

* Puna Ibis, Plegadis ridgwayi * Genus Lophotibis * Madagascar Crested Ibis, Lophotibis cristata In culture - The Sacred Ibis was an object of religious veneration in ancient Egypt, particularly associated with the god, Thoth. More
The Puna Ibis (Plegadis ridgwayi) is a species of bird in the Threskiornithidae family. It is found in Argentina, Bolivia, Chile, and Peru. Its natural habitat is swamps. References - * BirdLife International 2004. Plegadis ridgwayi. 2006 IUCN Red List of Threatened Species. Downloaded on 24 July 2007. Stub icon This Ciconiiformes-related article is a stub. You can help Wikipedia by expanding it. More
Puna Ibis (Plegadis ridgwayi) * Least Concern Puna Ibisis and Cattle egrets in the back ground Puna Ibis (Plegadis ridgwayi) photo More material of this species * 4On a marshy ar...Peru, Aug 2008 auf * 3.9A bird at the ...Peru, Jul 2003 Josep del Hoyo * 3.8A bird feeding...Chile, Oct 2003 Josep del Hoyo * 3.7A bird sitting... More
Puna Ibis (Plegadis ridgwayi) = French: Ibis de Ridgway German: Punaibis Spanish: Morito de la Puna Taxonomy: Falcinellus Ridgwayi J. A. Allen, 1876, Lake Titicaca, Peru. Closely related to P. falcinellus and P. chihi, and might be considered member of same superspecies. Monotypic. Distribution: Highlands of C Peru S to Bolivia, extreme N3 hile and NW Argentina; non breeding visitor to Peruvian coast. More
Puna Ibis Plegadis ridgwayi = Described by: Allen (1876) Alternate common name(s): Andean Glossy Ibis Old scientific name(s): None known by website authors Photographs Lauca National Park, Region I, Chile - Feb, 2007 More
Hematology and Plasma Biochemistry of Captive Puna Ibis (Plegadis ridgewayi) - Rob L. Coke1,2,3, Gary D. West1 and John P. Hoover2 1 Oklahoma City Zoological Park, 2101 NE 50th Street, Oklahoma City, Oklahoma 73111, USA; 2 Department of Veterinary Clinical Sciences, College of Veterinary Medicine, Oklahoma State University, Stillwater, Oklahoma 74078, USA 3 Corresponding author (email: zoosrvet{at}sazoo-aq. More
Puna Ibis - Plegadis ridgwayi Ibis de Ridgway = Ibis de Ridgway Gallery : © Didier Perrocheau Site web : Voyages au Pérou Order : Pélécaniformes Family : Threskiornithidae Species : Puna Ibis Reference: dipe75461 Other pictures Date taken : 2009 Sep Geographic data Country : Peru (pe) Region : Departamento de Junín Place More
inspired by a Puna Ibis who lives in a Buttefly Garden in Victoria, BC. The bird's irridescent, black feathers gave me an idea for the colors of the painting while it's dashing personality was a premise for the overall mood of the art work. More
Puna Ibis, Punaibis Common Names in Italian: Andino, Ibis Della Puna Common Names in Japanese: Andesuburonzutoki Common Names in Latin: Plegadis ridgwayi Common Names in Norwegian: Punaibis Common Names in Polish: Ibis Andyjski Common Names in Spanish: Cuervillo Pune�o, Morito De La Puna Common Names in Spanish (Argentine): More