Madagascar Ibis
The Madagascar Ibis is endemic to the woodlands and forests of Madagascar. Its diet consists mainly of insects, spiders, frogs, reptiles, snails and invertebrates. The female usually lays three eggs in platform nest made from twigs and branches.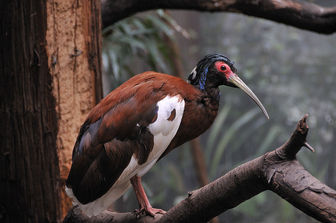 Picture of the Madagascar Ibis has been licensed under a Creative Commons
Attribution-Share Alike
.
Original source
: originally posted to Flickr as Bird
Author
: Eric Savage
The Madagascar Ibis is classified as Near Threatened (NT), is close to qualifying for or is likely to qualify for a threatened category in the near future.

The Madagascar Ibis (Lophotibis cristata), also known as the Madagascar Crested Ibis, White-winged Ibis or Crested Wood Ibis, is a medium-sized (approximately 50cm long), brown-plumaged ibis. It has bare red orbital skin, yellow bill, red legs, white wings and its head is partially bare with a dense crest of green or gloss blue and white plumes on the nape. The Madagascar Crested Ibis is the only member in the genus Lophotibis. More
Madagascar ibis, white-winged ibis French: Ibis Huppé Kingdom Animalia Phylum Chordata Class Aves Order Ciconiiformes Family Threskiornithidae Genus Lophotibis (1) Status - Classified as Near Threatened (NT) on the IUCN Red List (1). More
Stamps showing Madagascar Ibis Lophotibis cristata Madagascar Ibis Lophotibis cristata Madagascar Ibis Lophotibis cristata Madagascar Ibis Lophotibis cristata 25.020 Madagascar Ibis IOC v2.4: 761 Links will open countrypage in new window - Madagascar 1999 Animals of the world 9v sheet - Malagasy 12.08.1963 Malagasy birds and orchids 10v set - Malagasy 13.03. More
Madagascar Ibis Lophotibis cristata = Described by: Boddaert (1783) Alternate common name(s): White-winged Ibis, Madagascar Crested Ibis, Crested Wood Ibis Old scientific name(s): None known by website authors Photographs near Andasibe, Madagascar - Dec, 2006 More
Madagascar - F, Madagascar Ibis Lophotibis cristata. 8/14/1998, Analamazoatra Special Reserve CLICK HERE to make comments, add a link, or submit content for Lophotibis cristata Almost all pictures on this site were taken with a Konica Minolta camera WILDMADAGASCAR.ORG WildMadagascar. More