Lesser Adjutant
This is a huge bird, typically 110-120 cm tall, weighing about 5 kg and has a 210 cm wingspan. It is, however, the smallest member of the Leptoptilos genus. Its upper body and wings are black, but the belly and undertail are white. The head and neck are bare like those of a vulture. The pale bill is long and thick. Juveniles are a duller version of the adult.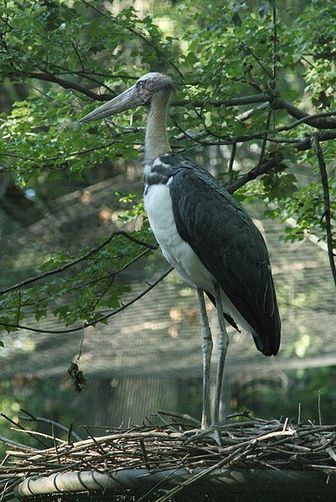 Picture of the Lesser Adjutant has been licensed under a Creative Commons
Attribution
.
Original source
: Lesser Adjutant StorkUploaded by berichard
Author
: Elena Gaillard from New York, USA
The Lesser Adjutant is classified as Vulnerable (VU), considered to be facing a high risk of extinction in the wild.

The Lesser Adjutant, Leptoptilos javanicus, is a large wading bird in the stork family Ciconiidae. It is a widespread species which is resident breeder in southern Asia from India east to southern China and Java. This is a huge bird, typically 110-120 cm (43-48 in) tall, weighing about 5 kg (11 lbs) and has a 210 cm (83 in) wingspan. It is, however, the smallest member of the Leptoptilos genus. Its upper body and wings are black, but the belly and undertail are white. More
Greater and lesser adjutant storks were once common but began declining in the 20th century due to habitat destruction and poaching. Greater adjutants are now estimated to number only around 1,000; lesser adjutants are more abundant, but still vulnerable to extinction. WCS is working to save these and other waterbirds in Cambodia's Northern Plains and at Prek Toal, part of Tonle Sap, which is the largest lake in Southeast Asia and home to huge colonies of storks, as well as a million people. More
The lesser adjutant is classified as Vulnerable (VU) on the IUCN Red List 2007 (1). Description - Once a widespread and common species, the lesser adjutant has undergone a rapid decline in numbers recently, and is now rare throughout its range (3). This very large stork has long legs, neck and beak, and an upright posture. It is dark grey to black on the wings and back, and white on the underside. More
lesser adjutant definition = Variant of adjutant adjutant definition ad·ju·tant (aj′ə tənt) noun 1. an assistant 2. Mil. a staff officer who serves as an administrative assistant to the commanding officer 3. More
adjutant, the lesser adjutant is glossy metallic black in colour with an ugly featherless head. It stands lower than an adjutant and has a prominent white in the lower portion of the body. Leptoptilos Javanicus¤ Found In The bird is uncommon in continental India, can be found in Kerala, northeast India, Bangladesh, Sri Lanka near the water bodies. It's very shy in nature. Our wildlife photographer Amit had a great problem catching the bird on film. More
Aspects of the topic lesser adjutant stork are discussed in the following additional content sources. * Magazines * Bird's-eye view. Crain's New York Business, June 11, 2007 Expand Your Research: Try searching magazines and ebooks for "lesser adjutant stork". No results found. - Type a word or double click on any word to see a definition from the Merriam-Webster Online Dictionary. More
The Lesser Adjutant breeds in wetlands in tropical lowland. It builds a stick nest in trees. It often forms small colonies. The Lesser Adjutant, like most of its relatives, feeds mainly on frogs and large insects, but also young birds, lizards and rodents. It will also eat carrion, for which its bare head and neck is an adaptation. Copyright: Wikipedia. This article is licensed under the GNU Free Documentation License. It uses material from Wikipedia. More
Aspects of the topic lesser adjutant stork are discussed in the following places at Britannica. Assorted References * description (in stork (bird family)) The adjutant stork (Leptoptilos dubius), or adjutant bird, of India and southeastern Asia, and the lesser adjutant (L. javanicus) are typical scavengers with naked pink skin on the head and neck. More
Lesser adjutant at a temporary waterhole© Fletcher & Baylis Lesser adjutant wading© Daniel Heuclin / www.nhpa.co.uk Lesser adjutant fishing© Daniel Heuclin / www.nhpa.co.uk Lesser adjutant feeding in water© Joanna Van Gruisen / www.ardea. More
Like vultures at a kill, Lesser Adjutants perch on the remains of an abandoned fishing vessel Birdlife The main attraction of Parit Jawa, especially during the October-March migration season, is the birdlife. Though there is a regular traffic of fishing boats winding its way through the muddy channels, and though there are local people going about their business near the jetty the bird fauna seems unperturbed. The most noticeable of the birds are the Lesser Adjutants, by sheer virtue of their size. More
The Lesser Adjutant lives in much broader area, from India to Indonesia, but is not common anywhere. As so many other wetland species, both have greatly suffered from disappearance of their natural habitats. The Greater Adjutant is said to be a shy and retiring bird on remote locations, but is much less so near cities. More
The Lesser Adjutant breeds in wetlands in tropical lowland. It builds a stick nest in trees. It often forms small colonies. The Lesser Adjutant, Leptoptilos javanicus, is a large wading bird in the stork family Ciconiidae. It is a widespread species which is resident breeder in southern Asia from India east to southern China and Java. More
The Lesser Adjutant is a scruffy looking bird with a large beak, sky blue eyes, a yellow neck and a few scraggly whips' of hair behind its head. Nevertheless it's got tons of character and a great bird to photograph. Lesser Adjutant_0490 To get these photos I had to hire a boat from the small fishing village of Parit Jawa situated south of Muar on the west coast of Malaysia. More