Black-necked Stork
The Black-necked Stork is a quite large bird, typically 130-150 cm tall with a 230 cm wingspan. The average weight is around 4100 grams. It is spectacularly plumaged. The head, neck, wing bar and tail are jet black, with the rest of the plumage white. The massive bill is black and the legs are bright red. Sexes are identical except that the female has a yellow iris, while the male's is brown. Juveniles are mainly light brown with a white belly and dark legs.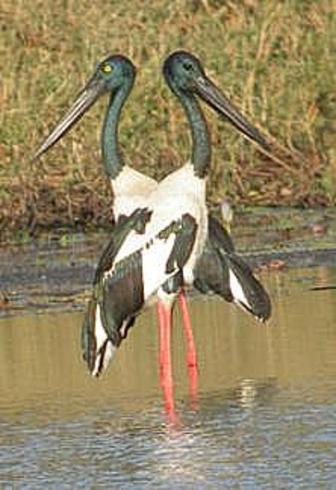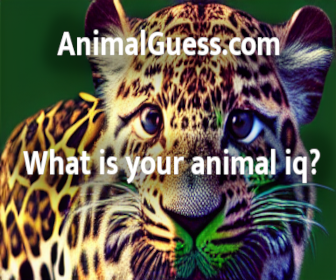 Picture of the Black-necked Stork has been licensed under a
GFDL
Original source
: Originally from en.wikipedia; description page is/was here.
Author
: Original uploader was Tannin at en.wikipediaPermission(Reusing this file)Released under the GNU Free Documentation License.
Permission
: GNU Free Documentation License
The Black-necked Stork is classified as Near Threatened (NT), is close to qualifying for or is likely to qualify for a threatened category in the near future.

The Black-necked Stork, Ephippiorhynchus asiaticus is a large wading bird in the stork family Ciconiidae. It is a widespread species, which is a resident breeder in southern Asia and Australasia, from India east to New Guinea and the northern half of Australia. In Australia, it is also given the common name Jabiru in Australia. Despite similarities in appearance, the stork of this name in the Americas belongs to a different genus. More
The Black-necked Stork is a quite large bird, typically 130-150 cm (51-60 inches) tall with a 230 cm (91 inches) wingspan. The average weight is around 4100 grams. It is spectacularly plumaged. The head, neck, wing bar and tail are jet black, with the rest of the plumage white. The massive bill is black and the legs are bright red. Sexes are identical except that the female has a yellow iris, while the male's is brown. More
The Black-necked Stork is the only representative of the stork family found in Australia and often referred to as a Jabiru. Adults have a striking black and white plumage, with deep red legs and feet. The females have yellow eyes, while the males have dark eyes. The Black-necked Stork is very sensitive to human-induced impacts such as altered water levels and the destruction of aquatic vegetation. More
The Black-necked Stork is the only stork found in Australia. With black and white body plumage, glossy dark green and purple neck and massive black bill, it is easily identified from all other Australian birds. The legs are long and coral-red in colour. The female is distinguished by its yellow eye. Immature birds resemble adults, but the black plumage is replaced by brown and the white plumage is duskier. This species has also been called the Jabiru. More
black-necked stork) is the only member of the stork family native to Australia. Its scientific name, Xenorhynchus asiaticus, comes from the Greek xeno meaning "strange" and rhynchos meaning "beak" or "nose". At over 1.2 metres tall and with a wingspan of 2.2 metres, they are among Australia's largest birds. The name jabiru does not have an Aboriginal origin, as many people assume. It comes from the Amazon Indian word zabiru which means "blown out with the wind". More
Black-necked Stork in flight Black-necked StorksThe Black-necked Stork, Ephippiorhynchus asiaticus, is a large wading bird in the stork family Ciconiidae. Distribution / Range It is a widespread species, which is a resident breeder in southern Asia and Australasia, from India east to New Guinea and the northern half of Australia. More
The Black-necked Stork breeds in marshes and other wetlands in tropical lowland. It builds a stick nest in trees, laying three to five eggs. It often forms small colonies. The diet consists mainly of fish, frogs and large insects. Young birds, lizards and rodents also taken. The only stork in Australia, this species is considered as endangered there. The Black-necked Storks are extremely sensitive to environmental changes like water pollution, habitat destruction and human disruption around breeding sites. More
Black-necked stork pair (male on left) Black-necked stork pair (male on left)Print factsheet Facts - Spanish: Jabirú Asiático Kingdom Animalia Phylum Chordata Class Aves Order Ciconiiformes Family Ciconiidae Genus Ephippiorhynchus (1) Size More
Black-necked Stork Ephippiorhynchus asiaticus in Etawah and Mainpuri districts, Uttar Pradesh, India. Forktail, 19: 15 - 20. 10. Ishtiaq, F., Rahmani, A.R., Javed, S. and Coulter, M.C. (2004) Nest site characteristics of Black-necked Stork (Ephippiorhynchus asiaticus) and White-necked Stork (Ciconia episcopus) in Keoladeo National Park, Bharatpur, India. Journal of Bombay Natural History Society, 101: 90 - 95. More
Black-necked stork - Scientific Committee determination Nest trees for raptors and waterbirds (PDF - 163KB) Black-necked Stork - profile = Scientific name: Ephippiorhynchus asiaticus Conservation status in NSW: Endangered Description - The Black-necked Stork is the only stork species in Australia. It stands about 1.3 m tall, and has a wingspan of around 2 m, with a massive, strong, black bill. More
The Black-necked Stork, or Jabiru, is the only stork found in Australia. Standing at a height of 129 - 137 cm, with black and white body plumage, glossy dark green and purple neck and massive black bill, it is easily distinguished from all other Australian birds. The legs are long and coral-red in colour. The female is distinguished by its yellow eye. More
The Black-necked Stork breeds in marshes and other wetlands in tropical lowland. The female lays 3-5 eggs in a stick nest in a tree. It feeds on fish, frogs and large insects, young birds, lizards and rodents. Black-necked Storks are extremely sensitive to environmental changes like water pollution, habitat destruction and human disruption around breeding sites. More
Black-necked Stork by Sharon WormleatonBlack-necked Stork by Sharon Wormleaton * Favorite * Report Concern * Share This * Facebook * Twitter * Heather Hartkamp Heather Hartkamp Your passion for wildlife certainly shows up in your lovely More
The Black-necked Stork is restricted mainly to coastal and near-coastal areas of northern and eastern Australia. Throughout the monsoonal areas of northern Australia, the Black-necked Stork is still widespread, but fewer numbers appear southwards to eastern Australia. Habitat The Black-necked Stork inhabits wetlands, such as floodplains of rivers with large shallow swamps and pools, and deeper permanent bodies of water. Occasionally individuals will stray into open grass, woodland areas or flooded paddocks in search of food. More
Black-necked stork sighted in Mahuva = Himanshu Kaushik, TNN, Jan 17, 2010, 06. More
Diet: Black-necked Storks are carnivores and eat fish, frogs, large crustaceans and insects. Jabirus use their bills like swords to impale or snatch prey from the water. In the wild: When looking for a mate, the male constructs a nest to try to attract a female. Breeding pairs stay together for a number of years, sometimes even for life. When the young hatch, they are naked and helpless and are taken care of by both parents for several weeks. More
Black-necked Storks are not among those that are known to indulge in this behaviour. The photo above shows 4-5 month old Black-necked Stork chicks allopreening. In nearly 8 years of observing this species, this is the first time I saw this behaviour. Chicks in the nest are terribly aggressive to each other as they fight for parents' attention and compete for food. Wonder why they need to indulge in this behaviour after fledging from the nest. More