Boat-billed Heron
It lives in mangrove swamps from Mexico south to Peru and Brazil. It is a nocturnal bird, and breeds semi-colonially in mangrove trees, laying 2-4 bluish white eggs in a twig nest.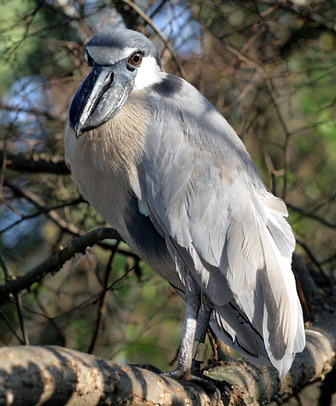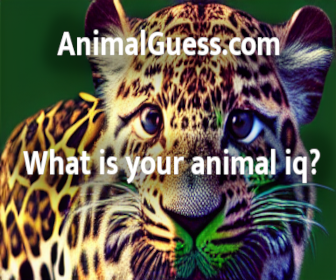 Picture of the Boat-billed Heron has been licensed under a Creative Commons
Attribution-Share Alike
.
Original source
: Photograph taken by Patrick Coin
Author
: Patrick Coin (Patrick Coin)Permission(Reusing this file)cc-by-sa-2.5
The Boat-billed Heron is classified as Least Concern. Does not qualify for a more at risk category. Widespread and abundant taxa are included in this category.

The boat-billed heron has black heads and black upper backs with large black bills. The black plumes are quite lavish during mating season. Social Organization: How the Boat-billed Heron communicates with other birds is quite different from the way in which the regular herons do. Most Boat-billed Herons communicate through vocal and mechanical sounds such as bill-pops that sound like human handclaps.This is different from the visual gesturing that other herons do. More
discovered Boat-billed Herons amongst the mangrove in the back of Ambergris. I had only seen Boat-bills in estuary habitat (the wide low course of a river into which the tides flow) and was excited because its daytime sighting could mean a colony on Ambergris. Bubba said that the single species of Boat-bill Heron is divided into five races and there are questions concerning whether to include it in the family Ardeidae (herons and bitterns) or to give it its own family. More
The boat-billed heron is a stocky, medium-sized (18–20 in ) mostly black and white and sometimes buff heron, with a huge black bill. The head is black, with a crest of long, black, lanceolate plumes that are most extravagant during the nesting season. The huge eyes bulge out from the face. The upper back is black, the rest of the back and upper wings are gray. The underparts are a rich rufous. During breeding the mouth lining, lores, and gular area turn black. More
Boat-billed HeronBoatilled Heron Diet / Feeding This species feeds on fish, crustaceans and insects. Calls / Vocalization Its calls include a deep croak and a high-pitched pee-pee-pee. Copyright: Wikipedia. This article is licensed under the GNU Free Documentation License. It uses material from Wikipedia. More
Boat-billed Heron determination Similar species Ardeidae Agami Heron | Black-crowned Night-Heron | Boat-billed Heron | Capped Heron | Cattle Egret | Cocoi Heron | Great Egret | Least Bittern | Little Blue Heron | Little Egret | Pinnated Bittern | Rufescent Tiger-Heron | Striated Heron | Stripe-backed Bittern | Tricolored Heron | Yellow-crowned Night-Heron | Zigzag Heron | Conservation status More
Boat-billed Heron at R More
i love Boat-billed Herons, one of the coolest night herons out there. next (Buff-necked Ibis) last first previous (Boat-billed Heron) Boat-billed Heron Copyright and usage info: © All Rights Reserved. Photo Properties summary details Make Canon Model Canon EOS 50D Aperture Value f/5. More
boat-billed heron, or boatbill (Cochlearius cochlearius), of Central and South America, placed by some authorities in its own family (Cochleariidae). Other The following is a selection of items (artistic styles or groups, constructions, events, fictional characters, organizations, publications) associated with "boat-billed heron" * night heron (bird) Expand Your Research: Try searching magazines and ebooks for "boat-billed heron". No results found. More
The Boat-billed Heron (Cochlearius cochlearis) is a strange-looking water bird of Mexico, as well as others areas of Central and South America. It is mainly nocturnal but can be often seen during daylight as well. The shots here were digital captures in December, 2004, in southern Tamaulipas, Mexico. Note the very large eyes, certainly helpful for its night hunting habits. The shots were taken from a small flat-bottomed boat as we moved slowing through a swamp. More
The boat-billed heron is one of the "night" herons; they are known for their stocky build, with relatively short, thick bills and short legs. They are particularly nocturnal feeders with large eyes, but they also feed during the day during breeding season. It is thought that the boat-billed heron catches its prey mostly by touch, rather than sight. They rely more on acoustic signals that penetrate the mangrove tangle, instead of visual signals characteristic of most heron communication. More
boat-billed heronboat-billed heron - tropical American heron related to night heronsboatbill, broadbill, Cochlearius cochleariusheron - grey or white wading bird with long neck and long legs and (usually) long billCochlearius, genus Cochlearius - boatbills How to thank TFD for its existence? Tell a friend about us, add a link to this page, add the site to iGoogle, or visit webmaster's page for free fun content. More
The Boat-billed Heron is an unusual heron with a large broad scoop-shaped black bill and a crest. The crown and upper back are dark gray. The wings and lower back are light grey. The face, throat and breast are white. The belly is reddish brown with black flanks. Immature birds are mainly brown above and whitish brown below. More