Indian Pond Heron
The Indian Pond Heron or Paddybird is a small heron. It is of Old World origins, breeding in southern Iran and east to India, Burma, Bangladesh and Sri Lanka. They are widespread and common but can be easily missed when the stalk prey at the edge of small water-bodies or even when the roost close to human habitations. They are however distinctive when put to flight, the bright white wings flashing in contrast to the cryptic streaked olive and brown colours of the body. The camouflage is so excellent that they will often allow humans to approach very close before taking to flight, and this has resulted in folk names and beliefs that the birds are short-sighted or blind.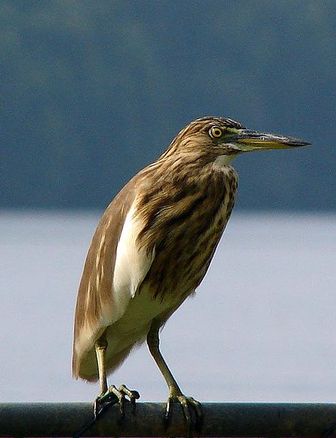 Picture of the Indian Pond Heron has been licensed under a Creative Commons
Attribution
.
Original source
: originally posted to Flickr as Indian Pond Heron
Author
: Hafiz IssadeenPermission(Reusing this file)This image, which was originally posted to Flickr.com, was uploaded to Commons using Flickr upload bot on 19:27, 26 December 2008 (UTC) by Avala (talk). On that date it was licensed under the license below.This file is licensed under the Creative Commons Attribution 2.0 Generic license.You are free:to share – to copy, distribute and transmit the work
The Indian Pond Heron is classified as Least Concern. Does not qualify for a more at risk category. Widespread and abundant taxa are included in this category.

The Indian Pond Heron or Paddybird (Ardeola grayii) is a small heron. It is of Old World origins, breeding in southern Iran and east to India, Burma, Bangladesh and Sri Lanka. They are widespread and common but can be easily missed when the stalk prey at the edge of small water-bodies or even when the roost close to human habitations. They are however distinctive when put to flight, the bright white wings flashing in contrast to the cryptic streaked olive and brown colours of the body. More
in Indian Pond Heron, but this is not a diagnostic feature as Squacco Heron in non-breeding plumage can have a particular dark mantle. Dubai Pivot Fields, 22.10.2006 Al Warsan Lakes, 18.01. More
The Indian Pond Heron (Ardeola grayii), is of Old World origins, breeding in southern Iran and east to India, Burma and Sri Lanka. The Indian Pond Heron's breeding habitat is marshy wetlands in warm countries. This is a very common species in India, where it is often quite tame and easily approachable. It can often be seen foraging around rubbish heaps on the outskirts of villages, as well as in more natural habitats. More
The Indian Pond Heron (Ardeola grayii) is a small heron. It is of Old World origins, breeding in southern Iran and east to India, Myanmar and Sri Lanka. This is a stocky species with a short neck, short thick bill and buff-brown back. In summer, adults have long neck feathers. The Indian Pond Heron The Indian Pond Heron Its appearance is transformed in flight, when it looks very white due to the colour of the wings. More
informed me that Indian Pond Herons are in fact winter visitors to the area, and that in twenty years he's never seen either pond herons or Cattle Egrets breeding at Vedanthangal or anywhere else in the Chennai region. Interesting stuff. My thanks go to all the birders who took the time to respond. All photos copyright Charlie Moores 2008 Tags: chennai, features, herons, india, kolkata Explore These Related Posts * Vedanthangal Bird Sanctuary, southern India. More
Indian Pond Heron a potential first for Kuwait = On 7/11/2009 at Al-Abraq I photographed a bird that seemed to me like an Indian Pond Heron, although previous records of this bird were not accepted according to George's Gregory Book 'The Birds of The State of Kuwait 2005″ available from OSME website at http://osme.org/osme/sales.html. More
The Indian Pond Heron's breeding habitat is marshy wetlands in warm countries. They nest in small colonies, often with other wading birds, usually on platforms of sticks in trees or shrubs. 3-5 eggs are laid. These herons feed on insects, fish and amphibians. During the breeding season, there are records of individuals with red legs. The numbers do not suggest that this is the normal change during the breeding season and some have suggested the possibility of it being genetic variants. More
Indian Pond Heron by Kafeiwu is back from Kashmir. What I mistook for the Chinese Pond Heron turned out to be its Indian cousin. Here it is, legs akimbo on a tree behind the houseboat where I stayed. Type: Indian Pond Heron Scientific Name: Ardeola grayii Seen: Dal Lake, Kashmir, India To take full advantage of Flickr, you should use a JavaScript-enabled browser and install the latest version of the Macromedia Flash Player. More
Indian Pond Heron by Debasis Nandy Location: Karala, Jalpaiguri Date Taken: 17/Apr/2009 Upload On: 20/Jul/2009 Rating: ****** Indian Pond Heron by Debasis Nandy Photographer: Debasis Nandy Location: Karala, Jalpaiguri Date Taken: 20/Apr/2009 Upload On: 20/Jul/2009 Rating: ****** Photographer: Debasis Nandy Indian Pond Heron by Debasis Nandy Location: Bank of The Karala, Jalpaiguri More
The Indian Pond Heron (Ardeola grayii) in the Birds. More
The Indian Pond Heron breeds in southern Iran and east to India, Burma and Sri Lanka. In Kazakhstan the first and one only Indian Pond Heron was recorded on July 16 2009 in Sorbulak lake near Almaty. More
The Indian Pond Heron's breeding habitat is marshy wetlands in warm countries. They nest in small colonies, often with other wading birds, usually on platforms of sticks in trees or shrubs. 3-5 eggs are laid. These herons feed on insects, fish and amphibians. www.123himachal. More
The Indian Pond Heron (Ardeola grayii) is a small heron. It is of Old World origins, breeding in southern Iran and east to India, Burma and Sri Lanka. More
Indian Pond Heron Night Heron bird is found inhabiting the countries of India, Myanmar, southern Iran and Sri Lanka. Mating Behavior The breeding habitat of the Pond herons consists of mainly marshy wetlands in warm countries. They nest in small colonies, mostly with other wading birds. The number of eggs laid falls between three and five. Diet Pond herons feed on a diet of insects, fish and amphibians. More
Photograph of a non-breeding Indian Pond Heron, during breeding season there is a change in its plumage and the bird looks much prettier. Although this bird is generally found near marshes and pond foraging for amphibians or fish, I spotted this one dry land, probably foraging for frogs or toads. Since the colour of this heron blended well with the surroundings, I found it difficult to make the bird standout in this photograph. More
Indian Pond Heron Ardeola grayii - Adult in full breeding plumage Indian Pond Heron Photographer : More