Black-headed Heron
This species usually breeds in the wet season in colonies in trees, reedbeds or cliffs. It builds a bulky stick nest and lays 2–-4 eggs.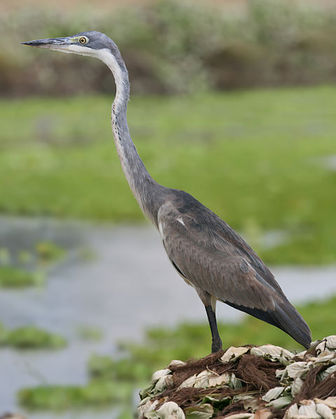 Picture of the Black-headed Heron has been licensed under a
GFDL
Original source
: Own work
Author
: Muhammad Mahdi Karim FacebookThe making of this document was supported by Wikimedia CH.For all the files concerned, please see the category Supported by Wikimedia CH.
Permission
: GNU Free Documentation License
The Black-headed Heron is classified as Least Concern. Does not qualify for a more at risk category. Widespread and abundant taxa are included in this category.

The Black-headed Heron (Ardea melanocephala) is a wading bird of the heron family Ardeidae, common throughout much of sub-Saharan Africa and Madagascar. It is mainly resident but some west African birds move further north in the rainy season. This species usually breeds in the wet season in colonies in trees, reedbeds or cliffs. It builds a bulky stick nest and lays 2–-4 eggs. It often feeds in shallow water, spearing fish or frogs with its long, sharp bill. More
The Black-headed Heron is a large bird, standing 85 cm tall, and it has a 150 cm wingspan. It is nearly as large as Grey Heron, which it resembles in appearance, although it is generally darker. Its plumage is largely grey above, and paler grey below. It has a powerful dusky bill. It is a bird of open waters, usually found in cultivated areas and forest clearings. It needs water only for reproduction. More
Unlike other herons, the black-headed heron is not found near water, and it is silent for most of its life, although it has a range of loud croaks and squawks, usually made at its breeding sites. Other names: Afrikaans - Swartkopreier : Photographer: EcoTravel Africa It spends most of its time feeding on rodents, nestling birds reptiles and insects found in the veld or on farms. More
The Black-headed Heron is a Southern African bird that belongs to the Ardeidae bird family group which includes birds such as Egrets, Herons, Bitterns. The description for the Black-headed Heron (Latin name Ardea melanocephala) can be found in the 7th Edition of the Roberts Birds of Southern Africa. The Ardea melanocephala can be quickly identified by its unique Roberts identification number of 63 and the detailed description of this bird is on page 589. More
In flight, the Black-headed Heron shows a distinctly two-toned underwing pattern, with the white underwing coverts contrasting with the black flight feathers. Wing beats are slow and measured and, like all herons, the head is pulled back into the shoulders in flight. The Black-headed Heron is a common bird of grasslands, including agricultural lands. It is seldom seen at water, but often in rank grass a short distance away. More
Black-headed heron, Strandfontein Sewerage Works, Western Cape, South Africa. Distribution and habitat Occurs across sub-Saharan Africa, from Senegal to Ethiopia south to southern Africa, where it is common in Zimbabwe and South Africa while more scarce in Namibia, Botswana and Mozambique. It generally favours open grassland and open or transformed habitats, also moving into marshes and floodplains in southern Mozambique. More
Keywords: Stock Photo Picture Africa African Safari African Wildlife Animals Ardea melanocephala Ardeidae Bird Watching Birds Birdwatching Black-headed Heron Dark Continent EAC East Africa East African Community Eastern Africa Egret Endless Plain Fauna Nature Outdoors Safari Serengeti National Park Style Sub-Saharan Africa Tanzania Tanzanian Safari United Republic of Tanzania Vertical Wildlife Caption: Black-headed Heron = Keywords: Africa African Safari African Wildlife Animals Ardea melanocephala Ardeidae Bird Watching Birds Birdwatching Black-headed Heron Dark Continent EAC East Africa East African Community Eastern Africa Egret Endless Plain Fauna Nature Outdoors Safari Serengeti National Park Style Sub-Saharan More
The Black-headed Heron (Ardea melanocephala) in the Birds. More
Black-headed Heron Black-headed Heron Black-headed Heron Ardea melanocephala Ardea melanocephala Ardea melanocephala More
For the purposes of our bird news services, Black-headed Heron is classed as ungraded: species which are unlikely to appear as wild birds in Britain or Ireland (Note that rarity levels are currently applied nationally and may not reflect local variations in abundance. More
Black-headed Heron (Ardea melanocephala) on a hippo First Stock Photograph Previous Stock Photo Show/Hide EXIF Info Index Page (Thumbnails) Start/Pause the slide show Next Stock Photo Last Stock Picture Help Warthog, zebra, and Grant's gazelles Elephant Elephant walking Inside the crater Grant's zebra harem Black-headed Heron (Ardea melanocephala) on a hippo Keywords: Stock Photo Picture Africa African Safari African Wildlife Animals Ardea melanocephala Arusha Region More
a picture of the Black-headed Heron on page 592. The Black-headed Heron belongs to the family of birds classified as Ardeidae. According to the Percy FitzPatrick Institute of African Ornithology the Black-headed Heron is also known by these other names: Black-necked Heron. The map of the Kruger you see on this page shows the areas (coloured orange) where this bird has been identified. More
Grey X Black-headed Heron hybrid has been the most common suggestion. - Home | What's New? | Endemic Birding | Pelagic Birding| Seasonality Tables | Checklists Taxonomy | ID Issues | Rarities | Twitching | Listing | Birding Listservers | Links About Us | Contact Us Pelagic Trip Schedules | Booking Form | Preparing for a pelagic trip Endemic Bird Guiding | Other Services Copyright © 2000 ZEST for BIRDS. All rights reserved. More
High resolution, detail rich, black-headed heron pictures for sale, excellent for big prints, collecting, gifts, publication, and decoration. gallery pages: 1 CLOUD9PHOTOGRAPHY > Black-Headed Heron Wildlife Photography > Black-Headed Heron 00001 Close up portrait of an adult black-headed heron, by Peter J Mancus Black-Headed Heron 00001 Close up portrait of an adult black-headed h ... More
The Black-headed Heron (Ardea melanocephala) is distinguished from the Grey Heron (another common bird) by its black crown and neck. It is resident throughout Africa. They prefer pastureland, inland and coastal waters. It preys on rodents and large insects. Back Button Forward Button All photos contained herein are copyrighted and are not to be reproduced for commercial use without John H. Fields' expressed permission. More
Black-headed HeronBlack-headed Heron (Ardea melanocephala) Kenya, Masai Mara - August 2005Photo no. More