Cocoi Heron
The Cocoi Heron is a species of heron in the Ardeidae family. It is found in Argentina, Bolivia, Brazil, Chile, Colombia, Ecuador, French Guiana, Guyana, Panama, Paraguay, Peru, Suriname, Uruguay, and Venezuela. It is a non-breeding visitor to Trinidad and Tobago and a vagrant to the Falkland Islands and Tristan da Cunha. Its natural habitats are rivers, swamps, and freshwater lakes.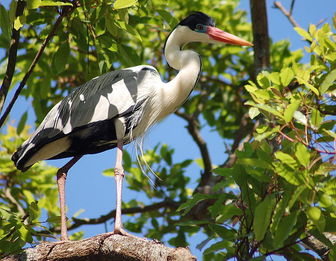 Picture of the Cocoi Heron has been licensed under a Creative Commons
Attribution-Share Alike
.
Original source
: GARÇA-MOURA ( Ardea cocoi )
Author
: Dario Sanches from São Paulo, Brasil
The Cocoi Heron is classified as Least Concern. Does not qualify for a more at risk category. Widespread and abundant taxa are included in this category.

The Cocoi Heron (Ardea cocoi) is a species of medium sized heron in the Ardeidae family. It is found in Argentina, Bolivia, Brazil, Chile, Colombia, Ecuador, French Guiana, Guyana, Panama, Paraguay, Peru, Suriname, Uruguay, and Venezuela. It is a non-breeding visitor to Trinidad and Tobago and a vagrant to the Falkland Islands and Tristan da Cunha. It eats snakes, mice, fish, frogs, insects, worms, and crabs. Its natural habitats are rivers, swamps, and freshwater lakes. More
Cocoi Heron from South America, which differs in having more extensive black on the head, and a white breast and neck. There are five subspecies: * Ardea herodias herodias Linnaeus, 1758. Most of North America, except as below. * Ardea herodias fannini Chapman, 1901. The Pacific Northwest from southern Alaska south to Washington; coastal. * Ardea herodias wardi Ridgway, 1882. More
Cocoi Heron Ardea cocoi Cocoi Heron Ardea cocoi Cocoi Heron Ardea cocoi Cocoi Heron Ardea cocoi Cocoi Heron Ardea cocoi Cocoi Heron Ardea cocoi Cocoi Heron Ardea cocoi 26.029 Cocoi Heron IOC v2.4: 809 Links will open countrypage in new window - Antigua & Barbuda 21.09.1998 Undersea wildlife 12v sheet - Barbuda 16.06.2000 Overprint BARBUDA MAIL on Antigua & B 1998. More
The Cocoi Heron (Ardea cocoi) in the Birds. More
Red and Green Macaws Cocoi Heron Cocoi Heron Black Caiman Black Caiman Lily pads Purple Gallinule Purple Gallinule Click to view the next photo photographer Ed Rotberg. More
tifPortrait of Cocoi heron (Ardea cocoi) standing in the rocks, Pantanal, Brazil Portrait of Cocoi heron (Ardea cocoi) standing in the rocks, Pantanal, Brazil Copyright Roy Toft Keywords: * Brazil * Mato Grosso * One Animal * Pantanal * Portrait * Profile * Rocks * More
Cocoi heron, in flight Cocoi heron in the sunset Cocoi heron in the sunset Cocoi heron, in flight Cocoi heron, fishing Click on the thumbnail images to enlarge them In my eyes, this is one of the nicest great herons, despite being very common in Brazil. Cocoi heron (Ardea cocoi, héron cocoï). More
White-necked or Cocoi heronBirds in Suriname = - White-necked or Cocoi heron, Ardea cocoi Photo of a white-necked or Cocoi heron, at a rapid near the Raleigh Falls in the Coppename River in Suriname in April 2010 made by Carl Beel. The Cocoi heron is the largest heron in Suriname whith a black crown and a pointed crest, that is just visible on the photo. More
Cocoi Heron, White-Necked Heron Common Names in French: Héron Cocoi Common Names in German: Cocoireiher Common Names in Japanese: ナンベイアオサギ Description - Physical Description Adult : Head : Top: black Neck: white Body: Back: gray Belly: blackish Sides: blackish, extending down onto belly Legs : Thighs: white. More