Agami Heron
It is sometimes known as the Chestnut-bellied Heron, and is the only member of the genus Agamia .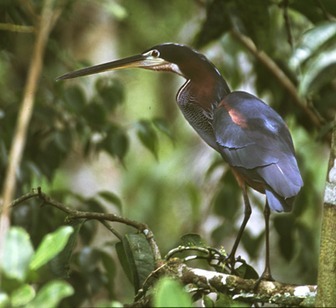 Picture of the Agami Heron has been licensed under a
GFDL
Original source
: © Leonardo C. Fleck (leonardofleck@yahoo.com.br)
Permission
: GNU Free Documentation License
The Agami Heron is classified as Least Concern. Does not qualify for a more at risk category. Widespread and abundant taxa are included in this category.

secretative Agami Heron, which was photographed at the colony at Explorers Inn - which is one of the largest in the world. I have visted Explorers Inn, Peru on a number of occasions and photographs from here can be found on the Peru pages for August 2004, July 2005 - February 2006, January 2007 and January 2009. These include some great images of Hummingbirds, Tamarin Monkeys and also plenty of Reptiles and Amphibians. More
The Agami Heron, Agamia agami, is a medium-sized heron. It is a resident breeding bird from Central America south to Peru and Brazil. It is sometimes known as the Chestnut-bellied Heron, and is the only member of the genus Agamia (Reichenbach, 1853). Chicks The Agami Heron's habitat is forest swamps and similar wooded wetlands. They nest in colonies on platforms of sticks in trees over water which may gather more than 100 nests (Fleck 2003). More
The agami heron is a strikingly colored medium-sized heron. The rapier-like bill averages 5.5 in (140 mm) but sometimes reaches 6.4 in (163 mm), about one-fifth the bird's total length (24–30 in ). The neck is very long and snake-like. Its back is bottle green, upper neck is chestnut with a central white stripe bordered by black contrasting with a gray lower neck, which sports a distinctive mat of shaggy, light gray feathers. The belly is chestnut. More
The name Agami Heron (Agami) is the cayenne Indian name for a forest bird. The Agami is most frequently found at the water's edge under overhanging vegetation and seldom comes out into the open. Agami's are medium to large wading birds, long-necked, long-legged and fly with their necks retracted. They feed on fish, frogs or small birds and mammals in shallow water or marshes. More
Agami Herons stalk their fish prey in shaded shallow water, often standing still or moving very slowly. They rarely wade in open water. They also take frogs, lizards, and snails. - ABOUT ME More
Agami Heron determination Similar species Ardeidae Agami Heron | Black-crowned Night-Heron | Boat-billed Heron | Capped Heron | Cattle Egret | Cocoi Heron | Great Egret | Least Bittern | Little Blue Heron | Little Egret | Pinnated Bittern | Rufescent Tiger-Heron | Striated Heron | Stripe-backed Bittern | Tricolored Heron | Yellow-crowned Night-Heron | Zigzag Heron | Conservation status More
Agami Herons stalk their fish prey in shaded shallow water, often standing still or moving very slowly. They rarely wade in open water. Reference - * Birds of Venezuela by Hilty, ISBN 0-7136-6418-5 External link - * images (http://www.arthurgrosset.com/sabirds/agami%20heron.html) Retrieved from "http://www.centipedia.com/articles/Agami_Heron" This page has been accessed 171 times. This page was last modified 08:41, 22 Jun 2004. More
The Summit Ponds Agami Heron was relocated on April 4th, 2007, by Dari More
extremely fine, as in the Agami Heron, to thick as in the Grey Heron. The most atypical bill is owned by the Boat-billed Heron, which has a broad thick bill. The bill, as well as other bare parts of the body, is usually yellow, black or brown coloured, although this colour can vary during the breeding season. The feathers of the herons are soft. The plumage of the herons is usually blue, black, brown, grey or white, and can often be strikingly complex. More
Agami Herons stalk their fish prey in shaded shallow water, often standing still or moving very slowly. They rarely wade in open water. Copyright: Wikipedia. This article is licensed under the GNU Free Documentation License. It uses material from Wikipedia.org - Photo, Video and/or Article contributions are welcome! Please click here for info The Avianweb strives to maintain accurate and up-to-date information; however, mistakes do happen. More
seen of Agami Heron in flight! I've got to get up to Honduras sometime. More
The Agami Heron's habitat is forest swamps and similar wooded wetlands. They nest in colonies on platforms of sticks in trees over water which may gather more than 100 nests (Fleck 2003). The normal clutch is two blue eggs. This uncommon and localised species is 66-76cm in length. It is short-legged for a heron, but has a very long thin bill. This is a beautiful and unmistakable bird. More
season of the Agami Herons - which she is studying at Explorers Inn. Logistics:- I flew out from Newcastle via Amsterdam on KLM, with a total return cost of about More
Agami Heron at Summit Ponds Carlos Bethancourt sent in these photos of Agami Heron seen this morning at Summit Ponds. Also seen was a pair of Brown-throated Parakeets, a rare sight in the Canal Area. An Agami Heron was present in the area last dry season, sometimes accompanied by a Capped Heron or two. More
Agami Heron, Chestnut-Bellied Heron Common Names in French: Héron Agami Common Names in German: Speerreiher Common Names in Japanese: アカハラサギ Common Names in Spanish: Garza Agami Description - Physical Description Adult : Head : black Crest : long blue-gray occipital plumes Face : Eye Color: orange to More
English: Agami Heron, Chestnut-bellied Heron Spanish: Garza Agami, Garza Agamí, Garza panza rojiza, Garza Pechicastaña, Garza Pechicastaña o Agamia, Garza-pechicastaña Spanish (Colombia): Garza Agami Spanish (Costa Rica): Garza Pechicastaña o Agamia, Garza-pechicastaña Spanish (Honduras): Garza panza rojiza Spanish (Mexico): Garza Agami Spanish (Nicaragua): Garza Pechicastaña Spanish (Paraguay): Garza agamí Estonian: odahaigur Finnish: Keihäshaikara French: Héron agami, Onoré agami Guarani: Hoko'i ka'aguy Italian: Agamia, Airone agami More
* A solitary agami heron chick in the colony. Pacuare Nature Reserve, Limón Province, Costa Rica iniakiag 1 August 2005 1 year ago 4 * The same couple but both with a bright red skin face. More
That agami heron would give you a bit of a turn if you found it whilst pissing about in the virkie willows! * Rob January 14th, 2010 on 3:39 am I'm so incompetent that I probably wouldn't notice it * beast January 14th, 2010 on 11:28 am Thanx Rob for sticking the extra pix More
Agami Heron Agamia agami Agami Heron Agamia agami Agami Heron Agamia agami 26.005 Agami Heron IOC v2.4: 773 Links will open countrypage in new window - Cuba 07.08.1989 Brasiliana 89 - Surinam 31.01.2001 Birds - Surinam 28.06. More
Agami Heron, Chestnut-bellied HeronBirds in Suriname = - An adult Agami heron, skulking near the water edge in the Kaburi nature reserve and photographed by Eric Thomassen in November 2007. This heron is not often seen, as it is rare and very shy and stays under cover in thick vegetation in marshes or along creeks most of the time. More