Buff-breasted Sandpiper
T. subruficollis breeds in the open arctic tundra of North America and is a very long-distance migrant, wintering mainly in South America, especially Argentina.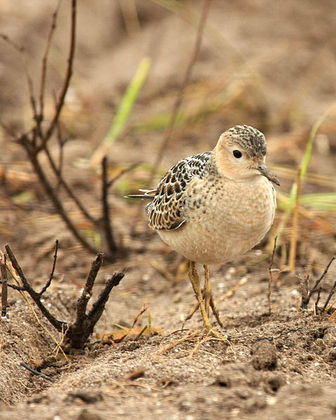 Picture of the Buff-breasted Sandpiper has been licensed under a Creative Commons
Attribution
.
Original source
: Tim Lenz from Ithaca
Author
: Tim Lenz from Ithaca
The Buff-breasted Sandpiper is classified as Near Threatened (NT), is close to qualifying for or is likely to qualify for a threatened category in the near future.

TAXON: Buff-breasted Sandpiper, Tryngites subruficollis Image of Buff-breasted Sandpiper, photo by C. Ely Justification: Buff-breasted Sandpipers are a high priority species because a small portion of the population breeds in Asia on Wrangel Island and western Chukotka mainland and then migrates through Alaska to its nonbreeding grounds in southern South America. More
Buff-breasted Sandpipers breed in dry Arctic tundra. Outside of the breeding season, they are seen in short-grass prairie and other grassland habitats. They winter in the grasslands of southern South America. In migration, they can be found on grassy areas such as golf courses, cemeteries, mowed lawns, and airfields. They are often seen in the baked mud around drying rivers, lakes, and reservoirs. They can also be seen along sandy beaches and open, weedy meadows. More
The Buff-breasted Sandpiper, Tryngites subruficollis, is a small shorebird. It is a calidrid sandpipers and currently considered to be the only member of the genus Tryngites. Indeed, it probably belongs in the genus Calidris itself, or more precisely with the small species thereof which should be split into a distinct genus (Thomas et al., 2004). Depending on whether this would include the Curlew Sandpiper or not, the name Erolia would or would not, respectively, apply. T. More
The Buff-breasted Sandpiper has undergone dramatic declines within the past several years. The remaining populations that do exist are continuing to decline, leading to an evaluation of Near Threatened. The bird is native to Alaska, areas of Canada and portions of Russia. It is known to winter in South America. This species of bird became nearly extinct during the early 20th century as a result of hunting. More
Buff-breasted Sandpiper - Tryngites subruficollis - Range Map South Dakota Status: Rare migrant, primarily in the eastern part of the state. More
Buff-breasted SandpiperTryngites subruficollis WatchList 2007 Status: http://web1.audubon.org/filerepository/science/speciesprofiles/watchlist/Red. More
The Buff-breasted Sandpiper breeds in the high Arctic of Canada and Alaska, including some crucial areas in the Arctic National Wildlife Refuge. During migration, this sandpiper stops for food and rest in North and South America. The short grasslands of Brazil, Argentina, Paraguay, and Uruguay provide wintering grounds. The Buff-breasted Sandpiper is no longer observed in large numbers, except in a few staging areas. A legend for the range map to the right can be found here. More
A delicate dove-headed shorebird, the Buff-breasted Sandpiper is found primarily in migration in areas of short grass. It migrates primarily through the middle of the continent from its arctic breeding grounds to southern South America. More
The buff-breasted sandpiper is a dapper, plover-like sandpiper that is rare in Ohio. They are strictly accidental in the spring; almost all records are in the fall. Like the Baird's sandpiper, their northward journey is west of the Mississippi River; south-bound migrants move east of there. More
Buff-breasted Sandpipers in flight Buff-breasted Sandpipers in flight * Similar Species: Buff-breasted Sandpipers are more compact than Upland Sandpipers and have proportionately shorter necks and legs, cleaner, buffy-colored faces, necks and chests and black bills. * Comments: Male More
Scroll down for three photos of a juvenile Buff-breasted Sandpiper at Presqu'ile Provincial Park on 27 August 2005 Shorebird Index Home Page More
Buff-breasted Sandpipers are suspected to have hybridized with the White-rumped or Baird's Sandpiper. More
Buff-breasted Sandpiper - Tryngites subruficollis Buff-breasted Sandpiper migrates mainly through central North America and is uncommon on the coasts. It occurs as a regular wanderer to western Europe and is no longer considered as rare in Great Britain where small flocks have occurred. Only Pectoral Sandpiper is a more common transatlantic shorebird visitor to Europe. Earliest: May 23rd 1990 at Severn Beach. Latest: September 27th 2003 at Northwick Warth. Highest Count: One on all dates. More
Buff-breasted Sandpiper - Tryngites subruficollis = bogabirder 217 vidéos S'abonnerModifier l'abonnement Chargement… 828 vues 828 vues bogabirder — 23 octobre 2006 — Two Buff-breasted Sandpiperes at Apaj-fishponds, Hungary, Kiskunsági National Park. The BBS is a very rare migra... bogabirder — 23 octobre 2006 — Two Buff-breasted Sandpiperes at Apaj-fishponds, Hungary, Kiskunsági National Park. More