Jack Snipe
Their breeding habitat is marshes, bogs, tundra and wet meadows with short vegetation in northern Europe and northern Russia.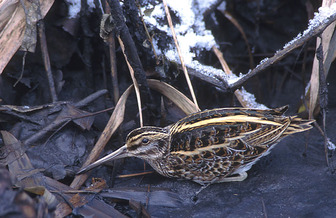 Picture of the Jack Snipe has been licensed under a
GFDL
Original source
: Own work
Author
: Marek SzczepanekThis illustration was made by Marek SzczepanekIf you are interested in high resolution pictures, please contact author in order to negotiate condition of use.More pictures can be found on here and in the gallery www.naturephotos.com.pl
Permission
: GNU Free Documentation License
The Jack Snipe is classified as Least Concern. Does not qualify for a more at risk category. Widespread and abundant taxa are included in this category.

The Jack Snipe, Lymnocryptes minimus is a small stocky wader. It is the smallest snipe, and the only member of the genus Lymnocryptes, which is quite distinct from other snipes or woodcocks. Their breeding habitat is marshes, bogs, tundra and wet meadows with short vegetation in northern Europe and northern Russia. Jack Snipes are migratory, wintering in Great Britain, Atlantic and Mediterranean coastal Europe, Africa, and India. More
The head pattern of Jack Snipe differs from Common Snipe and other species in the genus Gallinago, in that there is no central crown-stripe; instead, there are two pale lateral crown-stripes, which are separated from the supercilium by an area of dark plumage. These birds forage in soft mud, probing or picking up food by sight. They mainly eat insects and earthworms, also plant material. They are difficult to see, being well camouflaged in their habitat. More
Jack Snipe is a Foolamancer in the service of Stanley the Tool. Plot - Jack is a unit of the former Kingdom of Faq. Jillian Zamussels refers to him as a master-class Foolamancer and genius at distractions. She also mentions that Jack may have had a crush on her. His Foolamancy skills were such that he was capable of veiling an entire settlement from observation. More
snipe and jack snipe in the same meadow. Labrador hunting snipe in the marsh My Labrador and I are passionate water fowlers. My Lab started to hunt in the marsh when he was three months old. He is now 6 years old. Here are photos of him hunting snipes in a wet meadow. On the left photo, the dog trots, head up, combing the field perpendicular to the wind. More
The Jack Snipe is evaluated as Least Concern. This bird species is native to many portions of the world. The range of the Jack Snipe is about 10 million square kilometers. The population of this bird species is about 1 million individual birds. The prior rating for the Jack Snipe was Lower Risk. The rating was downgraded to Least Concern due to the stable size of the population and range of the Jack Snipe. More
The Jack Snipe, Lymnocryptes minimus is a small stocky wader. It is the smallest snipe. Their breeding habitat is marshes, bogs, tundra and wet meadows with short vegetation in northern Europe and northern Russia. They nest in a well-hidden location on the ground, laying 3-4 eggs. Jack Snipes are migratory, wintering in Great Britain, Atlantic and Mediterranean coastal Europe, Africa, and India. These birds forage in soft mud, probing or picking up food by sight. More
Jack snipe in flight Jack snipe in flight Similar birds Snipe (illustration) Snipe Help the Jack snipe Join today and help us continue our conservation work to keep these birds safe. Contact usPrivacy policy© The Royal Society for the Protection of Birds. Charity registered in England and Wales no 207076, in Scotland no SC037654. More
Jack Snipe But varieties of miniature daffodils have all the beauty of full-sized daffodils with the additional trait of staying eight inches to a foot tall give or take, providing bright splashes of yellow, white, & occasionally peach or orange, without being garish & overbearing. They're still not exactly subtle, but being small they are not there to draw attention away from everything else. More
vues punkbirder — 6 novembre 2007 — Jack Snipe at Abberton 061107, fully bouncing in the open. Ministry of Silly Walks accreditation. Superb bird. punkbirder — 6 novembre 2007 — Jack Snipe at Abberton 061107, fully bouncing in the open. Ministry of Silly Walks accreditation. Superb bird. More
The Jack Snipe is one of the species to which the Agreement on the Conservation of African-Eurasian Migratory Waterbirds (AEWA) applies. Diet / Feeding These birds forage in soft mud, probing or picking up food by sight. They mainly eat insects and earthworms, also plant material. More
* Jack Snipe and Common Snipe 21/10/091:55 * Ajouter à la file d'attente Ajoutée à la file d'attente Jack Snipe and Common Snipe 21/10/09158 vuesfeaspetrol * Jack Snipe, Hilversum 22:23 * Ajouter à la file d'attente Ajoutée à la file d'attente Jack Snipe, Hilversum 2951 vuesCbirding More
* Jack Snipe And Common Snipe 21/10 ... Jack Snipe And Common Snipe 21/10 ... 01:55 * * Jack Snipe Seen In Barley Stubble Field ... Jack Snipe Seen In Barley Stubble Field ... More
Smallest of snipes, the jack snipe has been declining in Norfolk in recent years. Despite ever increasing numbers of highly alert observers, records submitted to the Norfolk Bird Report are far fewer than when I began bird-watching. During 1994 jack snipe were recorded at 36 localities in the county. Almost without exception sightings related to ones and twos. The jack snipe favours thick marsh vegetation and is most likely to be seen when flushed. More
In: Jack Snipe Ca: Becadell sord Da: Enkeltbekkasin De: Zwergschnepfe Es: Agachadiza chica Fi: jänkäkurppa Fr: Bécassine sourde It: Frullino Nl: Bokje No: Kvartbekkasin Pt: Narceja-galega Sv: Dvärgbeckasin US: Jack Snipe Ru: Гаршнеп Bird News Extra subscribers should log in to view an enhanced species page. More
news out allowing a number of local birders to see a Jack Snipe on the ground. The above photos show just how well camouflaged Jack Snipes are. It is extremely difficult to find this species without flushing it from under your feet. - Broughton Trout Pools, Nr Aylesbury - February 2008 This species is always incredibly difficult to see on the ground. The above photo gives an appreciation of this. More
Jack Snipe - Definition = Jack Snipe Lymnocryptes_minimus_(Marek_Szczepanek). More
Jack Snipe was first recorded in 1663 and Pennant uses it in 1768 as its main name in preference to Half Snipe. The epithet 'Jack' refers to the birds small size when compared to other snipes. There was a view that Jack Snipe was the male of Common Snipe and may have been a misinterpretation of the name 'Jack' as though it denoted the male bird; of which it occasionally does in other cases. Earliest: August 26th 2005 at Severn Beach. More
seven jack snipe at Taggs Island, between Ainsdale and Birkdale, last week.John Dempsey on country matters ... travel/country by Daily Post (Liverpool, England)Tom Reese / The Seattle Times : Jessi Bloom in her Mill Creek greenhouse among muscari, Anna Marie hyacinths, deer fern and Jack Snipes.She's a real natural; A passion for practical, organic gardening ... More
* Listen to a Jack Snipe (RSPB site) (Bird is silent in winter) * Similar birds: Common Snipe Common Snipe are about the size of Redshank, Jack Snipe are more like Starling-sized. Jack Snipe have much shorter bills than Common Snipe. When there is more than one bird it is called a wisp of snipe or a walk of snipe . More
Jack Snipe determination Similar species Scolopacidae Bairds Sandpiper | Bar-Tailed Godwit | Black-Tailed Godwit | Broad-Billed Sandpiper | Buff-Breasted Sandpiper | Curlew | Curlew Sandpiper | Dunlin | Eskimo Curlew | Great Knot | Great Snipe | Greater Yellowlegs | Green Sandpiper | Greenshank | Grey Phalarope | Grey-tailed Tattler | Hudsonian Godwit | More
habitat, the behaviour and the numbers of the Jack Snipe in this area outside the breeding season. Search method Normally I visit the study-area every other week. Outside the breeding season I will take into account changes of weather. During periods of cold, icy weather or long droughts there are less visits. Sudden rainfall can inspire a visit. The Jack Snipe , being a species hard to observe in its habitat, deserves a special strategy. More
The mysterious jack snipe is a typical bird of the often water-logged northern taiga, birch and willow country. Here breeding grounds are shared with broad-billed sandpipers and sometimes red-necked phalaropes. During spring display the snipe bob and hover like marionettes before climbing 150 feet or more above ground to perform steep dives often rolling over with half-folded wings before zooming upwards again. And all the time one can hear calls likened to a distant galloping horse. More
WHAT: Jack Snipe narcissus glows in the late-winter garden with ivory-white flowers accented with golden-yellow trumpet centers and dark green foliage. WHY PLANT IT: Nothing trumpets the arrival of spring like these early blooming miniature daffodils. WHERE: Like most daffodils, Jack Snipe grows best in full to partial sun in well-drained, fertile soil with average moisture while it's still in leaf. More
● Similar species: Jack Snipe: Common Snipe is larger and has a longer bill. Flight Pattern Direct flight with rapid wing beats. Jack Snipe Body Illustration● Range & Habitat: Jack Snipe: Prefers marshes, bogs, tundra and wet meadows in northern Europe and northern Russia. Spends winters in Great Britain, Atlantic and Mediterranean coastal Europe, Africa, and India. Breeds in northern taiga - wet, open areas with birch and willow forests. More