Long-toed stint
The Long-toed Stint, Calidris or Erolia subminuta, is a small wader bird. It breeds across northern Asia and is strongly migratory, wintering in south and south east Asia and Australasia. It occurs in western Europe only as a very rare vagrant.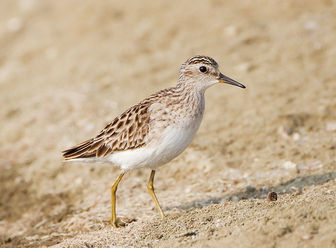 Picture of the Long-toed stint has been licensed under a Creative Commons
Attribution-Share Alike
.
Original source
: Own work
Author
: JJ Harrison (http://www.noodlesnacks.com/)Camera location
The Long-toed stint is classified as Least Concern. Does not qualify for a more at risk category. Widespread and abundant taxa are included in this category.

The Long-toed Stint, Calidris or Erolia subminuta, is a small wader bird. It breeds across northern Asia and is strongly migratory, wintering in south and south east Asia and Australasia. It occurs in western Europe only as a very rare vagrant. Little is known of the breeding habits of this species, although it nests on the ground, and the male has a display flight. This bird has yellowish legs and a short thin dark bill. More
particular, Long-toed Stint is very similar to its North American counterpart, the Least Sandpiper. It differs from that species in its more slender, longer-necked appearance, longer toes, somewhat brighter colours, and weaker wingbar. These birds forage on mudflats, picking up food by sight, sometimes by probing. They mainly eat small crustaceans, insects and snails. More
Long-toed Stint: Breeds in Siberia. During migration can be found on islands in Bering Sea and on outer Aleutians. Preferred habitats include shallow freshwater and brackish wetlands, with bare muddy shores and aquatic vegetation. Listen to Call Voice Text "chrrip" Interesting Facts * The Long-toed Stint is very similar to its North American counterpart, the Least Sandpiper. More
The Long-toed Stint is the tiny bird walking to the left from between the two much larger sandpipers. Compared with the common Red-necked Stint, its movement is more slow and deliberate, unlike the quick energetic actions of the Red-necked Stint. (Place the mouse cursor on the moving Quicktime controller button, to stop or slow the movement. More
'possible' Long-toed Stint (Calidris subminuta) 11th May 2003 - Ketura sewage pools near Lotan. This stint immediately attracted my attention as being something highly unusual, especially in its sandpiper like proportions. The tibia were extremely long in direct comparison to Little Stint (Calidris minuta), giving the bird an almost crake like jizz when walking on the mud and landing. Closer inspection revealed a number of features that look good for Long-toed Stint. More
Long-toed Stint Calidris subminuta = * Home Expand Log in Menu item Register Menu item Log out Menu item Change login details Menu item Why register? Expand UK & Ireland Menu item Birding sites More
FIRST RECORD OF LONG-TOED STINT IN OREGON GILLIGAN, JEFF, OWEN SCHMIDT, HARRY NEHLS, DAVID IRONS 26 N.E. 32nd Avenue, Portland, Oregon 97232 3007 N.E. 32nd Avenue, Portland, Oregon 97212 2736 S.E. 20th Avenue, Portland, Oregon 97202 1535 S.E. Rhine, Portland, Oregon 97202 The Long-toed Stint (Ca/idris subminuta) breeds in northeast Asia and migrates through southeast Asia to India and Australia (King et al. 1978). More
FIRST RECORD OF THE LONG-TOED STINT IN CALIFORNIA PATTEN, MICHAEL A., BRIAN E. DANIELS MICHAEL A. PATTEN, P. O. Box 8561, Riverside, California 92515-8561 BRIAN E. DANIELS, 3471 Lama, Long Beach, California 90808 On 29 August 1988 we, along with Douglas R. Willick and Kurt Radamaker, identified a juvenile Long-toed Stint (Calidris subminuta) at the sewage ponds in Salinas, Monterey County, California. More
taigastrandloper long-toed stint 2410 20092205 vuesguusvanduin * Black winged Stilt, FullHD JH1RNZ0:40 * Ajouter à la file d'attente Ajoutée à la file d'attente Black winged Stilt, FullHD JH1RNZ42 vuesJH1RNZ * Black faced Spoonbill 2, FullHD JH1RNZ0:14 * Ajouter à la file d'attente Ajoutée à la file d'attente More
>> Long-toed Stint (Calidris subminuta) tree view | thumbnails | slideshow Long-toed Stint (Calidris subminuta) - * shooting_gears (10) * Sigma 300-800 mm f/5.6 EX DG IF HSM APO (20) * Sigma APO 120-400mm F4.5-5. More
Long-toed Stint (Calidris subminuta) - Adult Long-toed Stint in non-breeding plumage Adult Long-toed Stint in non-breeding plumage Long-toed Stint Long-toed Stint Long-toed Stint Long-toed Stint Long-toed Stint Long-toed Stint Long-toed Stint Long-toed Stint Long-toed Stint Long-toed Stint Long-toed Stint Long-toed Stint Long-toed Stint Long-toed More
Long-toed stint (Calidris subminuta) = Species information - * Facts & Status * Description * Glossary & References * All * Species related by - * Family group * Habitat * Conservation status More
Long-toed Stint (Calidris subminuta) = French: Bécasseau à longs doigts German: Langzehen-Strandläufer Spanish: Correlimos Dedilargo Taxonomy: Tringa subminuta Middendorff, 1853, Stanovoye Mountains, Russia. Formerly placed in genus Erolia. Forms superspecies with C. minutilla, with which in past considered conspecific. Monotypic. Distribution: Disjunct populations from forest zone of SW Siberia to S tundra of Koryak Mts; also Commander Is and N Kuril Is. More
Long-toed Stint Head Illustration * Bill Shape: Dagger * Eye Color: No data. * Head Pattern: Eyeline, Capped, Streaked, Eyering * Crown Color: Dark brown and rust-brown streaks. More
Long-toed Stint, Netherlands, near Zwolle Oct 2009 © Chris Lansdell Oenanthe Birding Adventures - 2010 tours now booking Long-toed Stint - Long-toed Stint, Alaska, Shemya Island 8-12-07 © Bob Trotter Long-toed Stint - Showing Records 1 through 8 of 8 Total Records More
This Long-toed Stint was photographed on Attu Island, Alaska. Photo taken with a Nikkor 500mm f8.0 mirror lens on Ektachrome 800 film. (Date: May 1988) (use image name "sanlts" for inquiries) - Red-necked Stint click on the photo for a larger view Red-necked Stint Red-necked Stints breed in the high Arctic of northcentral and northwestern Siberia. More