Pectoral Sandpiper
The Pectoral Sandpiper, Calidris melanotos, is a small wader. It is sometimes separated with the stint sandpipers in Erolia. This may or may not represent a good monophyletic group, depending on the placement of the phylogenetically enigmatic Curlew Sandpiper , the type species of Erolia. In any case, the genus name Ereunetes – formerly used for the Western Sandpiper and Semipalmated Sandpiper , which are also members of the stint clade – was established before Erolia.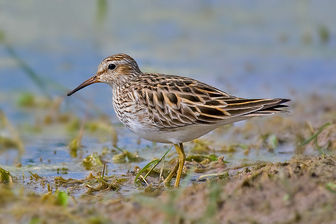 Picture of the Pectoral Sandpiper has been licensed under a Creative Commons
Attribution-Share Alike
.
Original source
: Own work
Author
: Andreas TreptePermission(Reusing this file) This file is licensed under the Creative Commons Attribution-Share Alike 2.5 Generic license.You are free:to share – to copy, distribute and transmit the work
The Pectoral Sandpiper is classified as Least Concern. Does not qualify for a more at risk category. Widespread and abundant taxa are included in this category.

The Pectoral Sandpiper, "Calidris" melanotos, is a small wader. It is sometimes separated with the "stint" sandpipers in Erolia. This may or may not represent a good monophyletic group, depending on the placement of the phylogenetically enigmatic Curlew Sandpiper ("C." ferruginea), the type species of Erolia. In any case, the genus name Ereunetes – formerly used for the Western Sandpiper ("C." mauri) and Semipalmated Sandpiper ("C." pusilla), which are also members of the stint clade – was established before Erolia. More
The Pectoral Sandpiper is a largish calidrid (and hence not traditionally included with the smallish stints), with a grey-brown back, brownest in the summer male, and greyest in winter. The Pectoral Sandpiper has a grey breast, sharply demarcated at its lower edge, which gives this species its English name; this clear dividing line is particularly conspicuous if the birds are turned towards the observer. The legs are yellowish, and the bill is olive with a darker tip. More
A medium-sized, chunky shorebird, the Pectoral Sandpiper is found most commonly on mudflats with short grass or weedy vegetation and seems more at home in the grass than in the water. More
The Pectoral Sandpiper is sometimes called the grass snipe, hay bird, or squatter, because it slips through the grass and flushes reluctantly, only to dart back into thick cover. "Pectoral" refers to the male's chest, which puffs up to amplify a booming courtship song. Range & Distribution Most Pectoral Sandpipers breed on the Arctic tundra of North America and Siberia. Spring migrants are concentrated at a few locations, like Cheyenne Bottoms, Kansas; and Hackberry Flat, Oklahoma. More
Sandpiper, the Pectoral Sandpiper is a medium-sized shorebird with a heavily streaked breast, sharply contrasting clear, white belly, and yellowish legs. The bill droops and is black at the tip, and lighter brown at the base. In flight, the tail shows a dark stripe down the middle, with white on either side. The upper wing has a very narrow stripe. Males are larger than females, and males have inflatable sacs in their breasts, used in courtship. More
The Pectoral Sandpiper, Calidris or Erolia melanotos, is a small wader. The "Cox's Sandpiper" ("Calidris" More
Curlew and Pectoral Sandpipers, but neither agreed with that of other proposed parent species (Sharp-tailed Sandpiper, White-rumped Sandpiper, and Ruff). Since mtDNA is inherited only from the mother, they concluded that the parentage of Cox's Sandpipers was a male Pectoral and a female Curlew Sandpiper. See also - * Hybridisation in shorebirds References - 1. ^ Haldane, J. B. S. (1922). More
While the Pectoral Sandpiper has not been recorded as breeding species in Europe, it has been found in Scotland in suitable breeding habitat in summer. On the US Pacific coast, such stagings of migrant flocks appear to be rarer. The Pectoral Sandpiper, Calidris melanotos, is a small wader. It is sometimes separated with other "stint" sandpipers in Erolia. More
* Comments: Pectoral Sandpipers winter in southern South America and nest in low to mid-arctic tundra. During courtship, promiscuous males inflate and deflate pendulous breast sacs and create foghorn-like More
Pectoral SandpiperCalidris melanotos = REPORT SIGHTING ADD TO LIFE LIST ADD TO TARGET SPECIES LIST REMOVE FROM WATCH LISTbreeding adult© Vireo click to enlarge click to enlarge Listen FAMILY Sandpipers Family Description DESCRIPTION 9" (23 cm). A chunky, somewhat short-legged wader with heavily streaked breast sharply delineated from unmarked white belly. Legs yellow. More
The Pectoral Sandpiper, Calidris or Erolia melanotos, is a small wader. It breeds in the boggy tundra of northeast Asia and North America. It is a very long-distance migrant. The American and most of the Asian birds winter in South America, but some Asian breeders winter in southern and Australia and New Zealand. This species occurs as a regular migrant to western Europe, and is not classed as a rarity in Ireland or Great Britain. More
The Pectoral Sandpiper has a tremendous range extending between 1,000,000 to 10,000,000 square kilometers. This bird can be found in an expansive number of locations including the continents of Asia, Australia, North America, much of South America, the Caribbean and has vagrant populations in the Middle East, Africa and Antarctica. Its preferred habitat ranges from grasslands, wetlands, marine and coastal locations. The global population of this bird is estimated to be around 25,000 to 100,000 individual birds. More
Pectoral Sandpiper - Calidris melanotos = Baird's Sandpiper series details Phylum: Chordata Class: Aves Order: Charadriiformes Family: Scolopacidae Genus: Calidris Description pectoralsandpiperThe pectoral sandpiper is 9 inches in length with a 17 inch wingspan. More
Pectoral Sandpiper (Calidris melanotos) Bear Butte Lake, Meade County, South Dakota. September 16, 2005. - All photos are copyrighted. We grant permission to use these photos for non-profit, educational purposes provided photo credit is given. Permission is required for publication in any form. Most photos on this site are resized and digitally enhanced. Original files are available. Contact Scott Weins or Elizabeth Krueger (gdik at rushmore.com). More
pectoral sandpiperpectoral sandpiper - American sandpiper that inflates its chest when courtingCalidris melanotos, jacksnipesandpiper - any of numerous usually small wading birds having a slender bill and piping call; closely related to the ploversCalidris, genus Calidris - a genus of Scolopacidae How to thank TFD for its existence? Tell a friend about us, add a link to this page, add the site to iGoogle, or visit webmaster's page for free fun content. More
Pectoral sandpipers breed in North America and Siberia but are extending their range.bird notes by Daily Post (Liverpool, England)Half of the world's pectoral sandpipers breed in Alaska or Canada, the other half in Russia.Scientists hunt for a bird-flu carrier by The Seattle Times (Seattle, WA)In August 1988, a year when low water generated extensive mudflats, 1150 Pectoral Sandpipers were counted at the site.Birds of the Grand Calumet River basin by Brock, Kenneth J. More
Pectoral SandpiperCalidris melanotos Order CHARADRIIFORMES – Family SCOLOPACIDAE Issue No. 348 Authors: Holmes, Richard T., and Frank A. Pitelka * Articles * Multimedia * References Courtesy Preview This Introductory article that you are viewing is a courtesy preview of the full life history account of this species. The remaining articles (Distribution, Habitat, Behavior, etc. More
A Pectoral Sandpiper in non-breeding plumage walking along the coast at Cattles Point, in Victoria, on Vancouver Island, British Columbia, Canada. Pectoral Sandpiper A side view of a Pectoral Sandpiper probing in the mud at the Amherstview lagoon, Amherstview, Ontario, Canada. Pectoral Sandpiper A Pectoral Sandpiper feeding in the algae on the Kingston Field Naturalists' property on Amherst Island, near Kingston, Ontario, Canada. More
PECTORAL SANDPIPER (Calidris melanotos) With streaked breast and yellowish legs and feet, this species calls to mind an oversized Least Sandpiper. It and the Long-billed Dowitcher are the most likely sandpipers to linger in Montana into late Oct or even early Nov. The species' mating behavior is unique among the genus Calidris. Males have an inflatable throat sac that they use to make a hooting sound during courtship displays, and they take no part in the care of eggs or young. More
The pectoral sandpiper is one of our most common sandpipers, often seen in large flocks. They are one of the first species to return in spring, appearing around mid-March. In large areas of suitable habitat, pectoral sandpipers can be present in the hundreds or more. In late March of 1986, there were 2,300 sandpipers tallied in the western Lake Erie marshes. More
This bird looks a lot like the Pectoral Sandpiper, within whose Asian range it breeds. It differs from that species in its breast pattern, stronger supercilium and more rufous crown. It has some similarities to the Long-toed Stint, but is much larger than that tiny stint. Behaviour - Breeding Little is known of the breeding habits of this species, although it nests on the ground, and the male has a display flight. More
PECTORAL SANDPIPER Antique 1891 FO Morris HC Bird PrintPlease waitImage not available * Zoom * Enlarge Mouse here to zoom inPlease waitImage not available PECTORAL SANDPIPER Antique 1891 FO Morris HC Bird Print = Item condition: - Price: Original priceUS $24.99Discounted priceUS $10. More
The Pectoral Sandpiper (Calidris melanotos) breeds in the northern tundra of Canada and winters all the way to the grasslands of Argentina and Chile. The top 3 shots shown here are migrant Pectoral Sandpipers in Kenedy Co., Texas, in April, 2002. These shots were taken with a Canon EOS 1V and EF 500mm F/4 L IS lens a 2X extender on Fuji Velvia pushed one stop. The next 7 images show migrant Pectoral Sandpipers at Austin, Travis Co. More