Bridled tern
The Bridled Tern is a seabird of the tern family Sternidae. It is a bird of the tropical oceans. The Atlantic subspecies melanopters breeds in Mexico, the Caribbean and west Africa; other races occur around the Arabia and in Southeast Asia and Australasia, but the exact number of valid subspecies is disputed.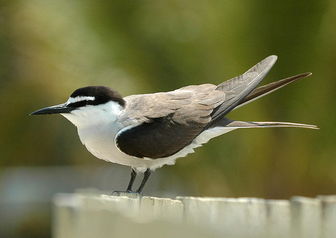 Picture of the Bridled tern has been licensed under a Creative Commons
Attribution-Share Alike
.
Original source
: Own work
Author
: Aviceda
The Bridled tern is classified as Least Concern. Does not qualify for a more at risk category. Widespread and abundant taxa are included in this category.

The Bridled Tern (Onychoprion anaethetus, formerly Sterna anaethetus - see Bridge et al., 2005) is a seabird of the tern family Sternidae. It is a bird of the tropical oceans. The Atlantic subspecies melanopters breeds in Mexico, the Caribbean and west Africa; other races occur around the Arabia and in Southeast Asia and Australasia, but the exact number of valid subspecies is disputed. This bird is migratory and dispersive, wintering more widely through the tropical oceans. More
Bridled Terns on July 2007 BBC Extreme Shelf Edge Pelagic by Steve Mirick. All photos on this page remain the property of the photographer. Coastal Terns Most terns in our area are seen along the coast and may be recorded on pelagic trips either as the boat leaves the coast or returns. Common Terns are sometimes seen on Stellwagon Bank in large flocks. More
Bridled Terns like to rest on surface debris such as pieces of wood or fishing floats. Photograph taken in the Gulf Stream off North Carolina in August. Photograph copyright of Angus Wilson More
* The Bridled Tern was long thought to be a casual visitor to the North American coast, but as more birders travel out to the Gulf Stream, it has become evident that they are fairly common 20 or 30 miles offshore. * They may be establishing a breeding population in the Florida Keys. More
much of it in GA waters, 40% of all Bridled Terns were associated with Sargassum and 11% used floating timber, styrofoam, barrels, cardboard and other floating objects for perches. Because of their affinity for Sargassum and floating perches, marine distribution of Bridled Terns is often linked to small- and medium-scale oceanographic features in which water circulation aggregates flotsam into large patches (Haney 1986a) (Haney, Lee and Morris 1999). The most important current off GA driving Sargassum distribution is the Gulf Stream. More
the Bridled Tern in North and Middle America. The Bridled Tern is a strictly marine species with a large, nearly worldwide range across tropical and subtropical latitudes. Prior to the 1970s, it was considered a rare vagrant to North America, associated primarily with tropical storms. Pelagic bird study has shown it to be a relatively common seabird off the southeastern United States. More
This Bridled Tern was photographed during a See Life Paulagics trip. Aboard the "Thelma Dale IV", Baltimore Canyon, MD, August 28, 2004, Canon 10D, EF 100-400mm F/4.5-5.6L IS USM Aboard the "Thelma Dale IV", Baltimore Canyon, MD, August 28, 2004, Canon 10D, EF 100-400mm F/4.5-5.6L IS USM Aboard the "Thelma Dale IV", Baltimore Canyon, MD, August 28, 2004, Canon 10D, EF 100-400mm F/4.5-5. More
Bridled Tern © Jeff Watson In Seychelles, breeding does not take place annually as fro most seabirds but every eight months. All the birds in a colony nest at the same time although birds in different colonies do not necessarily nest at the same time. The Bridled Tern is not such a long distance traveler as the Sooty Tern. Mostly it stays around the breeding islands. More
The specific name of the bridled tern, anathetus, is derived from the Greek for senseless or stupid, a reference to the ease with which hungry sailors captured this relatively docile seabird (3). Relative to other terns, the bridled tern is of average size, with a deeply-forked tail and long narrow wings. During the breeding season, the upperparts of its plumage, including the back, wings and tail, are brownish grey, while the underparts are generally whitish. More
Bridled Tern (Onychoprion anaethetus, formerly Sterna anaethetus - see Bridge et al., 2005) Bridled Tern (Onychoprion anaethetus, formerly Sterna anaethetus - see Bridge et al., 2005) The Bridled Tern (Onychoprion anaethetus, formerly Sterna anaethetus - see Bridge et al., 2005) is a seabird of the tern family Sternidae. Distribution / Range It is a bird of the tropical oceans. More
SmugMugHome Login Help View Cart Bridled Tern Bridled Tern, Onychoprion anaethetus fuligula gallery pages: 1 2 > Offshore Abu Dhabi, 05.06.2009 © Oscar Campbell Offshore Abu Dhabi, 05.06.2009 © Oscar Campbell Offshore Abu Dhabi, 05.06.2009 © Steve James Offshore Abu Dhabi, 05.06.2009 © Steve James Khor Kalba, 30.08.2008 © Derrick Wilby - immature Khor Kalba, 30.08.2008 © Derrick Wilby - immature Khor Kalba, 30.08.2008 © Derrick Wilby - immature Khor Kalba, 30.08. More
Bridled Tern on Boogie Board - Photo by Joe Piotrowski Date: 01/21/2008 Size: Full size: 1233x821 nextBand-rumped Storm PetrellastBlue-head Mallard _33J6290first Great Egret on bushprevious Bridled Tern on Boogie Board Photo Properties summary details Color Space sRGB Date/Time Mon 21 Jan 2008 05:42:45 PM MST nextBand-rumped Storm PetrellastBlue-head Mallard _33J6290first More
Bridled Tern, at rookery References - * BirdLife International (2004). Sterna anaethetus. 2006 IUCN Red List of Threatened Species. IUCN 2006. Retrieved on 09 May 2006. Database entry includes justification for why this species is of least concern * Bridge, E. S.; Jones, A. W. & Baker, A. J. More
Outside of the breeding season, the bridled tern is slightly paler, with its black crown streaked white and brown, and the dark feathers of the upperparts having white-tips, giving it a peppered appearance. Juveniles are similar in appearance to the adults but have a paler, streaked crown and upperparts heavily scaled with white and buff. Four to six subspecies, differing only slightly in appearance but occupying different parts of the bridled tern's overall range, are variably recognised (2) (3). More
Bridled Tern - Onychoprion anaethetus Sterne bridée = Sterne bridée Where to Watch Birds in Southern - Western Spain Gallery : © Alfredo Colon Order : Charadriiformes Family : Laridae Species : Bridled Tern Reference: alca30330 Other pictures Date taken : 2006 Jun Geographic data Country : United States (us) Region : State of Arizona More
Bridled Tern: Sooty Tern is larger, heavier in build, shorter tail, will alight on sea surface. Sooty Tern's white forehead patch does not extend beyond eye. . Home | Search | Browser | Expert | Forum | Store | My Whatbird | Help | Site Map © 2002 - 2007 www.whatbird.com All rights reserved. No part of this web site may be reproduced without written permission from Mitch Waite Group. More
* Immature Bridled Tern (Sterna anaethetus) on Rail Immature Bridled Tern (Sterna ... * Bridled Terns (Sterna anaethetus) Bridled Terns (Sterna anaethet... * Bridled Tern banded for Research Bridled Tern banded for Resear... * Bridled Tern (Sterna anaethetus) Bridled Tern (Sterna anaethetu... More
oggEnglish: Bridled Tern (Onychoprion anaethetus) Lady Elliot Island, Queensland, Australia Date November 2006(2006-11) Source Own work Author Aviceda Permission (Reusing this file) See below. Camera location 24° 6' 45.9" S, 152° 42' 57.4" E This and other images at their location on: Google Maps - Google Earth (Info)-24.11275;152. More
Bridled Tern (Onychoprion anaethetus) Home Comments: Photos taken in Maryland waters on a pelagic trip out of Lewes, Delaware (8/28/2004). Previous | Next Go to Top Birding Top 500 Counter All photos 2002-2010 More
The Bridled Tern can be found along much of Australia's coastline from the south western corner of Western Australia, northward to the Northern Territory and Queensland. The movement of the tern varies with the seasons in Australia. In non-breeding months, mainly winter, they move northwards from their breeding grounds far out to sea, feeding and sleeping there. It can move as far as Indonesia and New Guinea during this time. More
Bridled Tern (Onychoprion anaethetus) Bridled Tern (Onychoprion anaethetus) Off Cape Hatteras from Stormy Petrel II, Dare Co., NC 1 Aug 2009 Commonly seen perching on flotsam. Bridled Tern (Onychoprion anaethetus) Bridled Tern (Onychoprion anaethetus) Off Cape Hatteras from Stormy Petrel II, Dare Co., NC 1 Aug 2009 Bridled Terns are slightly smaller, slimmer and lighter colored than Sooty Terns. More
On looking up the Sooty and Bridled Terns in Bent's 'Life Histories of North American Gulls and Terns,' on my return to Charleston, I find that the above description tallies exactly with his account of the Bridled Tern (Sterna anaethetus melanoptera). in the immature Sooty, the under parts are a "uniform 'olive brown' shading to grayish white on the belly." Our bird was pure white underneath from bill to, and including, under tail-coverts, and the forehead white as well. This is conclusive. More