Slaty-backed Gull
The Slaty-backed Gull is a very large gull at 27 inches long. It has a white head, belly, and tail with a dark slaty-gray back and wings with a broad white trailing edge. The wings and back are slightly darker than those of the Western Gull. The underside of the wings features a string of pearls pattern along their edges; these can be seen from below when the bird is in flight. Its eyes are yellow. The legs are pink and short when compared with those of similar-looking gulls, and the body appears more stout. The bill is yellow with orange-red subterminal spot. Immature gulls' plumage is brown, similar to the that of the Great Black-backed Gull, but paler, and is practically indistinguishable from the immature Herring Gull in the field.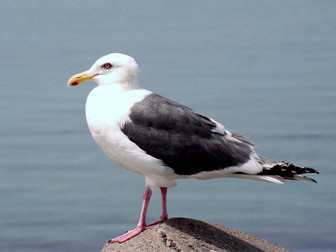 Picture of the Slaty-backed Gull has been licensed under a
GFDL
Original source
: E-190's file
Author
: E-190 
Permission
: GNU Free Documentation License
The Slaty-backed Gull is classified as Least Concern. Does not qualify for a more at risk category. Widespread and abundant taxa are included in this category.

harbour hoping to uncover a Slaty-backed Gull that had been found the a couple days earlier by visiting Ontario birder Brandon Holden. Well,things didn't go quite according to plan because we rolled into Quidi Vidi Lake and I was on the Slaty Backed Gull before I had the car in park. I jumped out got the scope on the bird to confirm our incredible luck. More
First-winter Slaty-backed Gull - a bit of a banana-skin? One of the main objectives of a recent trip to Japan (Dec-Jan 2009/10) was to learn something about the identification of young Slaty-backed Gulls. But is seems that they are something of a banana-skin. More
The Slaty-backed Gull (Larus schistisagus), is a large white-headed gull that breeds on the western coast of Alaska but travels widely during nonbreeding seasons. Claims have been made as to its (sometimes occasional) presence throughout North America as well as the eastern coast of Asia. It is similar in appearance to the Western Gull and the Glaucous-winged Gull. Another alternate name is Pacific Gull, though this also applies to a southern hemisphere species, Larus pacificus. More
Slaty-backed Gull in Ontario = - The second accepted record of Slaty-backed Gull (L. schistisagus) from Ontario was a bird seen by Bob Yukich and Juha Varrela on January 2, 1999. (The first record was a bird on the Niagara River in late November in the early nineties). I am pleased to present here several photos and a description of the bird. More
The Slaty-backed Gull has a large range, estimated globally at 100,000 to 1,000,000 square kilometers. Native to Japan, China, Korea, the Russian Federation, the United States and Canada, this bird prefers rocky areas and neritic, intertidal and coastal marine ecosystems. The global population of this bird is estimated at 25,000 to 100,000 individuals and does not show signs of decline that would necessitate inclusion on the IUCN Red List. For this reason, the current evaluation status of the Slaty-backed Gull is Least Concern. More
Like other gulls, the Slaty-backed Gull is both a forager and a scavenger. Copyright: Wikipedia. This article is licensed under the GNU Free Documentation License. It uses material from Wikipedia.org - Photo, Video and/or Article contributions are welcome! Please click here for info The Avianweb strives to maintain accurate and up-to-date information; however, mistakes do happen. If you would like to correct or update any of the information, please send us an e-mail. More
observations by the author of Slaty-backed Gull in Canada and Hong Kong. Observations have been made in all months, though largely between October and March. Considering the recent upsurge of interest and knowledge in Asian gulls, especially following the publication of Malling Olsen and Larsson (2003), Birds Korea would very much welcome input and opinions from experienced observers to help improve the quality of this note. Image 2: Adult Slaty-backed Gull, Hokkaido, February 2005. More
A POSSIBLE FIRST CYCLE SLATY-BACKED GULL IN CALIFORNIA = Here are photos of a bird in Half Moon Bay, California that could be a first cycle Slaty-backed Gull. The identification criteria for this species are far from being clear, and surely only the extreme individuals are identifiable here. The main problem, I had predetermined, was that Herring x Glaucous-winged could potentially create a Slaty-backed Gull like bird. More
SLATY-BACKED GULL - HALF MOON BAY, CALIFORNIA = WINTER 2007-2008 = Birds from 2005-2006 here. Adult and second cycle 2007 here. Other birds from 2007 here. THIRD CYCLE - February 20, 2008 - Not the same bird as found by Ron Thorn and Dan Singer last week, see photos here by Matthew Dodder. More
Columbia River, and Slaty-backed Gull is now annual in British Columbia. More
that it was indeed a Slaty-backed Gull (a life bird for myself and many others!). It took 90 minutes or so before observers finally saw this field mark, ruling out other potential species or something even more tricky like a Great Black-backed x Herring Gull hybrid. For more photos, see Jean Iron's photos at: http://www.jeaniron.ca/Gulls/2006/slatybacked. More
SLATY-BACKED GULL - HALF MOON BAY, CALIFORNIA = WINTER 2006-2007 = Birds from previous years here. Adult from early January here. SECOND CYCLE - January 13, 2007 - We were finishing up a really fun and successfull Gull Identification Workshop sponsored by SFBBO, in the end we wound up seeing 10 species of gulls in the San Francisco Bay Area in mid-winter which was superb. More
Third basic Slaty-backed Gull at Niagara Falls on 2 December 2006 Found by Cayuga Bird Club on the concrete wall below the control gates at Chippawa, then later behind the Gatehouse just below the two reservoirs opposite Dufferin Islands. I would like to thank Willie D'Anna and Betsy Potter for calling me and Ron Tozer by cell phone to let us know. We spent several hours between 12:30 p.m. and 3:30 p.m. studying its fieldmarks. More
Images of presumed Slaty-backed Gull in Grand Marais Close-up of Eyes Comments from BIRDWG01 David Cahlander 2006 July 22 - updated 2006 July 29 Grand Marais Gull (Slaty-backed Gull) Close-up of head Underside of Wing Back of wing in flight Back of wing, stretching More
individual SLATY-BACKED GULLS present in Gloucester Harbor. In the morning we observed the bird photographed by Phil Brown yesterday, a bird with an entirely yellow bill with an orange-red spot at the gonys. In the afternoon there was a bird roosting on the same roof, but the bill, although pale at the tip, along the culmen, and on the lower edge of the bill, in the middle was dark subterminal extending inward toward the base along the cutting edge. More
Slaty-backed Gull at Seneca Falls, Seneca Co., 23 February 2002 Kevin J. McGowan Cornell Laboratory of Ornithology, 159 Sapsucker Woods Road, Ithaca, NY 14850 and Jay W. McGowan 134 Beam Hill Road, Dryden, NY 13053 A contingent of Ithaca birders made a trip to Sullivan County on 22 Feb 2002 in search of a reported Slaty-backed Gull (Larus schistisagus), a very rare visitor from Siberia. More
Slaty-backed Gull, A new Species for Thailand About the Adverts One of the most rewarding things about ornithology in Thailand is that it is most certainly not a closed book. It is relatively easy to find something new when birdwatching in Thailand, be it a previously unknown site rich in birdlife, a range extension for a particular species or an interesting migratory date. More
If the SLATY-BACKED GULL is there, it sticks out....darkest mantle, by far. Good birding, Craig. Craig Fosdick Logan, Utah. (Message to the "Birdnet" from Craig Fosdick, 2 Dec 2008) As many of you have perhaps already concluded, the "Slaty-backed Gull" that I rather hastily reported on Sunday is in fact not a Slaty-backed Gull, but apparently rather the same LBBG that has been present since at Sue's Ponds since Nov 5. More