Common black-headed gull
The Black-headed Gull is a small gull which breeds in much of Europe and Asia, and also in coastal eastern Canada. Most of the population is migratory, wintering further south, but some birds in the milder westernmost areas of Europe are resident. Some birds will also spend the winter in northeastern North America, where it was formerly known as the Common Black-headed Gull. As is the case with many gulls, it was previously been placed in the genus Larus.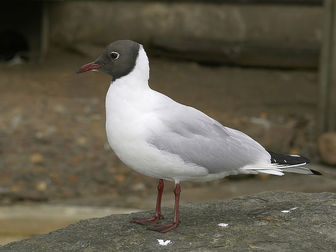 Picture of the Common black-headed gull has been licensed under a Creative Commons
Attribution-Share Alike
.
Original source
: Own work
Author
: Hans HillewaertPermission(Reusing this file)I, the copyright holder of this work, hereby publish it under the following license: This file is licensed under the Creative Commons Attribution-Share Alike 3.0 Unported license.You are free:to share – to copy, distribute and transmit the work
The Common black-headed gull is classified as Least Concern. Does not qualify for a more at risk category. Widespread and abundant taxa are included in this category.

Remarks Common Black-headed Gulls in full breeding plumage are now so regularly reported in Nova Scotia in the spring and late summer that it is only a matter of time before they will be found breeding here. This should be looked for on islets, coastal salt marshes, or marshy lakes in the interior of the province. More
found in America, the flight of the Common Black-headed Gull is light and buoyant. In the air it resembles a tern more than a gull. Although this Old World gull is uncommon in North America, it may be seen regularly in small numbers in northeastern coastal waters. In Europe it is one of the most familiar gulls. info@borealbirds.org | 206.956. More
pointed out that a number of the Common Black-headed Gulls observed on the west coast have been seen in Bonaparte's Gull flocks that also contain Little Gulls, suggesting the birds have crossed the continent (Roberson, 1980). Adult Larus ridibundus ridibundus in basic-plumage. Castle Douglas, Dumfries and Galloway, Scotland in December. Photograph copyright of Angus Wilson More
SmugMugHome Login Help View Cart Common Black-headed Gull Common Black-headed Gull, Larus ridibundus gallery pages: 1 2 > Safa Park, 21.12.2009 © Tommy Pedersen Safa Park, 21.12.2009 © Tommy Pedersen Safa Park, 21.12.2009 © Tommy Pedersen Safa Park, 21.12.2009 © Tommy Pedersen Safa Park, 21.12.2009 © Tommy Pedersen Safa Park, 21.12.2009 © Tommy Pedersen Fujairah Port Beach, 08.04.2009 © Tommy Pedersen Fujairah Port Beach, 08.04.2009 © Tommy Pedersen Fujairah Port Beach, 28.03. More
Trends for Common Black-headed Gull in the Wadden Sea Figures represent the trend 1987/1988 to 2006/2007, taking into account data from all months to express an overall trend for the entire year. Numbers on the y-axis represent monthly mean occurrences. Dots are the individual yearly estimates, solid lines the trend calculated by TrendSpotter, dotted lines the 95% confidence limits of the trend lines. More